Russia-Ukraine Conflict: Germany Pushes Peace Talks, Local Elections In Eastern Ukraine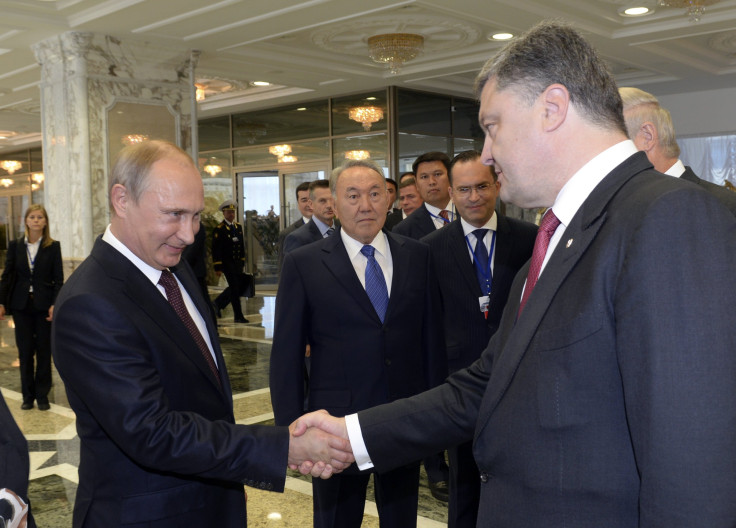 More than a year after Ukraine and pro-Russian separatists in Donetsk and Luhansk regions in eastern Ukraine agreed to a second ceasefire on Feb. 12, 2015, fighting between the two sides has reduced but is far from over. At a meeting of foreign ministers of France, Germany, Russia and Ukraine in Berlin Wednesday, Germany is expected to tell both sides to stop delaying the peace process, as well as push Ukraine to hold local elections in its troubled eastern provinces.
On the eve of the talks, German Foreign Minister Frank-Walter Steinmeier said Tuesday actual progress on implementing provisions of the agreement reached in Minsk last year were "moving along at snail's pace, millimeter by millimeter," adding that the process "cannot go on like that."
Exhorting both Ukraine and Russia to stop holding up the peace process, Steinmeier said, referring to the ceasefire agreement — called Minsk II — what was needed was "not just a clear pledge from the conflict parties tomorrow [Wednesday] in Berlin but above all success in the implementation."
The West has accused Russia of supporting the separatists in Ukraine, and the European Union has imposed sanctions on Russia that expire at the end of July. Moscow has denied the accusations over its role in the fighting that has claimed over 9,300 lives.
During the talks between the four countries — called the "Normandy Four" — Germany is also expected to push Ukraine to hold local elections in eastern Ukraine, specifically in the separatist-held regions, which was one of the provisions of Minsk II designed to provide higher autonomy to those regions.
According to Deutsche Welle, Ukraine is under pressure to implement its commitments under the agreement, which include constitutional reforms. Victoria Nuland, the U.S. diplomat for European affairs, visited Kiev late April and reportedly asked Ukraine to commit to fixed deadlines.
Ahead of the Wednesday meeting, Russia squarely put the blame on Ukraine. Russian Deputy Foreign Minister Grigory Karasin told the Tass news agency Tuesday: "I think it is still obvious that the Kiev authorities see no real state of things behind the conversation; they are either unable or unwilling to move forward in the implementation of the Minsk agreements."
© Copyright IBTimes 2023. All rights reserved.