Russian Interrogators Yell 'Glory To Ukraine' To Taunt, Assess Ukrainians At Filtration Camps: Report
KEY POINTS
She says bypassing the filtration is easy due to the presence of corrupt officers
Soldiers charge between UAH 500 and UAH 1,500 per head to bypass filtration
All, except those with DNR passports, have to give their fingerprint
A Ukrainian journalist has narrated the plight of people who had to undergo the filtration process before fleeing the port city of Mariupol, which is now under the complete control of Russia. Anna Romanenko, editor-in-chief of a Mariupol-based news website, collects and publishes testimonies of residents who managed to leave the city, as part of her project.
According to Romanenko, Russians aim for "total control" of the city and want to subject all people through its infamous filtration process. "They want to control, to have a list of people who remain in the city, who they are, where they are, who have connections, who have views, etc. This way, they add to the list of unreliable people, i.e. those who are simply in favor of Ukraine's sovereignty," the journalist told Radio Svoboda Ukraine.
She added that despite this, bypassing "filtration" is easy due to the presence of corrupt officers. Romanenko says Russian soldiers ask for money from those who fail the filtration to leave the city.
"I heard from UAH 500 to UAH 1,500 per person ($16 to $50) for not passing the "filtration". There are also drivers who agree to take people out for money, bypassing the "filtration" camps," she said. People who use this method are not questioned at the checkpoints as these drivers might have an agreement with soldiers there, Romanenko told the news outlet.
Russia also employs interrogators at the filtration camps where everyone except those with DNR passports undergoes fingerprint identification.
"If you are a young person, the test takes a long time. When individuals rummage through your social media and ask Google to see the context in which your last name and first name are mentioned, others conduct personal interviews. They ask about connections, the attitude toward the foreign policy of the Russian Federation," she added.
Interestingly, the officers include psychologists and FSB members. "They ask how many Nazis were in Mariupol? They can suddenly shout "Glory to Ukraine" and look at your immediate reaction," said Romanenko.
She also narrated the experience of a Jewish woman who had a pro-Ukranian stance. The 60-year-old woman had put up a Ukrainian flag on Facebook, but she couldn't delete it. "Realizing the danger, she took her mother's old phone and went to the "filter" camp.
"There were no social networks and no Internet access on that phone, but that did not stop the occupiers. They searched for her name on Facebook and saw the Ukrainian flag there. She was almost shot. She was stabbed in the stomach with a machine gun, and it was just bullying. The Jewish community stood up for the woman. Her respectable age also helped," the journalist added.
She added that one can still escape the filtration process, but with a "lot of luck and money."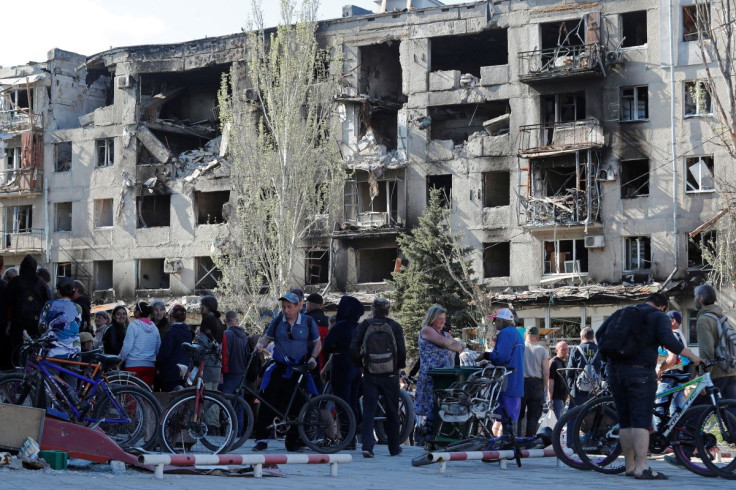 © Copyright IBTimes 2023. All rights reserved.