Russian Military Army-2016 Expo: 10 Weapons Of War On Display At Annual Forum Near Moscow [PHOTOS]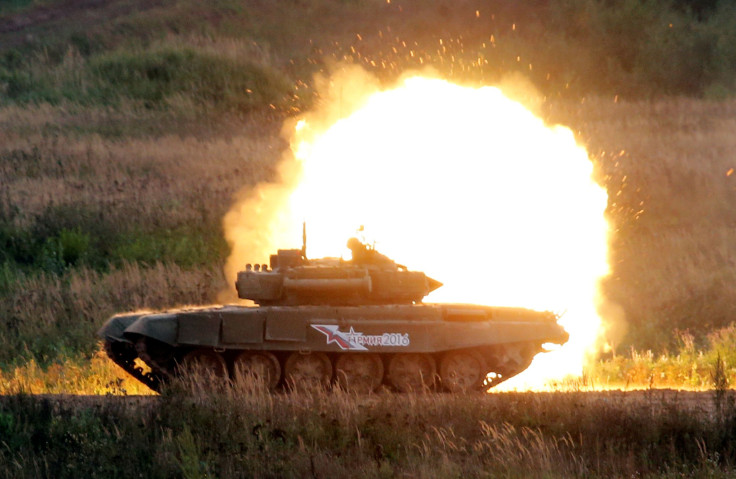 From launching a yearlong anti-ISIS airstrike campaign in Syria to conducting naval exercises in the South China Sea this week, Russia's military might is showing no signs of slowing after its global expo promoting the country's brand new weapons of war concluded Sunday.
The International Military-Technical Forum, an event held this past week near Moscow called "Army-2016," featured more than 11,000 pieces of modern military hardware to show "the maximum range of the export potential of Russian high-tech military products, represented in the form of natural samples on static display and in action on land, water and in the sky," the official website says.
Some of the items on display included bombs, air defense systems and unmanned vehicles for both the air and ground that Sputnik News called robots. Below are photos and video of 10 key state-of-the-art weapons of war Russia had on display.
"Phlox" Horwitzer Truck
The horwitzer armored truck that is also known as the "Phlox" comes with a powerful cannon mounted on top that has the ability to shoot with precision targets that are more than 6 miles away.
Unmanned "Robot" Vehicles
While the conventional rule of thumb is that robots should look like humans, limbs and all, military engineers have been busy crafting high-tech automated weaponry in the form of vehicles, on the ground and in the air, that can be controlled remotely. This is evident with the Uran-9, which Popular Science called a "robot tank."
Not to be outdone, the Tigr truck looks like your standard military variation of a Humvee, only it and it's high powered cannon placed on its top are both unmanned and can be quite deadly when used with force.
However, it is the Vikhr combat robot that takes unmanned warfare to a new level. The new tank debuted at Army-Expo 2016 and pulls out all the stops when it comes to war, including a 30mm automatic gun, a 7.62mm machine gun and guided antitank missiles, Sputnik reported.
The Soratnik unmanned vehicle is more for reconnaissance than it is for combat, although it can be equipped with a high-powered weaponry if need be, according to the Pravda Report.
The New Kalashnikovs
While most of the weaponry featured at Army-Expo 2016 was on the larger scale, an updated version of the golden standard of handheld machine guns in Russia was also on display, as the Kalashnikov assault rifle got a makeover of sorts. A lighter version for snipers called the VSV-338 was officially introduced to rave reviews.
The RPK-16 machine gun, also created by the Kalashnikov company, debuted last week and can hit targets with precision almost a half-mile away.
Pantsir-S1 Anti-Aircraft Missile System
The Pantsir-S1 anti-aircraft missile system combines "short-to-medium rage surface-to-air missile and anti-aircraft artillery weapon system," Global Times reported.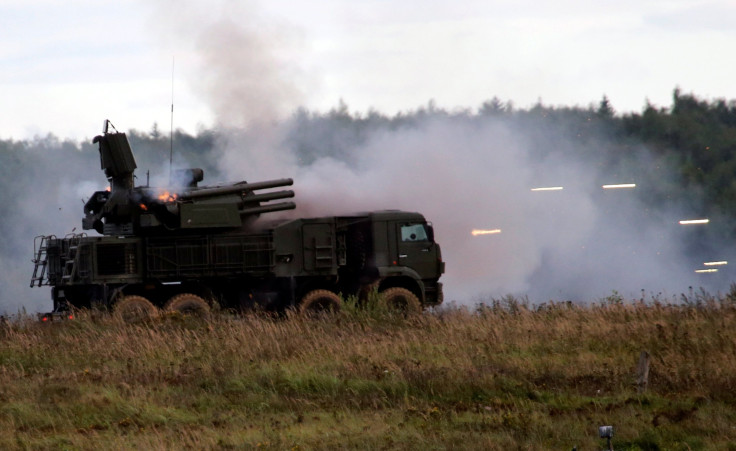 T-72B3 Battle Tank
The T-72B3 battle tank is being billed as a step up from Russia's formidable Armata series of tanks, 2,300 of which the Russia army is expected to add to its arsenal by 2025. Still, the T-72B3 is actually a newer version of its former self, only now it has a "new engine, new gunners sight, new fire control system" to provide "a hunter-killer capability," Military Today reported.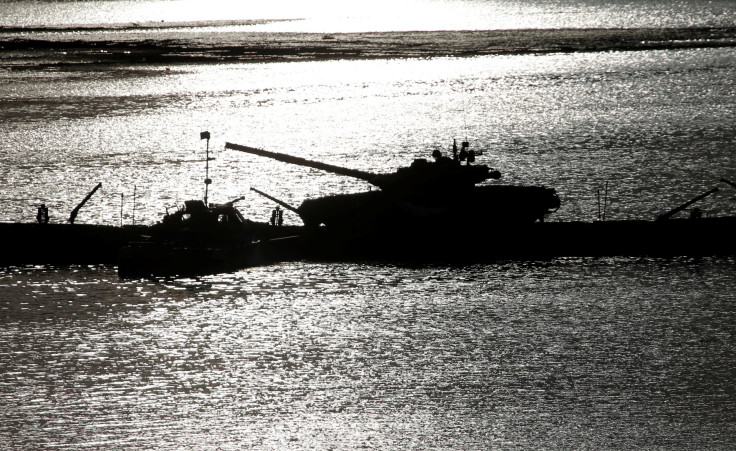 PBK-500U Drill Gliding Cluster Bomb
The "PBK-500U Drel (Drill) 500 kg-class universal gliding cluster bomb" is expected to have its trials finished by the end of the year, IHS.com reported. If all goes according to plan, the bombs will be most effective against armored vehicles and on-land radar systems. The bombs can be dropped with precision from an aircraft flying nearly nine miles above ground.
© Copyright IBTimes 2023. All rights reserved.