Russian Military Drills Continue With T-90A Tank Exercises Near Ukraine Border, Report Says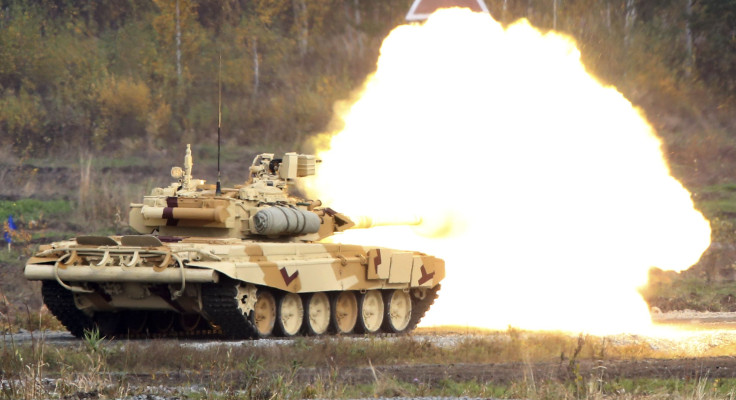 The Russian military conducted drills this week with dozens of modern T-90A tanks in Russia's Krasnodar region, located south of the border it shares with Ukraine, according to reports. The training exercise was the latest instance of Russian military activity that has caused tension with government leaders in Ukraine and the West.
The T-90A is a newer version of Russia's standard T-90 tank. Russian tank crews drove through mud and fired shells for target practice, Ukraine Today reports. Several outlets obtained footage of Russian military personnel as they trained with the tanks.
The drills occurred amid concerns among leaders in Ukraine and NATO that Russia will soon spearhead a new military offensive against government forces in war-torn eastern Ukraine. The Kremlin repeatedly has denied accusations it has provided direct support to pro-Russian separatist rebels active in the region.
After meeting with Ukrainian government officials, former NATO Supreme Commander Wesley Clark warned in late March that a new Russian-led separatist offensive could occur within the next two months. Approximately 9,000 Russian military personnel are present in eastern Ukraine, he said.
Ukrainian military officials expect a renewed attack between April 12 and May 9, despite a ceasefire agreement between separatist rebels and government forces that has been in place since February. "The enemy is actively spreading rumors about the beginning of active military actions and an attack on the territories controlled by the Ukrainian government, and is trying to accuse the Ukrainian armed forces in advance of disrupting the ceasefire," Ukraine military spokesman Andrey Lysenko said on April 8, according to Newsweek.
NATO's top leaders met in February to finalize plans that would establish a series of new command centers in Eastern Europe as a check against Russian military activity. The alliance also discussed plans to bolster its rapid-response military force.
"It is a response to what we have seen from Russia over a period of time, and it is in full accordance with our international obligations," NATO Secretary-General Jens Stoltenberg said on Feb. 5.
© Copyright IBTimes 2023. All rights reserved.
FOLLOW MORE IBT NEWS ON THE BELOW CHANNELS