SAfrica's rand falls 2 pct, stocks snap 4 days of gains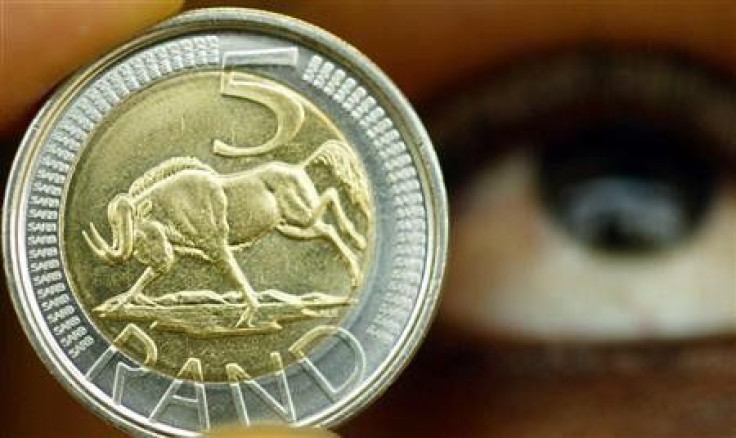 South Africa's rand fell as much as 1.9 percent against the dollar on Tuesday, weighed down by a weak growth outlook for the country's main trading partner bloc and showing the worst performance among its emerging market peers.
Stocks fell for the first time in four sessions on Tuesday, after downbeat economic data in Germany sparked profit-taking but gold miners rallied as bullion prices cruised higher.
The rand weakened to 7.1985 against the greenback before clawing back some ground to 7.1294 by 1529 GMT, still down 1.2 percent from Monday's close.
Analysts said the rand tracked the euro, which fell across the board after release of weak growth data out of the euro zone.
"The overall GDP in Europe was very weak, and it puts a lot of pressure on South Africa's economy because it's a main trading partner of ours," ETM market analyst Luke Barnett said.
"The rand been quite resilient compared to other (emerging market) currencies, so it might also be a bit of a correction."
On the bourse, the JSE Top-40 blue-chip index was off 0.76 percent to 26,743.29 and the broader All-share index gave up 0.57 percent to 29,987.27.
"We're a bit on the back foot today on profit-taking really. We saw economic data last week that showed that things aren't as bad as most thought on the global economy," Desmond Reilly, a trader at PSG Online Securities said.
Miners were among the worst performers as industrial metal prices such copper slipped. African Rainbow Minerals surrendered 2.28 percent to 178.82 rand and BHP Billiton lost 1.73 percent to 234.36 rand.
Elsewhere, MTN Group fell 1.68 percent to 136.95 rand ahead of the wireless phone operator's first-half results on Wednesday.
Gold miners restricted the downside momentum, tracking a higher bullion price. AngloGold Ashanti added 2.91 percent to 327.20 and rival Gold Fields picked up 2.94 percent to 121 rand.
Bourse operator JSE Limited, boosted by 24 percent rise in first-half profit, jumped 4.53 percent to 68.99 rand.
Government bonds initially strengthened, and the yield on the benchmark 4-year issue fell to multi-month lows, with a weekly auction showing continued strong appetite as investors push out their expectations of interest rate increases to next year.
The yield on the 2015 bond fell to 6.82 percent in earlier trade before coming back to 6.845 percent by the close, for a day's gain of 1.5 basis points. The yield on the longer dated 2026 also ended slightly higher at 8.195 percent.
The yield spread between South Africa's two most liquid government bonds hit a record high of 141 basis points on Tuesday, extending recent gains as investors buy debt at the shorter end of the curve on expectations interest rates might not rise by year end as previously thought.
© Copyright Thomson Reuters 2023. All rights reserved.