Samsung Galaxy Note 3 Release Confirms Specs Including Quad-Core/Octa-Core Processors, 3GB Of RAM and 4K Video Recording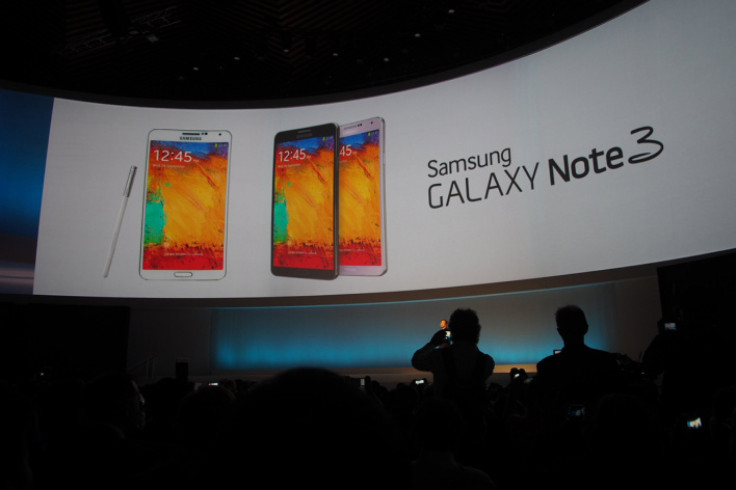 The Samsung Galaxy Note 3 is now official in an unveiling that provided all of the pomp and circumstance that has come to be expected from a Samsung event. Samsung Unpacked: Episode 2 opened with a string orchestra before the Galaxy Note 3 was announced in Berlin, while countless others watched via live stream as well as at a viewing event held in New York's Times Square.
"We are here to introduce the next evolution of the Galaxy Note experience," said Samsung President J.K. Shin.
According to Shin, since introduction of the original Samsung Galaxy Note in 2011, Samsung has taken customer feedback to heart with the creation of each new generation. The Samsung Galaxy Note 3 is described as slimmer and lighter. It possesses a larger screen while being more compact, is faster, and yet also has a longer battery life.
Our first glimpse of the Samsung Galaxy Note 3 shows a leather textured back panel, which gives the device a stronger grip and notebook-type feel. The device features a wider screen, the long rumored 5.7-inch Full HD Super AMOLED display, while maintaining the same breadth as the Samsung Galaxy Note 2. We also see the Samsung Galaxy Note 3 with an enhanced S-Pen, which provides better multitasking.
The Samsung Galaxy Note 3 includes a host of features, but its general tech specs include a 2.3GHz quad-core LTE processor and a 1.9GHz octa-core 3G processor, 32GB and 64GB storage options with micro SD expandable storage, 3GB of RAM, a 13-megapixel camera, and 1.9-megapixel front camera with 1080p/60 video recording and 4K video recording for some models. The Samsung Galaxy Note 3 also runs the latest Android 4.3 Jelly Bean operating system and a 3,200mAh battery and features boosted 24 bit and 192 KHz audio.
The Samsung Galaxy Note 3 will come in jet black, classic white and blush pink color options. Samsung will release it to 149 countries on Sept. 25 while U.S. and Japanese markets will get the device in October. In the U.S. the Galaxy Note 3 will be released on the AT&T, Sprint, T-Mobile, Verizon and U.S. Cellular networks; pricing information has not yet been revealed.
Software features include Samsung Knox pre-loaded and able to work for both personal and business capacities. The Samsung Galaxy Note 3 also focuses on improved multitasking with the Air command feature, which directs users to the Action Memo, Screen Write, S-Finder, Scrapbook and Pen Window features. With the S-Pen, users can easily navigate their Samsung Galaxy Note 3 handset with simple dot, circle and box motions.
Samsung also unveiled the Samsung Galaxy Gear smart watch, which serves as a companion device for the Galaxy Note 3 and implements such features as voice calling to allow for more natural hands-free talking, in addition to a host of its own features.
Lastly, the Samsung Galaxy Note 10.1 2014 Edition was unveiled and will also work with the Samsung Galaxy Gear as a companion device.
What did you think of Samsung Unpacked Episode 2 and the Samsung Galaxy Note 3 unveiling? Let us know in the comments below.
Follow me on Twitter @FionnaatIBT.
© Copyright IBTimes 2023. All rights reserved.
FOLLOW MORE IBT NEWS ON THE BELOW CHANNELS