Samsung Galaxy Note 3 Release: Manufacturer Admits Misstep With Region Lock Feature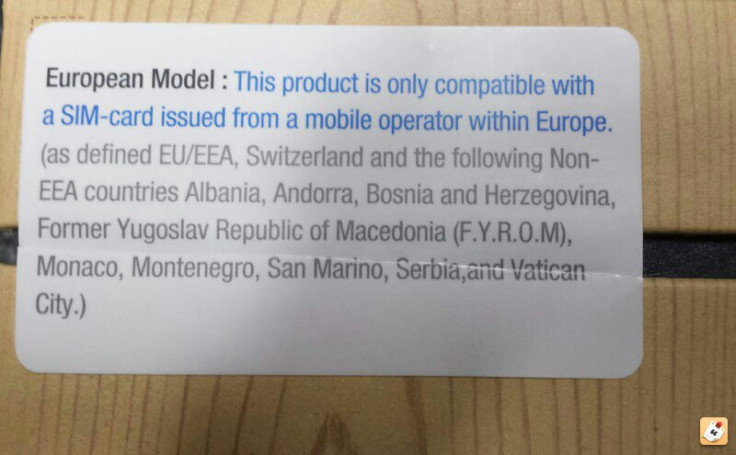 Samsung has admitted that a region-locking feature on the popular Galaxy Note 3 is causing unintended headaches and confusion among dismayed customers.
The company evidently didn't expect the "degree of uncertainty" that has arisen with the region-lock feature. When the Samsung Galaxy Note 3 was first released internationally, various European and American models included stickers explaining that the Note 3 handsets can be powered by mobile carriers only within certain compatible countries and territories.
This sparked concern among new and prospective adopters of the Galaxy Note 3; however, various Samsung divisions including Samsung Germany and Samsung Switzerland released statements explaining how region locking and unlocking was supposed to work. Activating a Galaxy Note 3 handset with an in-region SIM card was intended to unlock said handset to use with SIM cards from local carriers in foreign countries. Many U.K. Galaxy Note 3 owners; however, found this was not the case. Their Note 3 handsets suspiciously failed to function with SIM cards from local carriers in such countries as Africa or Asia, even after a proper activation.
Region-locking on the Samsung Galaxy Note 3 is intended to combat illegal "gray market" importing, in which vendors purchase devices from one region and sell them to another region to profit from the difference between retail prices in different areas around the world. The problems Galaxy Note 3 owners have been experiencing with region-locking on their handsets is especially troublesome for frequent travelers who rely on local SIM cards to power their devices. The issue has turned many away from purchasing the Galaxy Note 3; one report even indicated that a Samsung representative suggested a patron purchase a smartphone without a SIM lock feature.
Samsung recently released a statement to the German tech blog All About Samsung addressing the issue. Below is the statement, translated from German by SamMobile.
"We assure you that the pleasant and smooth user experience for our customers with Samsung products is a top priority for us. Of course, we take customer feedback to heart. The fact that the regional SIM Lock function ensures this degree of uncertainty, we did not expect. Therefore, we collected and analyzed the many questions in the last days. The regional SIM lock feature on the latest Samsung products will remain in place. We are currently examining intensively However, how can we optimize and simplify the procedure for total customer satisfaction. To answer all the questions satisfactorily, but we still need some time. If users previously have problems with the deactivation of the regional SIM lock function, they can contact customer service. This supports like the activation process so that customers can use their device without restrictions."
As the region-lock feature will remain on Galaxy Note 3 handsets, Samsung has recommended Note 3 owners contact Samsung customer support to resolve any issues with region-locking on their handsets. In addition, various websites sell unlocking codes for $20 to $25. Developers have also created an app to bypass region-locking issues.
It remains unclear exactly how Samsung plans to combat the region-locking issue itself. As per the statement, any fixes may come through software optimization. Rumors indicate that older Samsung Galaxy devices will also receive the region lock feature when they update to new operating systems such as the upcoming Android 4.4 KitKat. Notably older handsets such as the Samsung Galaxy S4, Galaxy S3, Galaxy S2, Galaxy Note 2, and Galaxy S4 Mini, manufactured after the end of July 2013 have the region lock implemented. Galaxy S4 handsets with region lock have reportedly been spotted in Latin America and Europe.
Do you think it is good Samsung is now admitting fault with the region lock feature? Let us know in the comments below.
Follow me on Twitter @FionnaatIBT.
© Copyright IBTimes 2023. All rights reserved.