Samsung Galaxy Note 8 Specs Include Large Display And Optical Zoom Camera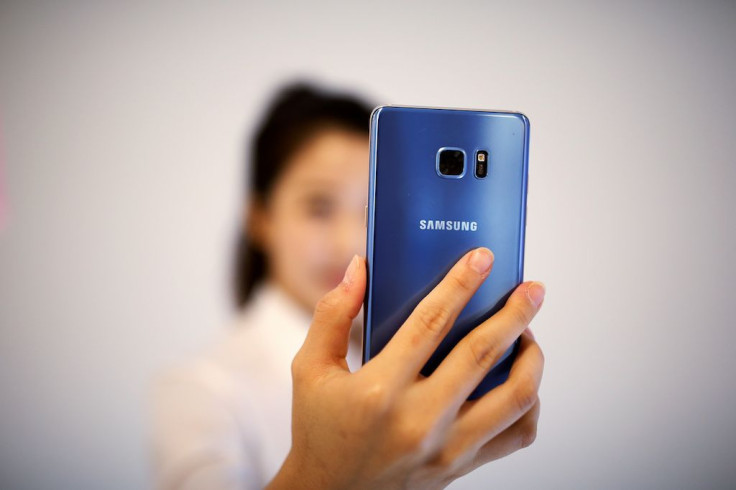 The Samsung Galaxy Note 8 will likely be announced next Wednesday, but the rumor mill hasn't yet finished with the smartphone. A recent leak from the mobile benchmarks GFXBench and AnTuTu, indicate that the smartphone will have a 6.4-inch display. While this feature detail has come up before, most reports have suggested the Galaxy Note 8 would have a 6.3-inch display. If true, the slightly larger 6.4-inch screen would likely be a differentiator between the upcoming the device and the current Galaxy S8 Plus, which features a 6.2-inch display.
Read: Samsung Galaxy Note 8 Specs Showcased In Live Leak
Samsung has made a part of its design story, devices with large displays and small frames for several iterations. Devices including the Galaxy S7 Edge, the Galaxy Note 7 and the Galaxy S8 handsets all use Samsung's signature dual-edge curved display to truncate the overall size of the device, without losing screen real estate. Samsung has removed the physical home button from more recent devices, such as the Galaxy S8. The Note 8 is expected to have that design feature. It continues to be a preamble to on-screen fingerprint scanners, which may not be implemented onto Samsung devices until the Galaxy Note 9, according to rumors.
Recent leaks may have also revealed details about the Galaxy Note 8 camera. While rumors have long suggested the handset may feature a dual camera setup, ETNews more specifically indicates the module may include a 12-megapixel optical lens and a 13-megapixel telephoto lens, with 2x optical zoom.
Devices scheduled for release during the latter half of 2017 may compete based on camera features. Leaks have suggested that the dual camera on the LG V30 may include at least one f/1.6 aperture lens. If true, it would be the largest mobile camera lens on the market. Currently, Samsung's premium devices feature f/1.7 aperture.
Read: Will Samsung Galaxy Note 8 And LG V30 Share A Release Date?
Currently, continued improvements to camera technology appear to be the focus for upcoming devices in lieu of features such as on-screen fingerprint sensors. Reports indicate even Apple may scrap its efforts to implement an on-screen fingerprint sensor on upcoming iPhone and could even resolve to put the its capacitive fingerprint scanner on the back of the device, similar to both the Galaxy Note 8 and LG V30.
The recent leaks also double down on claims the Galaxy Note 8 will feature 6GB of RAM and 64GB of internal storage. Samsung has yet to confirm any features for the device. After its Aug. 23 launch, the Galaxy Note 8 may go on sale Sept. 15, with preorders rumored to start anywhere between Aug. 24 and Sept. 1.
© Copyright IBTimes 2023. All rights reserved.