Samsung Galaxy S4 Release Date Coming: Analyst Says Handset Could Bring An 'iPhone 5 Moment' With Negative Effect On Company's Stock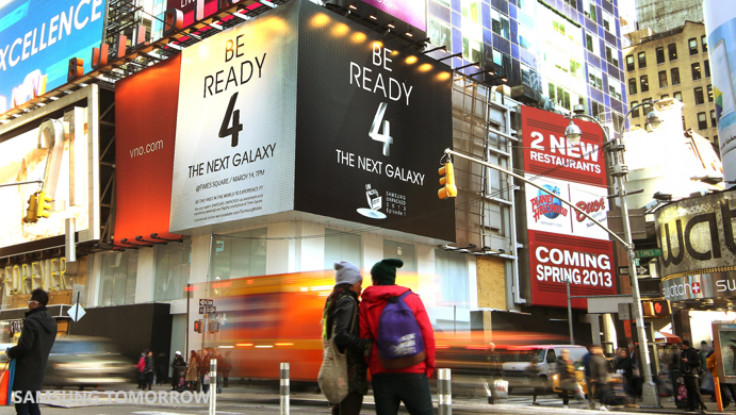 Samsung Galaxy S4, one of the most anticipated devices of this year, is just around corner. While millions of Samsung (005930.KS) fans all around the world are eagerly waiting for the company to unveil its next generation flagship smartphone at a March 14 release event in New York, one analyst is of the opinion that the handset could have a negative effect on the company's stock.
In an extensive report on the overall smartphone industry, Adnaan Ahmad from Berenberg Bank cut his ratings on Samsung and advised the company shareholders to sell.
Ahmad says in his report, in which he has also changed his advice on Apple (NASDAQ:AAPL) stock from 'Buy' to 'Sell,' cutting his price target from $800 to $360, that Samsung could face an "iPhone 5 moment," following the release of the Samsung Galaxy S4 next week.
What the analyst tries to refer by the term "moment" is the time period when Apple's stock soared after the announcement of the iPhone 5 in September last year. Since then, the share price of the Cupertino tech giant has plunged significantly, notwithstanding the company selling millions of devices following the iPhone 5 launch and reporting even more revenue and profits than before, Android Authority has reported.
If Ahmad is to be believed, Samsung's stock will fall in the subsequent months after the release of the Samsung Galaxy S4, and thus will bring the "iPhone 5 moment" for the South Korean conglomerate.
Here's an excerpt from Ahmad's report, via Barron's:
"…learning from our Apple experience, the Galaxy S4 launch could be Samsung's iPhone 5 "moment" – when the Apple stock peaked. The S4 should have a better processor (Exynos Octa chip) and improved display (potentially larger/flexible) but how much better can it really be? Samsung, as we have written extensively in the past, has a significant advantage over its peers as it has a 12-18 month lead on AMOLED display technology. This technology allows for the screen to potentially be flexible and foldable. We do not think that flexible is a big differentiating factor, whereas foldable probably will be in the future. However, foldable screens are still 18 months away at least. In the interim, mega bulls on the Samsung stock are going to be hoping for a) market share gains versus Apple at the high end; and b) better margin structure than our estimates on the mid-to-low-end portfolio."
Ahmad predicts that Samsung will witness healthy H1 2013 results, thanks to the Galaxy S4 release and ensuing sell-in to the market. However, he opines that just like it happened with Apple, "investors will quickly start to look beyond H1 2013" in the case of Samsung as well.
"Hence any near-term strength in the stock for us is an opportunity to sell down positions," he says.
Some recent reports have said that Samsung could sell as many as 100 million units of the Galaxy S4, making the device the most popular Android handset ever. In addition, some other reports also have suggested that Samsung is planning to sell up to 10 million Galaxy S4 units per month.
If all these estimates indeed turn out to be accurate, it will be interesting to see how Samsung's stock performs.
Meanwhile, a new comScore report has revealed that during the three-month period ending January 2013, Apple retained the top position among the smartphone manufacturers in the U.S. with 37.8 percent market share, up 1.5 points from December 2012. On the other hand, Samsung stood second in the list with 21.4 percent market share, up 0.4 points from December of last year.
Samsung will definitely try to leverage on the release of the upcoming Galaxy S4 to bridge the gap with Apple in the U.S. that plays a major role in the overall smartphone industry market share.
Rumors are rife that the new Samsung Galaxy S4 will be a powerful device with the in-house Exynos Octa CPU. The smartphone is also expected to attract buyers with its 4.99-inch Full-HD AMOLED Display.
Other key features and specs of the Galaxy S4 include Android 4.2 Jelly Bean, 2GB RAM, storage capacity of 16GB, 32GB and 64GB, a 13-megapixel camera, a 2-megapixel front-facing camera, removable battery and a new TouchWiz Nature UX 2.0.
© Copyright IBTimes 2023. All rights reserved.