Samsung Galaxy S4 Vs. HTC One: Both Google Edition Devices Now Available At Google Play Store, Which Will You Buy?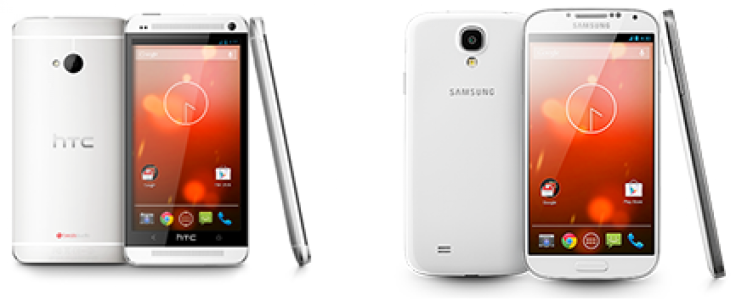 With so many versions of the Samsung Galaxy S4 and the HTC One on the market, it may be difficult to choose just one. But if you already have your heart set on a Google Edition device, you only have two versions with which to grapple.
Google introduced the world to the first non-Nexus device to run stock Android when it unveiled the Samsung Galaxy S4 Google Edition at its I/O conference in May. Soon after, Google unveiled the HTC One Google Edition at the D11 conference. Each smartphone a highly coveted flagship device in its own right, Google Edition variants upped the ante for each device, promising not only a seamless user experience but also bootloader unlocked devices -- something that has been a source of contention for early adopters of both the Galaxy S4 and the HTC One on certain mobile carriers.
Both devices conveniently release Wednesday and are available on the Google Play Store powered by GSM networks AT&T and T-Mobile. If you are still undecided as to which Google Edition device you want, let's review the features of each to hopefully make your choice a little easier.
Standard Specs
Each Google Edition device more or less has the same general specs as its original variant. In the Samsung Galaxy S4 GE, we see the same 136.6 x 69.8 x 7.9 mm dimensions, the same 5-inch 1,080 x 1,920 Full HD Super AMOLED display with Gorilla Glass 3 protection and the same slim polycarbonate design with thin bezel. The HTC One GE maintains its 137.4 x 68.2 x 9.3 mm dimensions, its 4.7-inch 1,080 x 1,920 Super LCD3 display with Gorilla Glass 2 protection and its aluminum unibody design.
While many favor the Galaxy S4's wider screen and slimmer design, others prefer the HTC One due to its sturdy aluminum casing and the fact that it has a higher pixel density because it has the same display resolution as the Galaxy S4 on a smaller screen.
Operating System
Both Google Edition devices feature the "Nexus experience" stock Android 4.2.2 Jelly Bean, which is devoid of the smartphones' respective Samsung TouchWiz and HTC Sense 5 user interfaces and other manufacturer bloatware. Without the erroneous pre-installed system files, users should find some internal storage space is freed up, which has especially been an issue for owners of the original Galaxy S4. The Google Edition Galaxy S4 and HTC One also get the Nexus benefit of automatically receiving system updates directly from Google.
The original Galaxy S4 notably ships with Android 4.2.2, while the operating system is an upgrade for the HTC One which ships with Android 4.1.2 in its original version.
Processor And Memory
Both Google Edition devices, similar to their originals, contain the Qualcomm Snapdragon 600 chipset, which includes the quad-core Krait 300 CPU and Adreno 320 GPU. The difference between the processor in the Galaxy S4 and the HTC One comes in clock speed. The Snapdragon 600 chipset in the Galaxy S4 clocks in a 1.9GHz, while the SoC in the HTC One clocks in at 1.7GHz. The 200MHz difference has been noted in many benchmark texts, such as those by AnTuTu and GeekBench, which deem the Galaxy S4 as faster and more efficient by way processing power. However, the HTC One still packs a powerful processor, faster than most others currently on the market.
As for memory, both Google Editions devices have their merits and downfalls. Both notably contain the same 2GB of RAM but vary vastly in their internal memory. The Galaxy S4 GE contains the standard 16GB of internal memory, which many of its earliest owners it considered false advertising since only about half of that memory is available for personal use. A positive for the issue is that users can expand their memory capacity with a microSD card up to 64GB. However, there is no word on whether the Galaxy S4 GE will be capable of microSD installation. Samsung recently began implementing a system update onto the Galaxy S4 that will allow microSD installation and transfer. But with Galaxy S4 GE receiving its updates from Google and not Samsung, there is a chance the device may miss that particular enhancement.
The HTC One GE contains its standard 32GB of internal memory and will likely also see its available memory increase from the lack of manufacturer bloatware. However, its lack of microSD support due to its aluminum unibody has been a criticism that many fans have been unable to overlook. Even with a more standard internal memory, that is all the memory that the device will ever be capable of having.
Connectivity And Battery
Both the Galaxy S4 and HTC One Google Editions come fully connected with HSDPA, 42.2 Mbps; HSUPA, 5.76 Mbps; LTE, Cat3, 50 Mbps UL, 100 Mbps DL, Wi-Fi 802.11 a/b/g/n/ac, DLNA, Wi-Fi Direct, Wi-Fi hotspot, Bluetooth 4.0, NFC chip, and microUSB 2.0.
As of now, we know that the Infrared blaster on the HTC One GE is not functional. But savvy users should be able to restore this function with system modifications. Currently, there is no word on whether the IR blaster on the Galaxy S4 GE is functional.
The main source of power for both the Galaxy S4 and the HTC One can be found in their respective batteries, which remain the same from their original versions. The Galaxy S4 GE contains a removable Li-Ion 2,600 mAh battery, while the HTC One GE contains a nonremovable Li-Po 2,300 mAh battery.
With standard usage, the Galaxy S4 is known to last about half a day, while the HTC One can last up to a full day. However, both devices can likely be pushed to their limits with various battery saving techniques. Similar to the microSD card issue, many favor the Galaxy S4 due to the fact that its removable back allows users to install more powerful batteries if they wish, while if a heavily used HTC One GE were to incur battery trouble, a user would not be able to exchange the faulty power source.
Camera
Samsung and HTC used different technologies to develop two very different cameras for their respective flagship smartphones, which, in their original versions, came with a host of special camera modes and features. However, as the vanilla Android moniker indicates, all of these features are disabled in the Google Editions.
The Galaxy S4 GE features a 13-megapixel camera with autofocus and LED flash. The camera allows for 1,080p at 30fps video recording, simultaneous HD video and image recording, geo-tagging as well as touch focus, face and smile detection, image stabilization, and HDR. Its 2-megapixel front-facing camera is capable of recording full HD videos.
The HTC One GE features a 4-megapixel UltraPixel camera with autofocus, LED flash, 1/3-inch sensor size and 2µm pixel size. The camera allows for simultaneous HD video and image recording, geo-tagging, face and smile detection, optical image stabilization, and full HD video recording support at 30fps. Its 2.1-megapixel front-facing camera is capable of 1,080p@30fps video recording and HDR.
The cameras on both devices have proved to take photos of near equal quality and sharpness. But the HTC One has an advantage in that it shoots better photos in low-light conditions.
Price
Many could consider the HTC One GE a bargain at just $599, compared to the $649 Galaxy S4 GE, which is $50 more expensive but features just half the internal storage of the HTC One GE. Currently, both devices will be released only in the U.S. and exclusively through the Google Play store. The HTC One GE will reportedly be released in very limited supply with likely just 50,000 handsets selling through the Play Store. There is no word on how many Galaxy S4 GE handsets will be available for sale.
Verdict

According to several characteristics from both devices, we have developed a chart to dictate which smartphone comes out on top. In our book, the Samsung Galaxy S4 wins by a hair. However, both Google Editions are quality smartphones that are fully equipped to meet the needs of even the most stringent smartphone enthusiast.
Consumers have many aspects that they can use to make a decision of which device they prefer. From storage needs to camera needs, brand loyalty, whichever Google Edition smartphone they choose, they likely won't be disappointed.
Follow me on Twitter @FionnaatIBT.
© Copyright IBTimes 2023. All rights reserved.