Samsung Galaxy Tab 3 Release Date Revealed, Pre-Orders Start Tomorrow, Will Compete With Google, Amazon, B&N, iPad Budget Tablets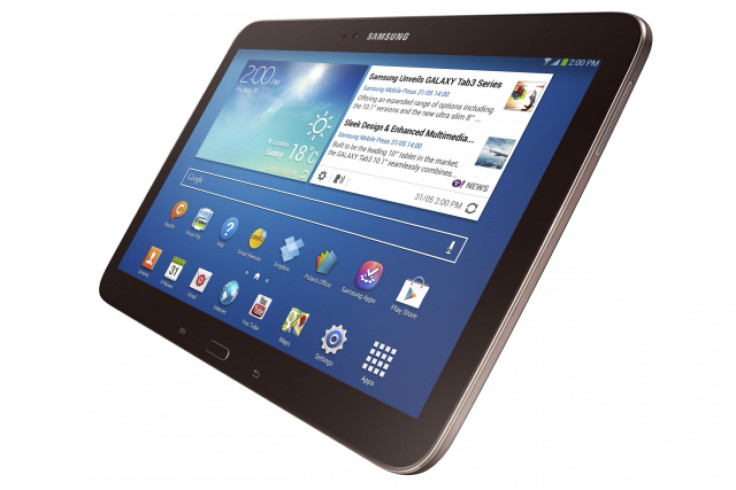 According to multiple reports, Samsung has announced three new tablets to be added to its roster of slates: the Samsung Galaxy Tab 3 7.0, Samsung Galaxy Tab 3 8.0 and Samsung Galaxy Tab 3 10.1. All three of the new Samsung Galaxy Tab 3 tablets will release from multiple retailers including Best Buy, Amazon and Fry's starting July 7. Preorders start tomorrow.
The Tab 3 7.0, Tab 3 8.0 and Tab 3 10.1 will cost $199, $299 and $399, respectively. We find the Galaxy Tab 3 7.0 to be particularly intriguing, because its $199 price point indicates that it will directly compete with other hotshot budget tablets including the Amazon Kindle Fire ($159) and Kindle Fire HD ($199), Google Nexus 7 ($199), Barnes & Noble Nook HD ($129) and the pricier but still relatively inexpensive Apple iPad mini ($329).
Now for some specs. The Tab 3 7.0 will reportedly sport a 7-inch 1024 x 600 display, run Android 4.1 and ship with 8GB of storage. Both the Tab 3 8.0 and Tab 3 10.1 will wear 1280 x 800 screens, run Android 4.2 and come with 16GB of storage.The Tab 3 8.0 will have an 8-inch screen, while the Tab 3 10.1 will come with the biggest display of the bunch: 10 inches. Each of the new Tab 3 tablets will allow users to upgrade storage via a microSD slot.
It will be interesting to see whether Samsung's newest attempt to bite into the tablet marketshare pie will bear any fruit, especially considering that refreshed models of the Google Nexus 7 and iPad mini could be on the way.
In the interim, what do you think of the newest line of Tab 3 tablets? Will you be getting any of them? If so, why? Do you plan to preorder any of them? If so, which ones and why? Do you think Samsung can compete with other big-name tablet makers like Google, Amazon, Barnes & Noble and Apple? Why or why not? Sound off in the comments below.
© Copyright IBTimes 2023. All rights reserved.