Samsung Galaxy X Could Sport Flexible Display As Apple Rival Secures Patent For Advanced Foldable Smartphone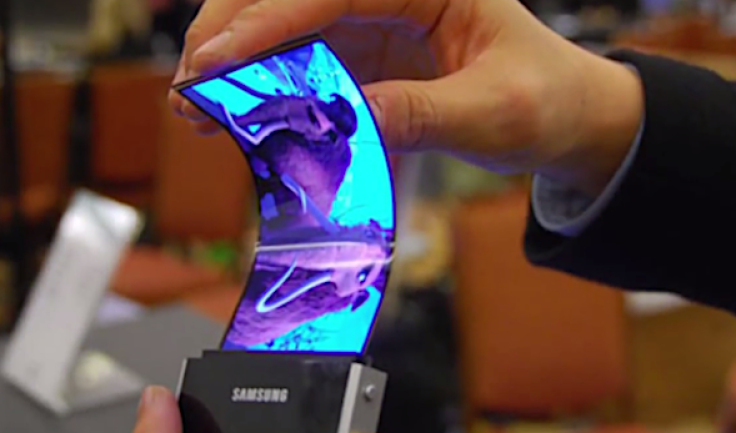 The wounds that were caused by the discontinuation of the Galaxy Note 7 are far from healing completely, but Samsung is not backing down from its goal of innovating technology for the worldwide consumers. Its newest attempt to change the landscape of smartphone technology is creating a device that is reminiscent of the flip phones of yesteryears while also sporting the futuristic engineering of the modern times.
Just this Wednesday, a fresh patent application made by the South Korea tech giant has reached the attention of IBTimes UK. The patent was found to have been filed early this year with the Korea Intellectual Property Office. Based on the content of the document, Samsung could be pushing for the development of a flip phone, which is rumored to be internally called as Galaxy X or Project Valley.
Instead of following the traditional design of flip phones, however, Samsung could be planning to build one that has a more sophisticated hinge design and folding mechanism. The patent is in Korean, but it says the device "can be folded or unfolded semi-automatically" when translated.
It also appears that Samsung could be moving toward the direction of mass-producing bendable displays, since the patent indicates that the display of the bendable phone should be flexible. There is also mention of a secondary display that is going to remain functional when the device is in the folded state.
According to The Verge, the patent corroborates an earlier rumor about Samsung's plan to ship devices — specifically tablets and smartphones — with bendable OLED display. The rumor surfaced in the wake of reports suggesting that more companies are testing out flexible OLED technology for smartwatches.
Aside from the innovative aspect of bendable smartphones, there are also practical reasons why electronic companies are experimenting with this type of technology. CNET reports that Samsung's patented design could come with interesting features, like its bendable form could mean that the device would hug the cheek comfortably when one is calling. There is also the advantage of having a large phone with the ability to bend in half, so it could fit easily in pockets.
Samsung is believed to be releasing the foldable Galaxy X in 2017 — the same year it plans to launch the highly anticipated Galaxy S8. Though this could mean internal competition between the two handsets, it's just right for Samsung to release powerful devices that could help regain its reputation among consumers.
© Copyright IBTimes 2023. All rights reserved.