SantaCon NYC 2012: Thousands Of Santas Flood New York [PHOTOS]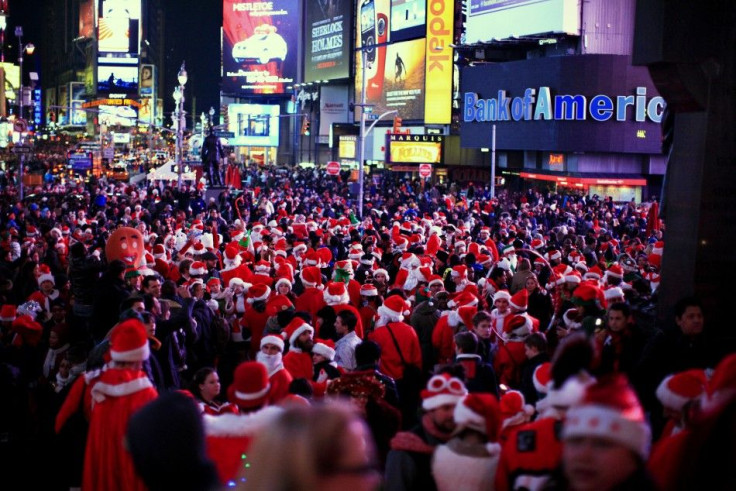 Santa Claus is coming to town -- and a little less than two weeks before Christmas he needs a drink or three.
Thousands of revelers took to the streets of New York on Saturday for SantaCon NYC 2012.
People showed up wearing Santa suits, elf costumes, reindeer garb, and just about anything else that involved red and green and had something to remotely do with Christmas.
Although SantaCon NYC is not supposed to be considered a pub crawl according to its sponsor, participants merrily flock from bar to bar to grab a drink while attired in their Christmas gear.
Revelers are asked to bring two containers of canned food, but it's not required.
Because the number of participants anticipated for the event this year is bigger than ever, a SantaCon app was created so all the mock Santas would know where to go to get their jolly drink on.
SantaCon is described on the app as a "non-denominational, non-commercial, non-political and non-sensical celebration" that takes place in cities around the world after beginning in California back in 1994.
Due to the fact the air temperature has been warmer this December than most Decembers in New York, revelers were able to comfortably enjoy running around Times Square with thousands of other Santas, many of whom were intoxicated.
SantaCon was different in another key way this year. Typically, participants don't know where they are going until the morning of the event, but, because some New Yorkers were almost traumatized last year, SantaCon began at 10 a.m. on Pier 84 at West 44th Street and the Hudson River.
The sponsor then sent out posts on Twitter with the handle @santacon to let participants know when they were changing destinations.
Although there was a set route for revelers to follow, many of them huddled around bars close to Pennsylvania Station where they were able to drink close to the modes of public transportation that eventually took them home.
© Copyright IBTimes 2023. All rights reserved.
FOLLOW MORE IBT NEWS ON THE BELOW CHANNELS