Is Sarah Palin Rich? Inside The Alaska Candidate's Net Worth
KEY POINTS
Sarah Palin started a career in politics back in 1992
Palin served as governor of Alaska from 2006 to 2009
In 2010, she became a Fox News Channel contributor
Sarah Palin is a politician who served as governor of Alaska from 2006 to 2009. She is a well-known political figure in the United States, having run for vice president alongside John McCain in 2008.
After former President Donald Trump endorsed Palin in the upcoming Alaska House special election, several people wondered about her net worth and political endeavors.
Palin was born on February 11, 1964, in Sandpoint, Idaho. Later in the year after her birth, her family moved to Alaska.
She received a Bachelor of Science degree in Communications from the University of Idaho in 1987. After getting a degree, she returned to Alaska to work as a sports reporter at an Anchorage television station.
According to multiple media reports, Palin's political career began in 1992 when she got elected to the Wasilla City Council.
She then ran for mayor in 1996 and defeated the incumbent official.
In 2002, she unsuccessfully campaigned for the Republican nomination for lieutenant governor of Alaska.
After the election, she was appointed to the Alaska Oil and Gas Conservation Commission by Governor Frank Murkowski but resigned after attempting to investigate fellow commissioner and state Republican Party chair Randy Ruedrich.
Palin became governor of Alaska in 2006, but she resigned from her post in July 2009.
Outside of politics, Palin was active in the entertainment world.
In 2010, she became a contributor to the Fox News Channel. She also had a show called "Sarah Palin's Alaska."
She left Fox News in 2015 and supported Trump during the 2016 election.
Aside from being a television host, Palin was also an author. The books she authored included "Going Rogue: An American Life" and "America By Heart."
In 2020, Palin and her husband of more than 30 years, Todd Palin, finalized their divorce, according to People. They share five children.
The former couple spent $1.75 million on a six-bedroom home in Scottsdale, Arizona, in 2011. They sold the house in 2016 for $2.275 million.
In 2015, they paid nearly $1 million for another property in Scottsdale. They sold the property in 2019 for $6.2 million, raking in a profit of $5.263 million.
As of 2022, her net worth stands at $8 million, as per Celebrity Net Worth.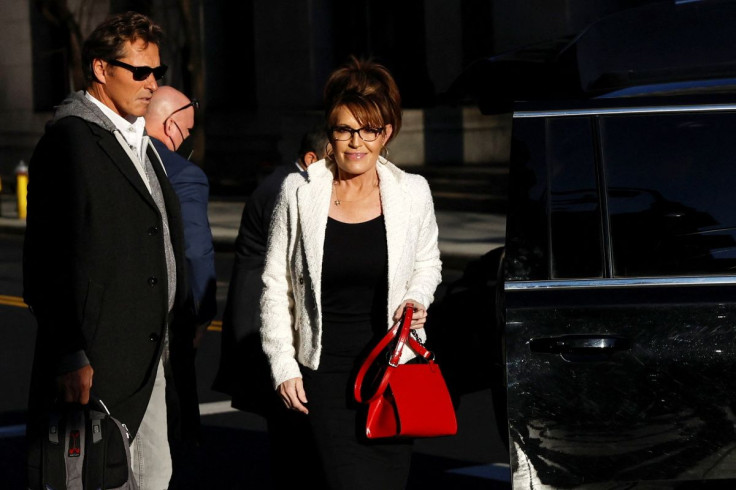 © Copyright IBTimes 2023. All rights reserved.