Sarkozy, Merkel Kick Off Week of Euro Crisis Talks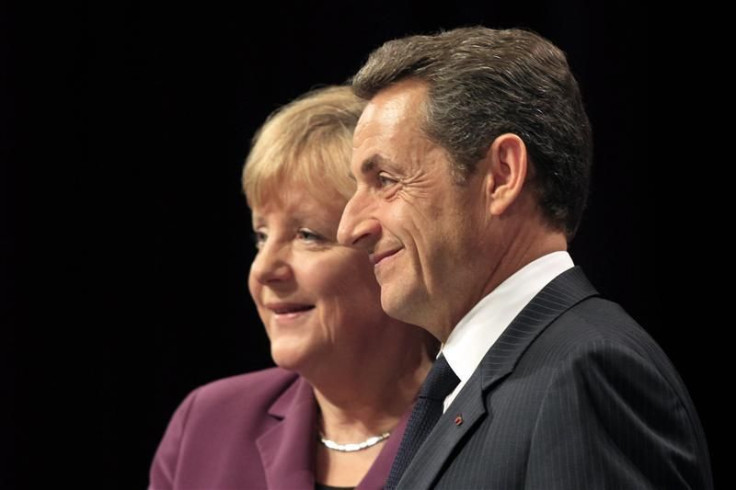 (REUTERS) - French President Nicolas Sarkozy and German Chancellor Angela Merkel meet in Paris on Monday under pressure to align their positions on centralizing control of Eurozone budgets to stem a debt crisis that threatens Europe's currency union.
The two leaders individually outlined their views last week on closer fiscal integration and need to overcome differences in order to fine tune proposals they want to present to EU leaders in Brussels on Thursday, on the eve of a make-or-break summit.
The duo, increasingly dubbed Merkozy as they intensify bilateral efforts to restore confidence in the Eurozone, will meet over lunch at 1:30 p.m. (1230 GMT) and Sarkozy's office said they would give a joint news conference afterwards.
They aim to agree plans for more coercive budget discipline in the Eurozone, likely via EU treaty change, which they want all 27 EU leaders to approve at Friday's summit.
We need profound treaty modifications, French government spokeswoman Valerie Pecresse told France Inter radio, but stressed the idea was to give Eurozone governments the final say on applying any punitive sanctions proposed by the European Commission for fiscal slackers.
European stocks continued their rally, with the FTSEurofirst 300 index of top shares up 0.5 percent at 990.14 points at 0858 GMT, and safe-haven German Bunds opened slightly lower, on anticipation of a Franco-German masterplan.
ECB chief Mario Draghi has signaled that a fiscal compact could nudge the bank to act more decisively on the crisis.
The sticking point for this week is that France opposes Germany's push to have euro states surrender budgetary control to a European authority with veto power.
While Germany, fed up with costly bailouts, wants a more federal EU system, Sarkozy is under fire five months from a presidential election from political rivals who accuse him of being ready to hand over sovereignty to unelected EU officials.
Socialist presidential hopeful Francois Hollande, in Berlin on Monday to address opposition Social Democrats (SPD), and far-right leader Marine Le Pen have both criticized the idea of handing Brussels more control of public finances.
Hollande aide Pierre Moscovici told French LCI television on Monday that acquiescing to Berlin's demands would be evidence that the Franco-German relationship had become unbalanced.
We do not need a treaty to have budgetary union, he said. Most of all, it erodes our sovereignty. We do not need to be under the nitpicking control of the European Court of Justice.
PARIS, BERLIN SEEK COMMON GROUND
Bruno Le Maire, agriculture minister and a close aide of Sarkozy's, said on Sunday that far from undermining sovereignty, tightening budget control would restore confidence and reduce the power of markets to wreak havoc with public finances.
He said the ruling conservatives were also opposed to Berlin's idea of giving the European Court of Justice a veto on national budgets. This is about building a European sovereignty that will make us stronger and guarantee the future of the single currency, he told Radio France.
Analysts cautioned that opposition in other euro states to a more intrusive and stringent fiscal regime could yet derail a rescue plan that has eluded Eurozone leaders for two years.
Italy's new premier Mario Monti unveiled a 30 billion euro ($40 billion) austerity package on Sunday, raising value-added tax, reintroducing a property tax, and lifting the pension age.
Several other governments, notably Britain, Ireland and the Netherlands, oppose treaty change for domestic political reasons and fear they wouldn't in public backing in referendums.
Investors would be well advised to adopt a cautious stance in the run-up to next Friday's EU summit, said Nicholas Spiro of debt consultancy Spiro Sovereign Strategy.
British Prime Minister David Cameron said after talks with Sarkozy in Paris on Friday that he would agree to treaty change only if Britain's interests were protected.
On Wednesday, Sarkozy will meet in Paris U.S. Treasury Secretary Timothy Geithner, whose fourth trip to Europe since early September reflects U.S. concern about the Eurozone.
Geithner visits Germany on Tuesday to meet Draghi and German officials. Later in the week he joins EU leaders at a political congress in the French city of Marseille due to be dominated by euro crisis talks and then heads to Milan to meet Monti.
Berlin and Paris are under unprecedented pressure to see eye to eye in a crisis that has split them on issues such as the role of the ECB in lending to troubled states and on the matter of whether the bloc should issue joint euro bonds.
Regarding a disagreement over language in the Eurozone's bailout mechanism compelling bondholders to accept losses, sources said on Sunday that Germany was ready to soften that reference in line with France's wishes.
Sources close to Merkel have also said that depending how this week's talks go, she could overrule hostility from the Bundesbank and support the ECB stepping up its debt purchases from troubled euro states as a short-term bridging measure.
In terms of their push for closer fiscal governance, Berlin and Paris hope to short-circuit the complex treaty amendment procedure by wrapping their budgetary proposals into a single amended protocol. They hope to avoid a parliamentary convention and reduce the need for national referendums on ratification.
(Additional reporting by Paul Taylor and Astrid Wendlandt in Paris; Julien Toyer in Brussels and Andreas Rinke in Berlin; Editing by David Stamp)
© Copyright Thomson Reuters 2023. All rights reserved.
FOLLOW MORE IBT NEWS ON THE BELOW CHANNELS