Saud Al-Faisal Dies: Longest-Serving Foreign Minister Helped Steer Saudi Arabia Into More Open And Direct Engagement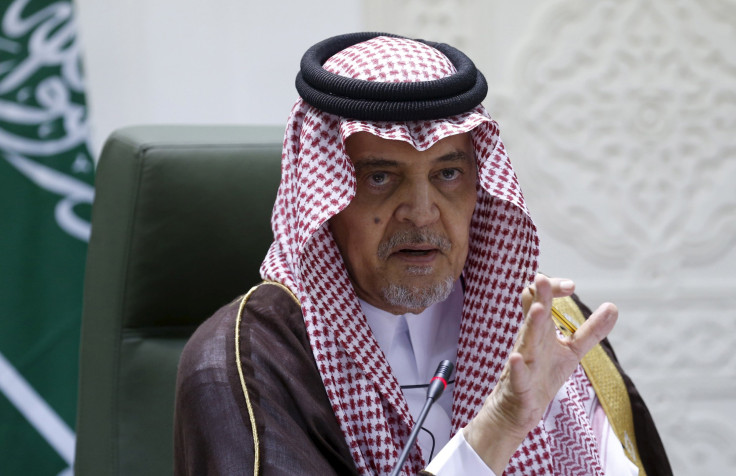 Prince Saud al-Faisal, the world's longest-serving foreign minister who stepped down in late April amid health issues, has died, a government spokesman said on Twitter Thursday. He was 75. Prince Saud became the Arab kingdom's head of foreign relations in 1975 in the wake of the assassination of his father, King Faisal. Before that, Saudi kings were directly in charge of foreign affairs.
"I wish I could deny it, but I can't," Foreign Affairs Ministry spokesman Osama Nugali wrote on his Twitter account, according to Arab News.
Respected for his straight talk and wit, the Princeton-educated diplomat oversaw external relations for the insular oil-rich monarchy under four consecutive kings, navigating a complex maze of relations between the West and the Arab world. Saud presided over Saudi Arabia's stances on the Arab-Israeli conflict, Palestinian intifadas and Iraq's invasion of Kuwait in 1990.
"Saud was not only the longest-serving foreign minister, but was also one of the wisest," U.S. Secretary of State John Kerry was quoted as saying in an Arabic statement from the Twitter account of the U.S. Embassy in Riyadh.
More recently, Saud was one of the earlier proponents of arming Syria's secular rebel groups, against both Islam-inspired radicals and the government of Bashar Assad.
But he also was emboldened at times to speak out against U.S. policy. Following the 2004 terrorist attacks in Riyadh that targeted foreigners, Saud fired back at criticism that his country wasn't doing enough to fight terrorism by saying U.S. policy in Afghanistan during the fight against Russia's incursions was as much to blame for the rise of Saudi terrorist Osama bin Laden (killed by U.S. forces in 2011).
"If Saudi Arabia is guilty for what he has become, the United States must surely share the blame," Saud said. He also compared Saudi Arabia's relations as that of a Muslim marriage, in which a country can have multiple wives as long as each is treated equally. He meant that Saudi Arabia had to balance its relations between the interests of the West and those of its allies, including Pakistan.
Saud's ascent to one of Saudi Arabia's most important ministerial roles was born from tragedy. King Khaled, who ascended to the throne after the assassination of King Faisal, gave up the foreign ministry portfolio by naming the late king's son as the country's first foreign minister.
King Faisal is famous for orchestrating the 1973 oil embargo on the U.S. for its support of Israel in the Yom Kippur War. But internally Saud's father was controversial for a series of secular reforms, including the introduction of television to Saudi Arabia and bringing girls' education to the country, measures that are widely believed to have led to his assassination by a more conservative member of the royal family.
Faisal's son was clearly influenced by such measures and was considered one of the more secular of the kingdom's upper echelon members of the royal family. Though like all of Saudi Arabia's top officials, Saud had to balance the interests of his country between two prevailing social forces: the religiously austere and the more liberal (though still conservative) reformers inside the country.
In 2003, Saud accurately predicted the outcome of ousting Iraqi strongman Saddam Hussein, arguing that destroying the power structure would be "solving one problem and creating five more problems."

A dozen years later, Saud's comment seems prescient.
© Copyright IBTimes 2022. All rights reserved.
FOLLOW MORE IBT NEWS ON THE BELOW CHANNELS