Saudi Arabia Provides $3 Billion Military Grant To Lebanese Army To Purchase French Weapons; Underlines Shifting Alliances In Middle East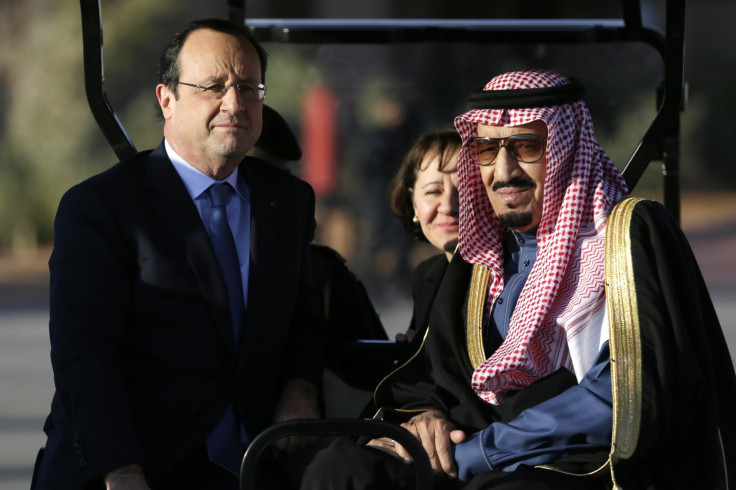 Saudi Arabia has pledged $3 billion in aid to strengthen Lebanon's army, the largest-ever grant provided to the country's military, Lebanese President Michel Suleiman announced on Sunday, adding that the grant would be used to buy weapons from France.
The grant reflects the changing political equations in a restive Middle East that is mired in sectarian violence and civil wars. Saudi Arabia's move also highlights its growing frustration with America's new-found tolerance for the Syrian and Iranian governments, and its efforts to improve ties with France, which shares the kingdom's diplomatic concerns.
"The king of the brotherly Kingdom of Saudi Arabia is offering this generous and appreciated aid of $3bn to the Lebanese army to strengthen its capabilities," Suleiman said in a televised interview, Al Jazeera reported.
Suleiman also said that the Saudi king assured Lebanon that the weapons will be bought from France quickly, "considering the historical relations that tie it to Lebanon and the military cooperation between the two countries," media reports said.
Saudi Arabia's largesse comes at a time when France President Francois Hollande is in Riyadh with a high-level entourage to ink a slew of deals and agreements in the defense and energy sectors. The announcement also closely follows the death of Mohammed Chatah, a top politician who was killed in a Hezbollah-engineered suicide bomb attack on Friday.
Hollande who met King Abdullah on Sunday, said France will supply arms to the Lebanese army if requested to do so.
"France has equipped the Lebanese army for a while up until recently and we will readily answer any solicitation ... If demands are made to us we will satisfy them," Hollande said, in a news conference.
The aid -- the largest ever granted to Lebanese armed forces -- is also expected to help the country's fragile military deal with the fallout of the civil war in neighboring Syria, which is threatening Lebanon's political and economic stability. The Lebanese military, which draws its ranks from all religious sects in the country, is one of the few institutions in the country to not be affected by sectarian divisions.
Lebanon, which is still recovering from a 15-year-long violent civil war that ended in 1990, is witnessing increased sectarian unrest as the Lebanese Shiite extremist militant group, Hezbollah, is assisting the Syrian government in its fight against Syrian rebels. Hezbollah's involvement, which is funded by Iran's Shiite government, has divided Lebanon on sectarian lines and has made it a target of attacks.
Sunni Saudi Arabia is concerned with recent developments in the region and is disappointed with the U.S and UK for not following through on their promise to punish Syria's President Bashar al Assad, for the use of chemical weapons.
The kingdom, worried about the softening of U.S. position over Iran's nuclear program and Tehran's warming ties with the West, reportedly shared its apprehensions during discussions with Hollande, who also shared similar concerns over the twin issues. France was the only western power that strongly advocated a military strike against Assad's government, and cautioned against trusting Iran's government on the nuclear issue.
Analysts believe that Saudi Arabia, a traditional ally of the U.S., is feeling threatened with recent policy upheavals in the region, and is seeking support from other like-minded powers.
"There is an offensive among the Saudis to try to reach out to different partners and try and see if they can find new allies," Valentina Soria, a security analyst with IHS Jane's told Associated Press. At the same time, she said, Hollande is showing "the kind of willingness to intervene on the international stage in a much more assertive way, a much more convinced way."
© Copyright IBTimes 2023. All rights reserved.