Savchenko Trial: Judge Begins Reading Verdict On Ukrainian Pilot Charged With Killing Of Russian Journalists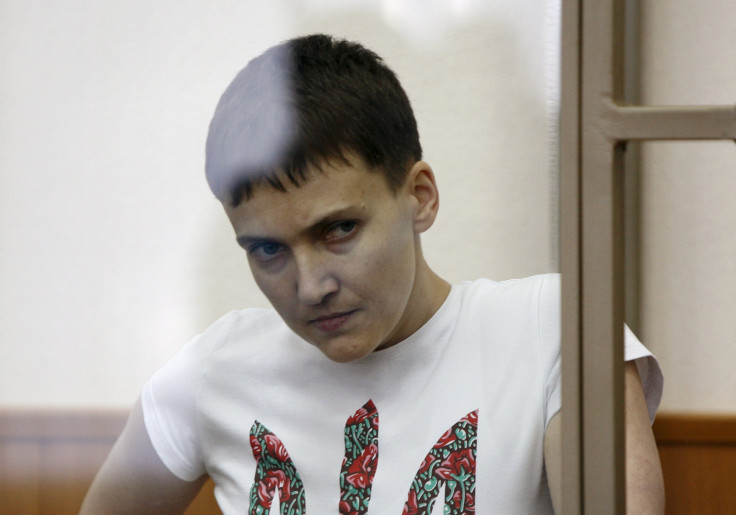 UPDATE: 6:40 a.m. EDT — The final verdict on the Ukrainian pilot Nadezhda Savchenko, who is charged with complicity in the deaths of two Russian journalists in Eastern Ukraine, has still not been pronounced, her lawyer reportedly said Monday. Earlier reports indicated the 34-year-old had already been found guilty.
So far, the judge said that Savchenko was complicit in the killings, but has stopped short of pronouncing her guilty. She is likely to be sentenced Tuesday, according to media reports.
Original Story:
A Russian court Monday found the Ukrainian pilot Nadezhda Savchenko guilty of killing two Russian journalists. The verdict was widely expected by many in Ukraine and its Western allies, which have accused Moscow of using the pilot as a pawn in its broader aggression against Kiev.
"Savchenko committed murder in collusion with a group of persons motivated by hatred and enmity," the court reportedly said in its ruling. "The motive for the crimes committed by the accused were hatred and hostility towards the Lugansk Region inhabitants, and towards Russian-speaking people as a whole."
Prosecutors had earlier asked the court to sentence Savchenko to 23 years in prison. The sentence is expected to be handed down Tuesday.
The case against her relates to a June 2014 incident, when two Russian state TV journalists — Igor Kornelyuk and Anton Voloshin — were killed in mortar fire during the height of fighting between Ukraine and Russia. While the prosecutors allege that Savchenko relayed the coordinates of the checkpoint where the two journalists were subsequently killed, she has denied the allegations.
The 34-year-old, who is also a member of the Ukrainian parliament, said that she was kidnapped by pro-Moscow separatists in eastern Ukraine at least an hour before the attack and later handed over to the Russian authorities after being illegally smuggled across the border.
She has also repeatedly gone on hunger strikes to protest her conditions, fasting for more than 80 days at one point, and has struck a defiant stance against what she has called a "totalitarian" and "overbearing" regime in Russia.
Western politicians have consistently called for her release, and have denounced the "farcical" trial.
"Russia's continued detention of Savchenko demonstrates blatant disregard for its commitments under the Minsk agreements. Savchenko — as well as all Ukrainians who are being held illegally by separatists and by Russia — should be free," Samantha Power, the U.S. envoy to the United Nations, said earlier this month.
© Copyright IBTimes 2023. All rights reserved.