Ukrainian Pilot Savchenko Denounces Russian Totalitarianism, Warns She Could Die On Hunger Strike
MOSCOW — Nadezhda Savchenko told a court Wednesday that her trial was a farce and that Russia was ruled by "a totalitarian regime and a dictator-tyrant." The outspoken Ukrainian military pilot, held in Russia since 2014, spared no blows as she used her final statement to warn she would return to her home country dead or alive.
Savchenko, who is facing a sentence of up to 25 years, announced the beginning of a hunger strike in protest at court delays Friday and has reportedly been refusing food and water. She vowed Wednesday to continue her hunger strike until her sentencing that is scheduled for March 21.
"If you want to show that you are strong — show us. But remember you are playing with my life," Savchenko told the court in the southern Russian town of Donetsk, according to the Russian Mediazona news website. "It's possible that I will not live until the verdict."
The controversial trial, approaching its last stage, has become emblematic of a bitter standoff between Kiev and Moscow and has prompted international condemnation of the Kremlin. Savchenko is accused of acting as an artillery spotter for the Ukrainian military in eastern Ukraine and calling in a strike that killed two Russian journalists working for state television in June 2014.
Last week, prosecutors requested a 23-year prison sentence for Savchenko. Few expect an innocent verdict — a rare occurrence in Russians courts — and the maximum sentence the judge could hand down is 25 years behind bars.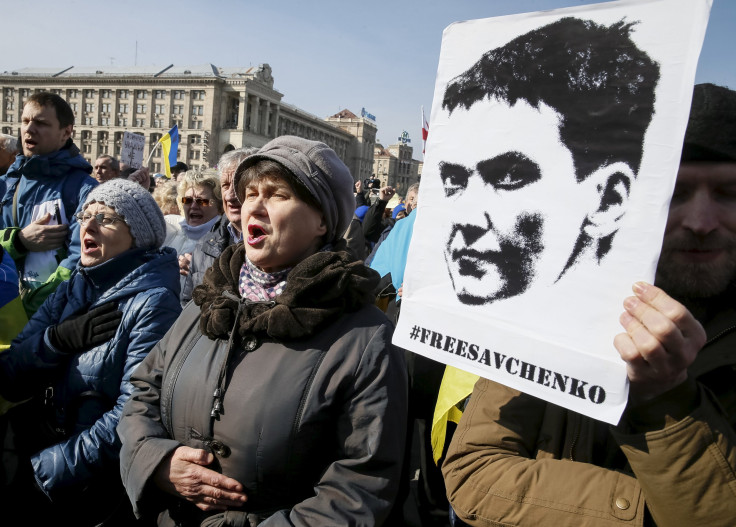 One of Ukraine's only female air force pilots, Savchenko denies the charges and alleges she was spirited across the border into Russia by Kremlin-backed Ukrainian separatists after her capture.
During the court proceedings Wednesday, Savchenko spoke in Ukrainian and a translator read her final statement. At one point, she flashed her middle finger at the judge and also began singing the Ukrainian national anthem. Her supporters in the courtroom, including her sister and 77-year old mother, joined in and were forcefully ushered out by bailiffs.
"I don't admit my guilt or recognize the sentence or the Russian court. If the sentence is guilty there will be no appeal. I want the whole democratic, civilized world to understand that Russia is a third world country with a totalitarian regime and a dictator-tyrant who spits on human rights," Savchenko told the court, according to a transcript of her statement released in advance.
"Whatever happens I will return to Ukraine — alive or dead."
Savchenko's legal team have said they see no chance of an innocent verdict, and maintain Savchenko could be exchanged for Russian intelligence officers, currently held in Ukraine, that Kiev said were captured fighting on its territory.
"We should all understand that this process is political," Savchenko's lawyer Mark Feygin told journalists outside the courtroom.
Savchenko's other lawyer, Nikolai Polozov, said his client was suffering from a fever as a result of a lack of food and water. "[She] cannot survive two weeks until the sentence alive — either she will be force-fed or she will die," he added.
This is not the first time Savchenko has used hunger strikes as an attempt to pressure the Russian authorities and raise awareness of her plight. Last year she refused food for over 80 days and lost over 55 pounds in body weight.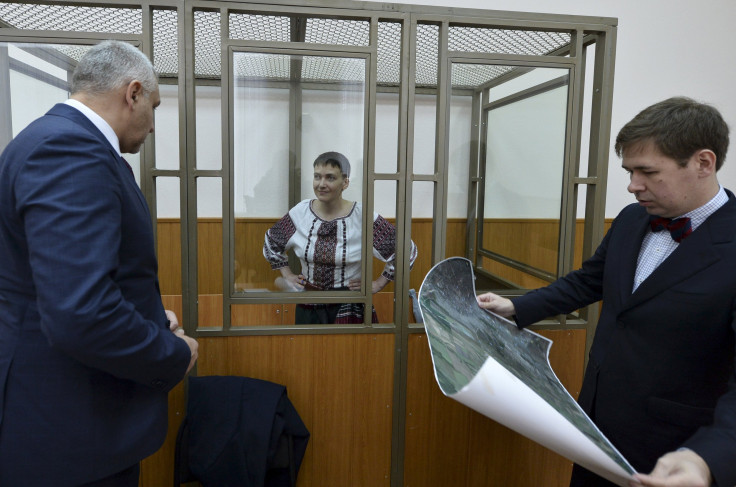 The case has generated popular outrage in Ukraine because of Savchenko's high-profile role in the military and her fiercely outspoken stance. She regularly wore a traditional Ukrainian vyshyvanka shirt during her court appearances and was elected to the Ukrainian parliament Nov. 2014 while already in Russian captivity.
Western countries have called on Moscow to release Savchenko, with the United States warning that her continued detention could endanger the Minsk peace agreement — a deal brokered by Russia, France and Germany in Feb. 2015 to end fighting in Ukraine between Russian-backed militias and troops loyal to Kiev.
"Her unlawful continuing detention is a clear violation of Russia's commitment under the Minsk agreements, and she should be freed at once," U.S. Vice President Joseph Biden said in a statement Tuesday. The U.S. State Department released a similar statement calling for her release earlier this week.
A total of 57 European Union lawmakers Tuesday signed a letter to EU foreign policy chief Federica Mogherini, asking the EU to impose sanctions on Russian President Vladimir Putin and 28 other individuals over the treatment of Savchenko.
Maria Zakharova, a spokeswoman for the Russian Ministry of Foreign Affairs, wrote on Facebook Wednesday that Savchenko is not mentioned as part of the Minsk agreement, and she criticized Kerry for attempting to influence a court decision.
About 2,000 people gathered Sunday in downtown Kiev to protest against Savchenko's detention and several hundred demonstrators subsequently attacked the Russian embassy, smashing windows and security cameras.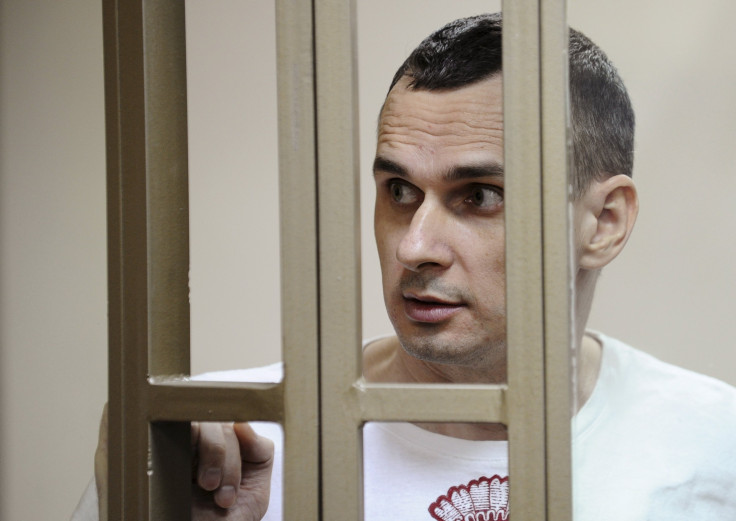 The case has generated less public resonance in Russia, but police reportedly detained 39 people in Moscow on Tuesday during a protest in support of Savchenko near the headquarters of Russia's feared Federal Security Service.
While Savchenko's trial has generated the most international outrage, she is one of more than ten Ukrainians in Russian jails that Kiev deems political prisoners. Relations between the two former Soviet countries reached rock bottom in 2014 when the toppling of a pro-Russian government in Kiev led to Moscow annexing the southern Ukrainian region of Crimea and backing an anti-Kiev rebellion in the east of the country during which thousands were killed.
A Russian military court sentenced Ukrainian film director Oleg Sentsov, who opposed the Kremlin's seizure of Crimea last year, to 20 years in prison in August after finding him guilty of masterminding a terrorist campaign. Sentsov denied the charges.
© Copyright IBTimes 2023. All rights reserved.