Seastreak Ferry Crash At Pier 11 'Throws' Passengers, Dozens Injured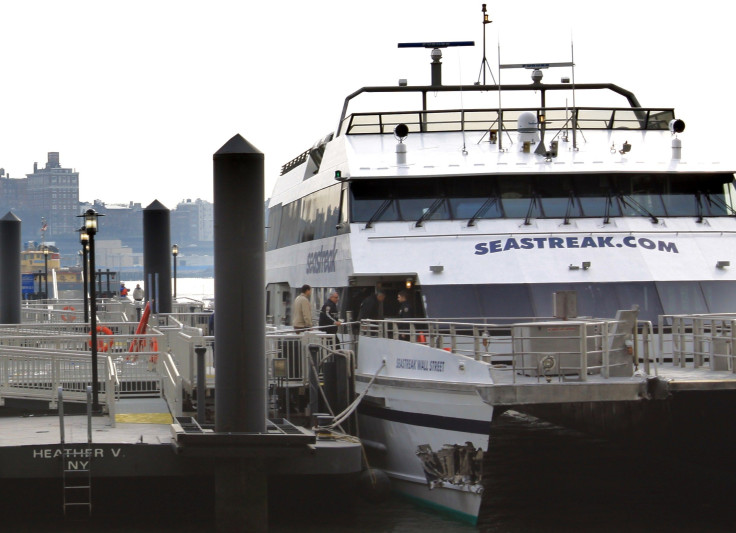 At least 59 people were injured Wednesday morning in lower Manhattan when a Seastreak Ferry crashed into Pier 11 at around 8:50 a.m.
Tom Wynne, spokesman for the Seastreak Ferry, said the service from Atlantic Highlands in northern New Jersey "struck the barge at Pier 11 as it was making its landing."
"There were some people standing up, and they were thrown when the vessel came to the dock," he added, noting that passengers were preparing for arrival when the accident occurred.
Wynne, who was not at the scene, said the first responders told him that none of the injuries were life-threatening. Police, meanwhile, have indicated that at least two passengers were in serious condition and one considered likely to die.
"We don't know what the cause was, but I can't imagine weather would have been an issue," Wynne said, adding, "Our thoughts and prayers are with the families."
According to Coast Guard incident reports, Seastreak's last major incident on the Wall Street route occurred in January 2010 at Sandy Hook, N.J., where it struck pilings while docking. No one was injured.
Helicopters circled above the ship Wednesday morning as first responders carted passengers away on gurneys.
Jim Balletto, a Verizon employee who was overseeing a construction site adjacent to Pier 11, said emergency crews were on the scene immediately.
"I was impressed," he said. "The response was quick and overwhelming. It was very organized."
Balletto saw passengers carried away in neck braces, presumably, he said, from whiplash.
Police said there were 343 passengers and five crew members on the 140-foot privately operated ferry, which transports passengers from Sandy Hook Bay into the New York Harbor.
One passenger, Stephanie Agresta, wrote on Facebook: "Hi everyone. I was on the ferry. Flew 10 feet. It was awful. Knee is messed up. Heading to hospital. So many worse. Send prayers."
The accident occurred just below South Street Seaport, a popular tourist attraction in lower Manhattan. Several tourists gathered at the scene, gaping at a wide gash on the starboard bow about 2 feet above the water line.
Pier 11, which is expected to reopen Wednesday afternoon after officials complete a preliminary investigation, is itself popular with tourists in the summertime, when Seastreak offers regular services to Martha's Vineyard, as well as several regional beaches. At all other times, the ferries are predominantly used by commuters.
The New York Harbor is the world's third-busiest in terms of ferry traffic but sees few major incidents. The last serious accident occurred in 2003, when a Staten Island Ferry crashed into a pier after the assistant captain passed out during the journey. Some 70 people were injured in that accident, as were dozens more in a similar crash of the Staten Island Ferry in May 2010.
© Copyright IBTimes 2023. All rights reserved.