Selfies At The US Open? Social Media-Addicted Tennis Fans May Lack Courtside Manners, But Brands Love Them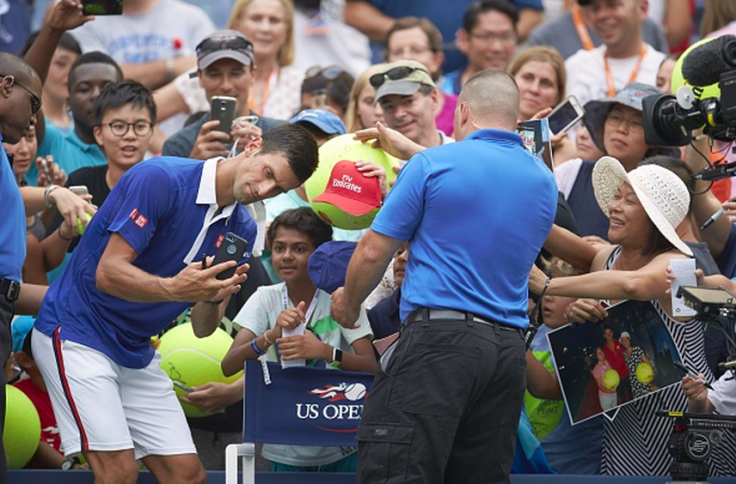 Obnoxious selfies, phone calls at match point, and standing during play are among behaviors frowned upon at the U.S. Open Tennis Championships. This year, the tournament had to ban selfie sticks from the Billie Jean King courts in Queens, New York. But that doesn't mean officials with the highest-attended annual sporting event in the world want participants to check their cell phones at the gate.
Big-name sponsors, like IBM, Mercedes-Benz, Chase and American Express, have been pushing for attendees to share photos and messages on their social media network. Billboards above the courts interrupt streaming of the play to encourage visitors to post on Facebook, Twitter and Instagram and show fans' tweets. Sponsors' banners display several event hashtags, including #USOpen and #AmexTennis.
It's just the latest example of a trend that is changing the marketing industry. Increasingly, brands are ditching highly polished, celebrity-led campaigns and, instead, relying on everyday people to spread their message on social media platforms like Facebook, Instagram, Twitter and Snapchat. It's almost impossible to take a selfie at the U.S. Open without a logo in the background.
The campaigns go beyond the courts. TV hosts direct viewers to players' Twitter handles and update them on the highest-trending tweets and topics. That, in turn, creates more fodder for writers at the United States Tennis Association, who provide content for the USOpen.org website and other media. It also extends the messaging of the participating -- and paying -- corporate brands.
But is live tennis, which inspires an almost reverential following among international jetsetters, the most appropriate place for the common selfie? "There's a lot of prestige attached to the U.S. Open. [Posting on social] is also just showing that you're there. There's another big corporate-sponsored event this week: Burning Man. Are you a Burner? Or are you a U.S. Open fan? Regardless, people who are following you will be interested," said Rebecca Lieb, vice president of content marketing at Teradata Marketing Applications.
Marketing The Game
Tennis isn't alone in its push for more marketing and social media use. Sports events like the Masters Golf Tournament and the Super Bowl boast corporate sponsorships and promote social media posts. The Super Bowl is the most live-tweeted event. The 2015 edition broke previous records with 28.4 million tweets during the live broadcast, according to Twitter data.
On Twitter, spectators are sharing their thoughts on the game whether it be watching from a living room, a bar or by the courts. Fans and brands alike are tapping into the conversation. "Word-of-mouth marketing is the single most powerful form of marketing. That's one reason why brands are trying so hard in social amplification but to the right audience," Lieb said.
The audience at the U.S. Open skews to high earners. While bleacher tickets for New York Yankees vs. Boston Red Sox at Yankee Stadium could be purchased for less than $20 (day of the game) on Sept. 1, tickets for evening sessions at the U.S. Open start at $75 and can reach $1,000 a seat. "These are big spenders who are showing up to the Open," said David Berkowitz, chief marketing officer at ad agency MRY. "People going there expect to pay $10 for water."
The sponsors, many of which renew their deals each year, include premium brands like American Express, Grey Goose Vodka and Mercedes-Benz. They are boasting new, enhanced experiences for those attending the spectacle. For example, Amex, which has sponsored the event for more than 20 years, created a virtual reality game that lets fans play one-on-one with Russian superstar Maria Sharapova.
The USTA Billie Jean King National Tennis Center, which features 22 courts on 46.5 acres, also has stands and tents for guests to get involved in more experiential marketing campaigns. Berkowitz, who's been attending the tournament over the past decade, said this is the loudest marketing he's seen at the event. "They're using as much real estate as possible and time during the event to get people to share this experience with others," Berkowitz said.
That includes a further push into posting on social. Berkowitz said he noticed posts that were rather heavy-handed on the hashtags, mentioning #goserena, #serena2015, #serenaslam and #renasclub. "You don't need to be a social media guru to get yourself on the board there," Berkowitz said.
While the U.S. Open may attract wealthier attendees, Berkowitz said he has not seen or heard anyone scolding selfie snappers, nor does he think the practice necessarily takes away from the game. "With a lot of sporting events, especially at the Open, there's a lot of dead time," Berkowitz said. "I don't know if anyone is really going to be that critical of people being on their cell phones. As long as people are quiet, then most of them won't mind."
Just A 'Brand Play'
For U.S. Open fans and sponsors, it's not just about showing off their presence. Some companies are powering the analysis of the tournament, helping fans appreciate tennis not just for the spectacle but also for the game.
The U.S. Open website and the mobile apps are run by software analytics and technology from IBM. While integrating social posts is not new this year, the company deepened the connection with social networking giant Facebook. Fans can sign onto IBM's SlamTracker feature via Facebook, and click to share live match statistics with accompanying commentary, if they so choose, to their Facebook feed.
"We want to enrich the fan experience … no matter where they are in the world," said Noah Syken, vice president of global sponsorships at IBM. "It's not about a brand play."
Indeed, IBM has been supporting the technology behind the U.S. Open for the last 25 years. As Fortune notes, the company's 2014 report does not include sports and entertainment work, which may be because it is a "small amount" of annual revenue. But the U.S. Open serves as a key showcase for technologies -- such as cloud, mobile, social and analytics software -- that Big Blue is counting on to offset declining hardware revenues.
The company tracks analytics of the game. For example, IBM will incorporate the current match's data and dig through a player's past achievements and milestones to highlight new career records.
These inform a player's statistics profile. Yet, IBM also looks to tap into the current conversation surrounding the game. It tracks posts on Twitter for the top five men and women. Its system scans tweets to create a "social sentiment" score. For example, 74,513 tweets about Serena Williams were sent from Aug. 30 to Sept. 2, and 88 percent were positive.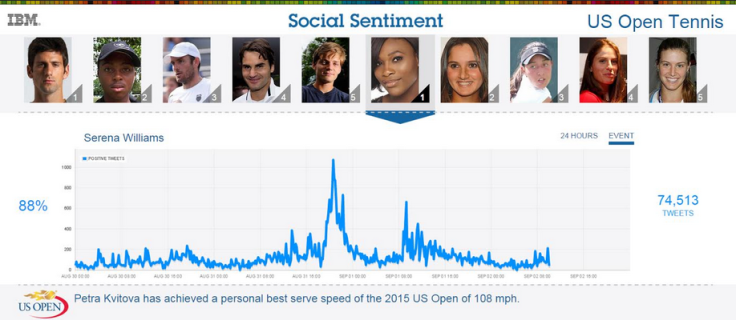 "For any given match, we show all the tweets around her. We choose to highlight the positive. We want to find out if she's winning on the court and off the court," said John Kent, IBM's program manager for worldwide sponsorship marketing.
While dollars for the tournament might come from television and ticket prices, brands want their awareness on and off the court, as well.
© Copyright IBTimes 2022. All rights reserved.
FOLLOW MORE IBT NEWS ON THE BELOW CHANNELS