Yahoo's Tumblr Gets Mobile-Friendly In Bid To Lure Developers, Brands From Facebook, Twitter, Snapchat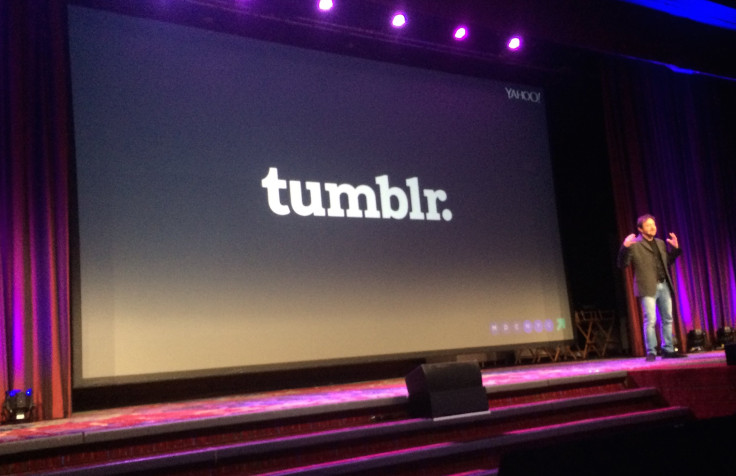 NEW YORK -- "Content is king," said Simon Khalaf, Yahoo's senior vice president of publishing products, onstage in front of an audience of app developers, marketers and coders at the Marriott Marquis in Times Square. That, of course, is a well-worn cliché. Ensuring that content is discovered and consumed is the more pressing issue facing Yahoo and other Web giants who need to find ways to get more eyeballs on the gigabytes of video, photos and posts that daily move through their ad-supported channels.
Social networks are now a major source of user-generated content, and Yahoo -- the Sunnyvale, California-based desktop portal that under CEO Marissa Mayer is moving to emphasize mobile products and original content -- is looking to get more out of its own. The company acquired Tumblr in 2013, and now, the $1.1 billion dollar deal could further pay off as Yahoo pushes content creation on desktop and on mobile.
On Wednesday, Yahoo (NASDAQ: YHOO) announced that Tumblr will have in-app sharing via mobile. That means, just as you see a share to Facebook, Instagram, Snapchat, WhatsApp, Pinterest buttons on apps on your smartphone, content can now be shared directly onto the Tumblr network. The first app to use this feature is PicsArt, which let mobile users edit and upload photos. Yahoo hopes the new tools will help attract more brands to it and, ultimately, to Tumblr, which is in a pitched battle for eyeballs with the likes of Google's YouTube and Pinterest, Facebook's Instagram and Facebook itself.
"The closest thing to Tumblr is television. All of a sudden you're lost in that world. Unless someone wakes you up, you're still connected to it," Khalaf told International Business Times. "You cannot ignore the millions of folks that are creating phenomenal thought pieces and cool content. We have our own; we have our partners; and then we have the world."
Joining The Conversation
Launched in 2007, Tumblr has grown -- and wants to continue to develop -- as a blogging network for creators. Beyond fandom sites and small artistic communities, Tumblr has often been a platform for international conversations. For example, pop entertainer Taylor Swift used her Tumblr blog in her takedown of Apple Music. And it's the home of viral sensations like "Texts From Hillary."
But it has struggled to be a part of developers' minds for content distribution. David Kopec, a software engineer who attended Yahoo's conference, said Tumblr had "never even been a part of the conversation" with his clients at Oak Snow Consulting. "It's Twitter, Facebook and Instagram. That's what the client was on and that's the top of mind for them."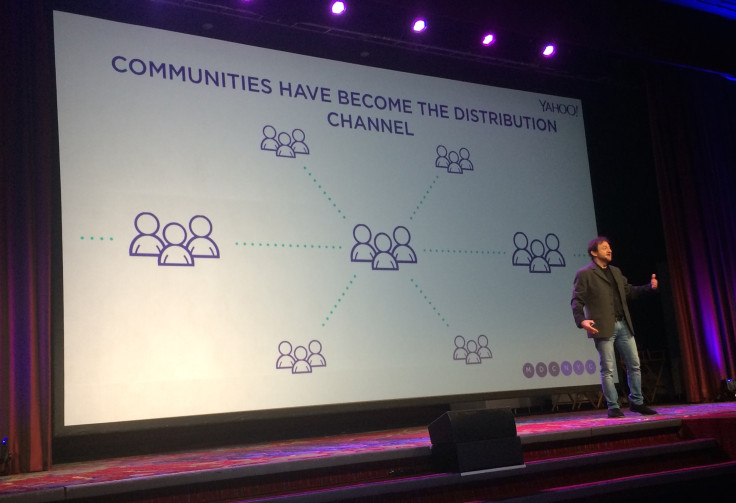 Tumblr's absence in that conversation could soon change. The user and engagement numbers, touted by Yahoo and Tumblr's team throughout the conference, were key to convincing Kopec to bring up Tumblr at his next client meeting. "I honestly didn't realize they had that many hundreds of millions of users," Kopec said.
Tumblr boasts 250 million individual blogs on the network, and there are about 85 million posts a day. There were 500 million monthly active users who spend on average 13 minutes a session on mobile. In comparison, Facebook has 1.49 billion, Instagram has 330 million and Twitter has 316 million. Snapchat boasts 200 million daily.
And Tumblr's traffic has been growing, even outshining Facebook's photo-sharing app Instagram in the last quarter of 2014, according to the Global Web Index. Following Mayer's mobile strategy, Tumblr's mobile app has been a hook. The average Tumblr app user opens the app seven times a day.
'Front Page Of The Internet'
Content discovery is not about one-to-one conversations for Tumblr, unlike Facebook with its Messenger app and Snapchat promoting messaging. Instead, the company's after a title that's popular yet controversial -- qualities that Reddit embodies.
"Tumblr is the new front page of the Internet," John Gronberg, senior product manager at Yahoo, said during a live demo of the new in-app Tumblr product.
Tumblr also touts discovery, later, for content -- something that can get lost in the real-time, chronological timeline of Twitter or the algorithmic-heavy Facebook. Tumblr relies on its editorially curated "Discover" section as well as its presence on Google and other site search engines, such as Yahoo. One-third of all reblogs occur 30 days after the original post aired.
"Tumblr becomes this land of opportunity to make this stuff and get it out there," said Tumblr CEO David Karp on stage with Wilson Kriegel of PicsArt. "There's this army of independent creators that apps like yours and [distribution] platforms like Tumblr, YouTube ... are starting to empower."
© Copyright IBTimes 2023. All rights reserved.