Sen. Robert Menendez Denies Prostitution Allegations As The Daily Caller, Washington Post Feud Over Report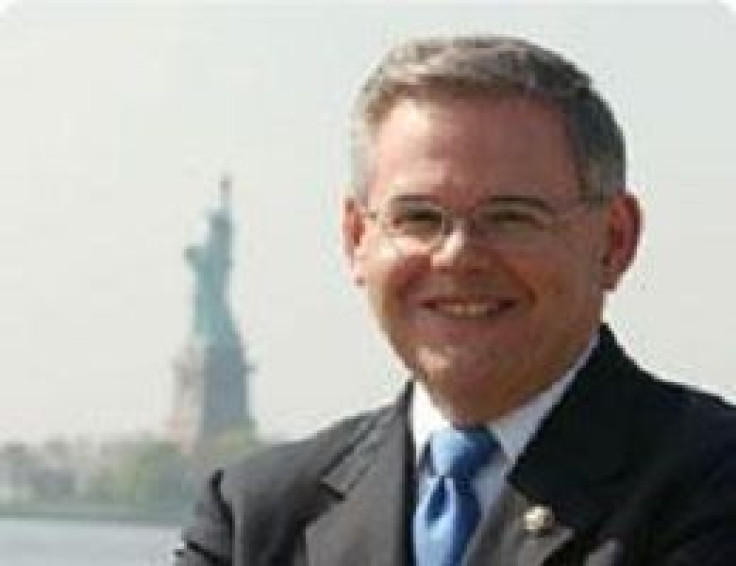 Sen. Robert Menendez, D-N.J., continued Tuesday to deny allegations that he hired a Dominican prostitute and pointed the finger at the press after news broke that she had signed a notarized statement that she never, in fact, slept with him.
Menendez has consistently called the accusations that he had partied with prostitutes and accepted secret plane flights "false smears" from the right wing.
"I hope that you will all vigorously go after who was the source and purpose as you did go after the story at the time," Menendez told CNN.
The woman, Nexis de los Santos Santana, said in a notarized statement filed in a Dominican court that she was coerced into filming the accusation video against the New Jersey senator, a powerful ally of President Barack Obama who is the new chairman of the Foreign Relations Committee. He was handily re-elected just last November -- after the stories came out.
"I am the person in the video, that is me, and those are my words, but this statement is not true," she said. "I never agreed to be recorded."
The accusations first came from The Daily Caller, a conservative blog that posted the video of two Dominican escorts alleging they had been with Menendez. One of the women, Santana, would later come forward in an interview with ABC News, which was reportedly arranged by anonymous Republican operatives. The woman said she had been paid to appear in the video and was paid handsomely to fabricate the claims against Menendez.
"Look, I don't know more than what I have read," Menendez said when the latest story broke. "But what I do know from the very beginning I have said that nameless, faceless, anonymous sources … from right-wing blogs took this story, which was just false smears, right before an election cycle, attempted to do it then, and ultimately drove it into the mainstream press.
"But they were never anything other than false smears."
The discrepancy turned into a press feud Monday when The Washington Post reported that Santana had recanted her claim. The Daily Caller, led by editor-in-chief Tucker Carlson, accused the Post of misreporting the facts.
"The Washington Post falsely reported a story yesterday claiming our source had recanted her statement, without contacting The Daily Caller for comment before posting," the website said in a statement Tuesday. "In reality, the prostitute in the Post's story does not appear to be one of the women we interviewed in 2012."
© Copyright IBTimes 2023. All rights reserved.