Shabazz Muhammad Lights Up 2012 McDonald's High School All-American Game As West Beats East, 106-102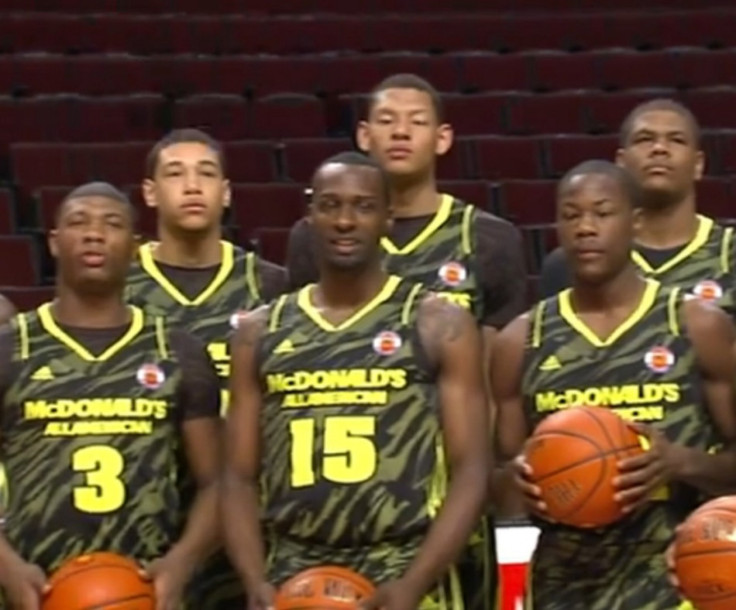 The West beat the East in the 2012 McDonald's All-American Game in Chicago, but it wasn't about the score. Wednesday night's match-up was a showcase for basketball's rising stars, who are looking forward to exciting careers both in college and in the NBA. Given the strong tradition of McDonald's All-Americans playing in the NBA, the 35th annual All-American Game was all about enjoying the pure talent on display. And nowhere was that talent more evident than in the game's MVP, Shabazz Muhammad.
Muhammad lived up to his expectations Wednesday night. The 6'6 senior forward from Las Vegas came into the McDonald's All-American game as the No. 2 overall recruit in the country (according to the ESPNU 100 list), and was earlier named the 2012 Morgan Wooten Player of the Year, a prestigious award given to the top basketball player in the country by the McDonald's All-American Game Committee. Muhammad showed off his range of abilities, from powerful dunks to big rebounds, finishing the game with 21 points and 6 rebounds. He had 15 points and 5 rebounds in the first half alone.
It's an unbelievable feeling to be recognized as the Morgan Wootten Player of the Year, Muhammad said. When you look at the long list of guys who've been honored with this award -- LeBron James, Dwight Howard, Shane Battier -- it's nice to know I'm at a similar phase in my basketball career and I hope to continue with that success.
Muhammad is undecided as to where he'll attend college, but he's narrowed his choices down to the UCLA Bruins, the Kentucky Wildcats and the Duke Blue Devils.
I'm looking at April 10 to make my commitment so I'm excited to get that out of the way, Muhammad said during pregame warm-ups.
Muhammad had an incredible senior season. He scored 40 points four times, and recorded at least 30 points in 10 of his games. In the Nevada 4A championship game, Muhammad was brilliant under the bright lights, scoring 30 points in the first half alone. He finished with 36 points on 15-of-17 shooting in a blowout win over Hug (Reno).
Muhammad helped the West prevail over the East, 106-102. Along with Muhammad for the West squad, Duke recruit Rasheed Sulaimon finished with 18 points on four three-pointers, and incoming Kentucky freshman Archie Goodwin finished with 14 points -- although it would've been 16 if he didn't miss an embarrassing dunk in the first half.
There were plenty of other recruits on display for the West squad, including Marcus Smart (Oklahoma State), Isaiah Austin (Baylor), Grant Jerrett and Brandon Ashley (both Arizona-bound), Marcus Paige (North Carolina), Cameron Ridley (Texas), Yogi Ferrell (Indiana), and undecided all-stars Anthony Bennett and Devonta Pollard.
On the East squad, UCLA-bound Kyle Anderson, Kentucky recruit Alex Poythress and incoming Syracuse big man DaJuan Coleman did much of the heavy lifting throughout the game. The team's other McDonald's All-Americans included Kris Dunn (Providence), Perry Ellis (Kansas), Gary Harris (Michigan State), Shaq Goodwin (Memphis), undecideds Tony Parker and Amile Jefferson, and a whopping three recruits for the N.C. State Wolfpack, including Tyler Lewis, T.J. Warren and Rodney Purvis.
The McDonald's High School All-American game has traditionally featured some of the best young players in the country, most of whom have gone on to have successful NBA careers. McDonald's is proud to have showcased legends such as Magic Johnson and Michael Jordan, but also today's NBA All-Stars like Kobe Bryant, LeBron James, Dwight Howard, Derrick Rose, and countless others. McDonald's doesn't mess around; its players go on to do amazing things. With a lot of hard work and a little luck, these 2012 All-Americans will go on to do the same.
© Copyright IBTimes 2023. All rights reserved.