Shake Shack IPO Aiming For $1 Billion Valuation: Report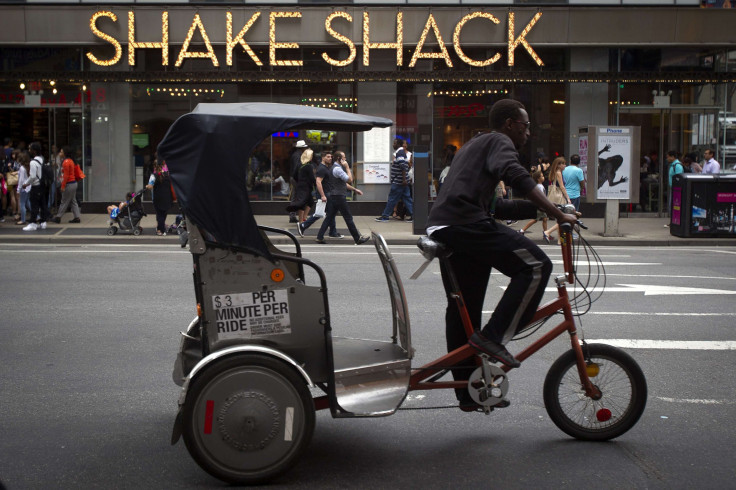 Rumblings about Shake Shack's proposed initial public offering are getting louder up and down Wall Street: The burger chain's privately held parent Union Square Hospitality Group LLC is reportedly seeking a $1 billion valuation for the 10-year-old unit as a publicly traded company.
Last month, people familiar with the matter told Reuters that Union Square Hospitality chose JPMorgan Chase & Co. (NYSE:JPM) and Morgan Stanley (NYSE:MS) to lead Shake Shack's proposed IPO. And this month, people familiar with the matter told Bloomberg News that Union Square Hospitality was preparing for an IPO that could value the unit as high as $1 billion, which would be about 50 times its estimated earnings of $20 million next year.
This equity-market valuation appears to be around the middle of the range of several other casual-dining chains that went public during the past year or so, as measured by their forward price-to-earnings ratios at Yahoo Finance: Zoe's Kitchen Inc. (NYSE:ZOES), 302.67; El Pollo Loco Holdings Inc. (NASDAQ:LOCO), 60.40; Potbelly Corp. (NASDAQ:PBPB), 48.48; and Papa Murphy's Holdings Inc. (NASDAQ:FRSH), 16.83.
Shake Shack's U.S. sales were about $62.3 million last year, according to restaurant researcher Technomic Inc. estimates cited by Bloomberg News.
Union Square Hospitality CEO Danny Meyer launched Shake Shack in his company's headquarters city of New York in 2004. The unit now also has more than 50 locations in Florida, Pennsylvania, New Jersey and the District of Columbia, as well as in Europe and the Middle East. Its proposed IPO could be carried out by the end of this year, Reuters reported.
The private-equity firm Leonard Green & Partners LP agreed to acquire a 39.5 percent interest in Union Square Hospitality in 2012 for an undisclosed amount, Reuters said.
Shake Shack, JPMorgan and Morgan Stanley all declined to comment on any IPO plans, while a Leonard Green representative did not immediately reply to messages seeking comment, Bloomberg News said.
© Copyright IBTimes 2023. All rights reserved.