Shaylee Chuckulnaskit Dies; Third Fatality Of Marysville-Pilchuck High School Shooting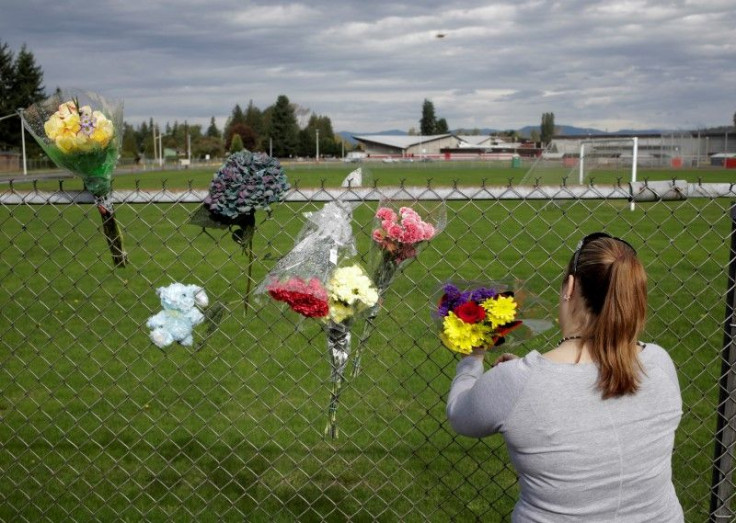 (Reuters) - A girl shot during a rampage at a Washington state high school last week that left two other girls dead along with the gunman has died from her wounds, Providence Regional Medical Center in Everett said on Friday.
Shaylee Chuckulnaskit, 14, died at 4:45 p.m. at the hospital as a result of severe injuries after being shot in the head during last Friday's incident in a cafeteria at Marysville-Pilchuck High School, an hour's drive north of Seattle.
"Our hearts are broken at the passing of our beautiful daughter," her family said in a statement released through the hospital. "In Shay's short life she has been a radiant light bringing us incredible joy and happiness."
Freshman Jaylen Fryberg, a popular 15-year-old football player, opened fire with a .40 caliber Berretta at the table where two of his cousins and three close friends were gathered before fatally shooting himself, family members and witnesses said. The shooter arranged the meeting by text message, police said.
Another victim, Gia Soriano, died on Sunday. Andrew Fryberg, 15, a cousin of the shooter, was in critical condition. Another cousin, 14-year-old Nate Hatch, remains in satisfactory condition.
The shooter's motive remained under investigation, and Fryberg's family, prominent members of the Tulalip Indian Reservation, said there was no apparent rift between the cousins.
A first-year female teacher tried to intervene in the attack at the school, the latest in a string of such incidents at U.S. schools that have renewed a national debate about student safety and gun control.
Earlier on Friday, Seattle Pacific University put its campus on lockdown after a student received a threat of someone coming to the school with a gun, but lifted the order about an hour later and police arrested a woman who threatened a shooting rampage.
(Reporting by Eric M. Johnson in Seattle; Editing by Eric Beech)
© Copyright Thomson Reuters 2023. All rights reserved.