Marysville-Pilchuck High School Shooting: Timeline Of School Gun Deaths Since Columbine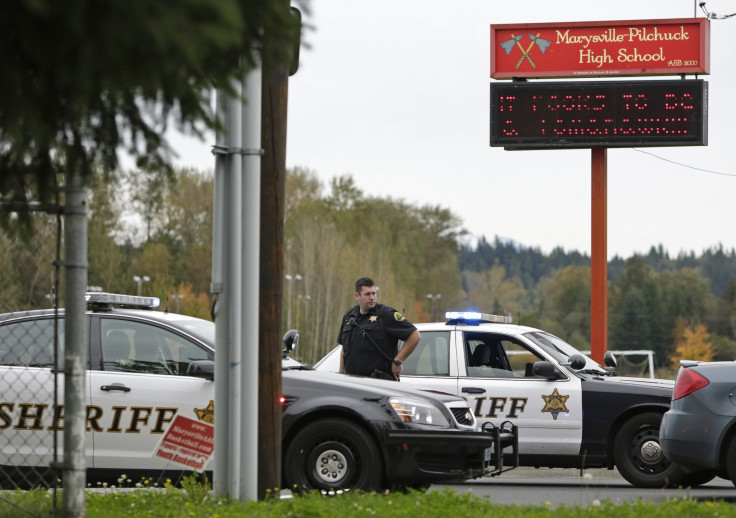 The Marysville-Pilchuck High School shooting in suburban Seattle that left three students dead Friday produced nationwide reactions of grief, fear and disbelief: How could this happen again? Since two Columbine High School teenagers killed 12 students and one teacher in April 1999, there have been numerous school shootings across the country.
The shooting rampages have sparked debate about gun control laws and school safety, but national lawmakers have done little to pass gun control measures, including efforts to make it tougher for the mentally ill to obtain guns. Gun rights advocates say the proposed laws would only make it harder for responsible citizens to exercise their Second Amendment rights while gun control proponents say obtaining a gun is too easy in the U.S. "We're the only developed country on Earth where this happens," President Barack Obama said in a June interview. "And it happens now once a week. And it's a one-day story. There's no place else like this."
Across the U.S., mass shootings are becoming more frequent, with 14 mass shootings in the past three years in which four or more people were killed, according to Harvard School of Public Health research released earlier this month. Previously, mass shootings occurred every 200 days, according to a news release.
Earlier this month, the NRA released an online ad attacking a proposed Washington state law that would require background checks for all gun sales. The ad claimed it would waste "scarce law enforcement resources on something that will not make Washington safer."
Here's a partial timeline of school shootings in the past 15 years:
April 20, 1999: Columbine High School students Eric Harris and Dylan Klebold killed 12 students and one teacher and injured 21 others in Colorado. They then killed themselves in the school's library. Columbine was one of the worst mass shootings in U.S. history, CNN reported.
Nov. 19, 1999: Victor Cordova Jr., 12, killed a 13-year-old student at Deming Middle School in New Mexico. His father told the Associated Press Victor had intended to kill himself. He went to juvenile prison.
May 26, 2000: An honor student shot his teacher on the last day of school at Lake Worth Community Middle School in Florida. Nathaniel Brazill, 13, was sentenced to 28 years in prison, Time magazine reported.
March 5, 2001: A 15-year-old gunman, Charles "Andy" Williams, wounded 13 and killed two students at Santana High School in California. He is in prison, U-T San Diego reported.
Oct. 28, 2002: A University of Arizona nursing student killed three of his professors and himself. Robert Flores Jr., 41, had been failing classes, CBS reported.
Sept. 24, 2003: John McLaughlin, a freshman at Rocori High School, killed two classmates with a .22-caliber Colt semiautomatic pistol in Minnesota. He was convicted of murder, Minnesota Public Radio reported.
March 21, 2005: At Red Lake Senior High School, Jeff Weise, 16, killed five students plus a teacher and a security guard before shooting himself in Minnesota. Earlier in the day, he killed his grandfather and his grandfather's girlfriend, CNN reported.
Nov. 8, 2005: At Campbell County Comprehensive High School, Kenneth Bartley, 15, killed the assistant principal and injured two administrators in Tennessee. He was found guilty of reckless homicide, WBIR-TV reported.
Aug. 30, 2006: Columbine-obsessed Alvaro Castillo, 19, murdered his father and wounded two people in Orange High School's parking lot in North Carolina. He was sentenced to life in prison without parole, USA Today reported.
Sept. 27, 2006: A man named Duane Morrison took six girls hostage at Platte Canyon High school before shooting one of them and himself in Colorado. He sexually assaulted some of his hostages, NBC News reported.
Sept. 29, 2006: Weston High School student Eric Hainstock, 15, killed the school's principal in Wisconsin. The previous day, the principal had given him a warning for having tobacco, USA Today reported. He is serving a life sentence.
Oct. 2, 2006: Charles Carl Roberts IV entered a one-room Amish schoolhouse and shot 10 girls, ages 6 to 13 in Pennsylvania. Roberts also committed suicide. His daughter had died as a baby, and he planned to get revenge, according to the Lancaster PA website.
April 16, 2007: In the deadliest shooting in the United States, Seung-Hui Cho, 23, killed 32 people and himself at Virginia Polytechnic Instiute. He had been instructed to get help for mental issues, CNN reported.
Feb. 14, 2008: Steven Kazmierczak, 27, injured 18 people and killed five students at Northern Illinois University. He then shot himself. Kazmierczak had no criminal record and acquired the guns legally, NBC News reported.
Oct. 26, 2008: Four men all under age 21 killed two students and hurt one at the University of Central Arkansas. They drove up on a group of people near a dormitory and fired, the Associated Press reported.
Feb. 27, 2012: In Ohio, 17-year-old T.J. Lane killed three students and injured three others at Chardon High School, which he did not attend, the NY Daily News reported. He is serving life in prison.
Dec. 14, 2012: Adam Lanza, 20, murdered his mother and drove to Sandy Hook Elementary in Connecticut, where he killed 20 first-graders and six adults before shooting himself. He took three guns to the school, CNN reported.
June 7, 2013: John Zawahri, 23, killed his dad and brother before driving to Santa Monica College in California and firing randomly at people. He was killed by police, CNN reported. He was upset because of a family dispute.
Oct. 21, 2013: Jose Reyes, a Sparks Middle School seventh grader, used a 9 mm semiautomatic pistol to injure two students, kill a teacher and commit suicide in Nevada. Jose had been bullied, but the police said there was no clear motive, the Reno Gazette-Journal reported.
Dec. 13, 2013: In the same town as Columbine, Karl Pierson, 18, shot a student in the head and killed himself at Arapahoe High School. He may have been seeking revenge against a faculty member, CNN reported.
June 5, 2014: When Aaron Ybarra, 26, opened fire at Seattle Pacific University, he killed one man and injured three others in Washington. A student security guard covered him in pepper spray and tackled him, CNN reported. Ybarra had been obsessed with school shootings.
June 10, 2014: In Oregon, Reynolds High School freshman Jared Padgett brought an AR-15 rifle in a guitar case to school. He killed a student, injured a teacher and shot himself. He had written about the plan in his journal, The Oregonian reported.
Oct. 24, 2014: In Washington, Jaylen Fryberg, a popular freshman, opened fire Friday in the crowded lunchroom at Marysville-Pilchuck High School outside of Seattle. He killed two students and injured four others before taking his own life, according to CNN.
FOR FREE to continue reading
✔️ Unlock the full content of International Business Times UK for free
offer available for a limited time only
✔️ Easily manage your Newsletters subscriptions and save your favourite articles
✔️ No payment method required
Already have an account?
Log in
© Copyright IBTimes 2023. All rights reserved.