Sierra Leone Peacekeepers Quarantined After One Soldier Tests Positive For Ebola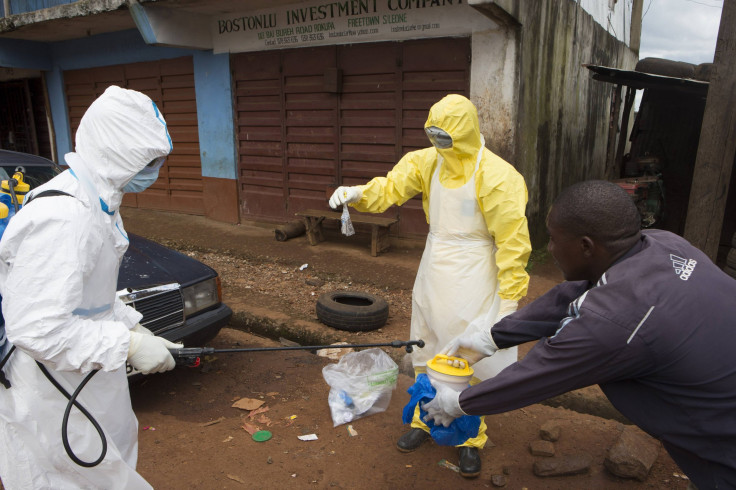 A group of 800 soldiers from Sierra Leone, who were waiting to be deployed to Somalia as peacekeepers, were quarantined after one member of the group tested positive for Ebola, Reuters reported, citing the country's military. The group was bound for Somalia to relieve a contingent deployed with the African Union peacekeeping mission, or AMISOM.
Col. Michael Samoura, a spokesperson for the Republic of Sierra Leone Armed Forces, confirmed that one of the soldiers had contracted Ebola, which has so far killed more than 4,000 people and has infected more than 8,000 people, mostly in West Africa. Samoura added that the member came down with the infection after he left the camp without permission, according to Reuters. The battalion will now be put under a 21-day observation period.
The Ebola outbreak -- the worst ever since the virus' discovery in 1976 -- has mainly affected the West African nations of Sierra Leone, Liberia and Guinea.
Sierra Leone has seen 930 deaths so far and has recorded 2,950 cases of Ebola, according to the United Nations. The organization has urged other countries to ramp up efforts to help contain the virus, which has also been recorded in Nigeria, Senegal, Spain and the U.S.
The U.S., which is treating its first infection of the disease contracted inside its borders, has sent more than 350 troops to West Africa to assist in handling the epidemic and the deployments may increase to 4,000, Daily Mail reported Monday.
The U.N. has pledged $1 billion to contain Ebola's spread while Gen. David M. Rodriguez, commander of U.S. troops in Africa, said last week that the U.S. military mission against Ebola could cost $750 million over six months.
© Copyright IBTimes 2023. All rights reserved.
FOLLOW MORE IBT NEWS ON THE BELOW CHANNELS