Sigma Alpha Epsilon Civil War: Oklahoma Racist Chant Frat Had 369 Members Fight For Confederacy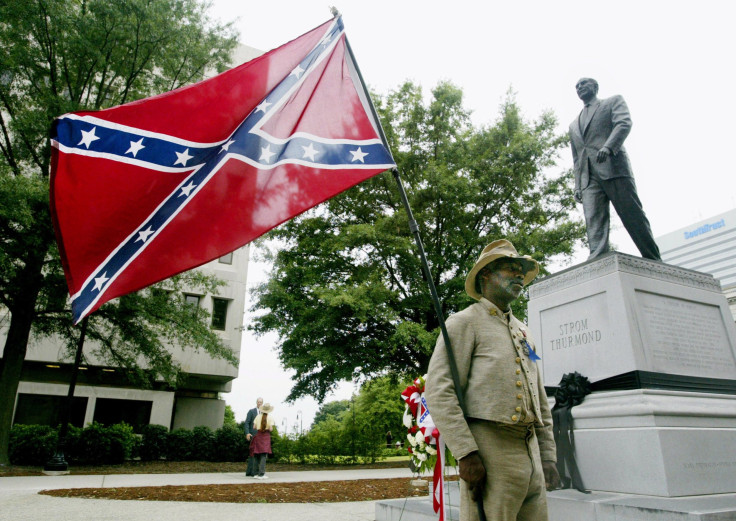 Sigma Alpha Epsilon, the fraternity that spurred condemnation Monday following the release of a video showing members of its University of Oklahoma chapter reciting a racist chant, also boasts that nearly all of its 400 members during the Civil War fought for the Confederacy, according to the frat's website. SAE, which was founded in 1856 at the University of Alabama in Tuscaloosa, was the first college fraternity organized in the South.
The Civil War broke out in 1861, five years after SAE's founding, when the frat had fewer than 400 members. "Of those, 369 went to war for the Confederate States and seven for the Union Army," according to the history section of the frat's website. SAE said 74 brothers died in the war.
The frat, which had a history of racist incidents prior to the revelation of the YouTube video in which SAE members at the University of Oklahoma invoked the N-word, sparked worldwide outrage on Twitter after the video went viral on Sunday. On Monday, University of Oklahoma President David Boren shut down the chapter's operations, saying "there must be zero tolerance for racism everywhere in this nation."
The uproar over the video overshadowed the approaching 160th anniversary of Sigma Alpha Epsilon, which was founded on March 9, 1856. A variety of events were scheduled throughout the year to commemorate the occasion, but it's unclear if those activities are now on hold in light of the University of Oklahoma controversy.
Last year, SAE said it outlawed pledging. "Instead, we have implemented a holistic education known as the True Gentleman Experience. It provides education throughout a member's collegiate tenure and fosters both personal and professional development. We are the first large national fraternity to eliminate pledging for all of our chapters," the fraternal organization said.
SAE is not alone in its ties to the Civil War and the Confederacy, as was the case for many fraternities founded below the Mason Dixon Line at around the same time. As recently as 2010, the Virginia-based Kappa Alpha Order fraternity -- which was founded in 1865 and calls Robert E. Lee its "Spiritual Father" -- officially forbid its members from wearing Confederate uniforms, according to the Associated Press. That was four years after the University of Georgia Kappa Alpha chapter ended its annual tradition of having its members wear Confederate uniforms while marching in the Old South Parade in Athens, Georgia.
Another fraternity, Alpha Tau Omega, was also founded in 1865 at the Virginia Military Institute and said it owes to "the prestige of General Lee," who commanded the Confederate Army in Virginia from 1862 to 1865.
© Copyright IBTimes 2023. All rights reserved.