Singaporeans Bid Final Farewell To Founding Father Lee Kuan Yew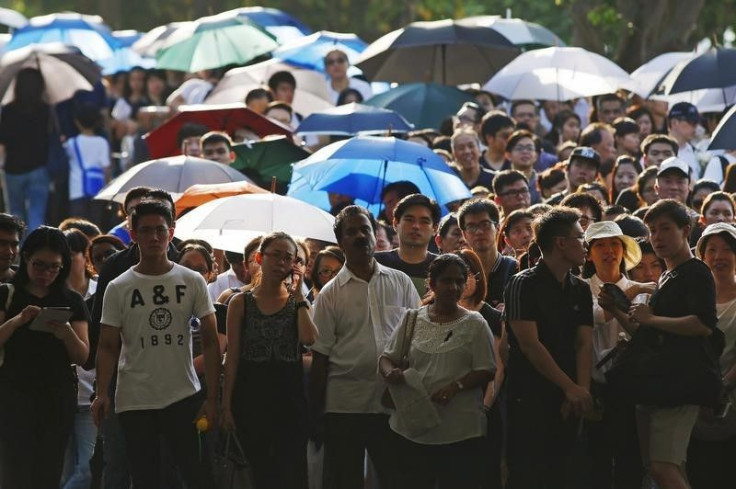 SINGAPORE (Reuters) - Tens of thousands of people braved heavy rain and lined the streets of Singapore on Sunday to catch a last glimpse of founding prime minister Lee Kuan Yew as his funeral procession wound through the country he helped build.
Booms from a 21-gun salute reverberated around the country's business district, fighter jets flew overhead in a "missing man" formation and two navy ships near the marina made an 'L' 'K' 'Y' signal with their flags as Lee's coffin was taken by gun carriage from the country's parliament to his state funeral.
The procession carrying Lee, who died last Monday aged 91, will pass through Tanjong Pagar, the constituency he represented for 60 years, before continuing the 15.4 km trip to the ceremony at the National University of Singapore.
Japan's Shinzo Abe, India's Narendra Modi and Indonesia's Joko Widodo are among the Asia-Pacific leaders due to attend the service.
Singaporeans, many dressed in the mourning colours of black and white, waited for hours to watch the procession, chanting "Lee Kuan Yew" as it passed.
"His biggest achievement is to help elevate people's living standards," said Huang Jiancong, 54, who was standing at the start of the procession route, carrying a Singapore flag.
Lee, who ruled Singapore from 1959 to 1990, is credited with transforming the tiny island nation from a poor British colonial trading port into one of the world's wealthiest countries.
His death, less than five months before the city-state's 50th anniversary of independence, has prompted an unprecedented show of grief among its population of 5.4 million people.
Almost 500,000 went to see Lee lying in state at the parliament over the past four days, many queuing in the tropical sun for up to 10 hours to pay their final respects. More than 1 million have visited condolence sites set up at community centers across the country.
The somber mood has extended beyond Singapore, with India also observing an official day of mourning on Sunday in honor of Lee, with the government there ordering flags to be flown at half mast.
Lee's funeral, expected to last close to three hours, will include eulogies from his son, the current Prime Minister Lee Hsien Loong, the country's President Tony Tan, former cabinet ministers and community leaders.
Commercial activity in the country known for its business-focus is expected to grind to a near halt for the ceremony, with many shops and the country's two large casinos closing.
Lee will be cremated in a private ceremony after the funeral on Sunday.
(Additional reporting by Anshuman Daga and Saeed Azhar; Writing by Rachel Armstrong; Editing by Kim Coghill)
© Copyright Thomson Reuters 2023. All rights reserved.