SiriusXM Boycott? Sorry, Anthony Cumia Fans: Radio Shock Jocks Are Obsolete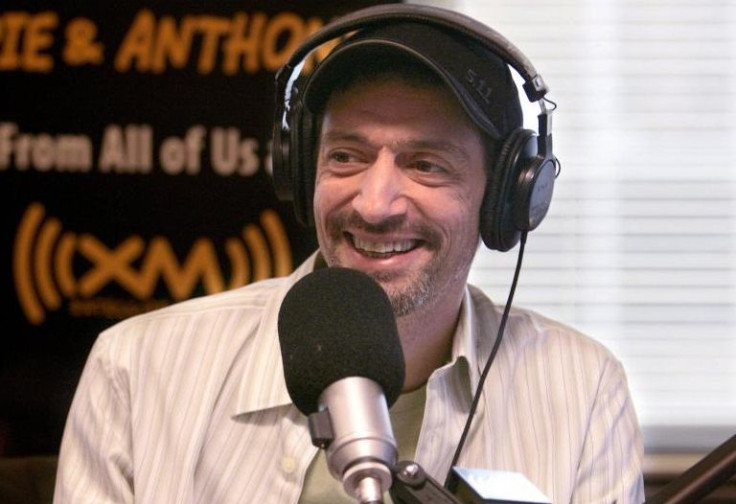 Fans of Anthony Cumia have been predictably up in arms since late Thursday, when SiriusXM Holdings Inc. (NASDAQ:SIRI) fired the longtime "Opie & Anthony" co-host over a series of racially charged tweets. The radio shock jock claims he was attacked on the street by a black woman, but the satellite radio company called his profanity laced Twitter rant (since deleted) "abhorrent to SiriusXM."
The Cumia faithful are not happy about the ouster, and they're vowing to hit SiriusXM where it hurts. Taking a cue from the "I Stand With Phil" playbook -- which exploded late last year in the wake of A&E's decision to suspend "Duck Dynasty" star Phil Robertson over anti-gay comments -- Cumia fans have organized a boycott, promising to cancel their Sirius subscriptions until the ornery host is duly reinstated.
Indeed, some already have. On a newly created Facebook page dedicated to the Sirius boycott, a few fans have posted screenshots of their cancellation confirmations. Others have changed their Facebook and Twitter profiles to an image of Cumia looking like Argentine Marxist revolutionary Che Guevara. It's an impassioned show of solidarity, but is it likely to get Cumia's bosses at SiriusXM to change their minds?
Don't count on it. In the age of social media, yelling and screaming "boycott" may have emerged as the default response to decisions we disagree with, but a boycott is only as effective as its potential effect on a company's bottom line. And analysts say Sirius won't feel much more than a minor bump from the vociferous fervor over Cumia's ouster. "It's just headline noise," said Amy Yong, an analyst for Macquarie Capital. "In terms of earnings and multiples for stock -- very, very minimal impact."
The bottom line, Yong said, is that Sirius has all the leverage here. "Opie & Anthony" is a high-profile radio show, but it's not what Sirius regards as "anchor content" -- that is, key programming like sports broadcasts and top-40 music offerings. Shock-jock shows -- held over from the terrestrial era when listeners were trapped in their cars with whatever local programming was available -- are decidedly lower on the totem pole in the age of iPods and personalized playlists.
One exception is Howard Stern, whose brand recognition helped save Sirius from the brink of bankruptcy before it merged with XM. But Stern is the last of a dying breed, and even he doesn't have the clout he once did. Earlier this year, Macquarie released a survey showing that only 5 percent of SiriusXM subscribers would consider canceling the service if Stern left the air. So what bargaining power could "Opie & Anthony" hope to wield?
The answer says less about our tolerance for offensive tweets than it does about the obsolescence of shock jocks in general. For anyone old enough to remember when Stern was at his peak influence, a big part of the game was his willingness to bite the hand that feeds him by ridiculing station executives in public until they acquiesced to his demands. Now so few people are listening, we would hardly notice the scuffle.
In fact, it's impossible to say how few people are listening. SiriusXM doesn't share ratings numbers on individual shows. We only know that it has about 25 million subscribers, and it lures in much of its subscriber base through deals with automakers. A free trial of SiriusXM is offered in about 70 percent of new cars sold, and Yong said about 40 percent of those buyers become paid subscribers. And as auto sales have picked up, so too has SiriusXM's subscriber base. "The business model is very strong from that perspective," Yong added.
SiriusXM's struggles, meanwhile, have been well-documented. In March, Liberty Media, which owns 53 percent of the company, pulled out of an offer to purchase the rest of it. Company earnings were flat for the most recent quarter, but analysts are optimistic that Sirius can reverse that trend over the coming year, as TheStreet.com reported.
Whatever happens, its fortunes won't rise or fall on the strength of "Opie & Anthony." Reached by phone on Monday, SiriusXM's spokesman, Patrick Reilly, wouldn't comment on the backlash over Cumia's firing, but he didn't seem very concerned about it either. "I don't have any updates on what's going on," he said. Later, Cumia's longtime co-host, Gregg "Opie" Hughes, tweeted that he will be back on the radio on Monday to "start to figure this out."
In other words, radio life goes on without Anthony Cumia. Not exactly a shocker.
Got a news tip? Email me. Follow me on Twitter @christopherzara.
© Copyright IBTimes 2023. All rights reserved.