Snapchat CEO Evan Spiegel To Stephen Colbert: Despite GOP Embrace, 2016 White House Race 'Definitely Not The Snapchat Election'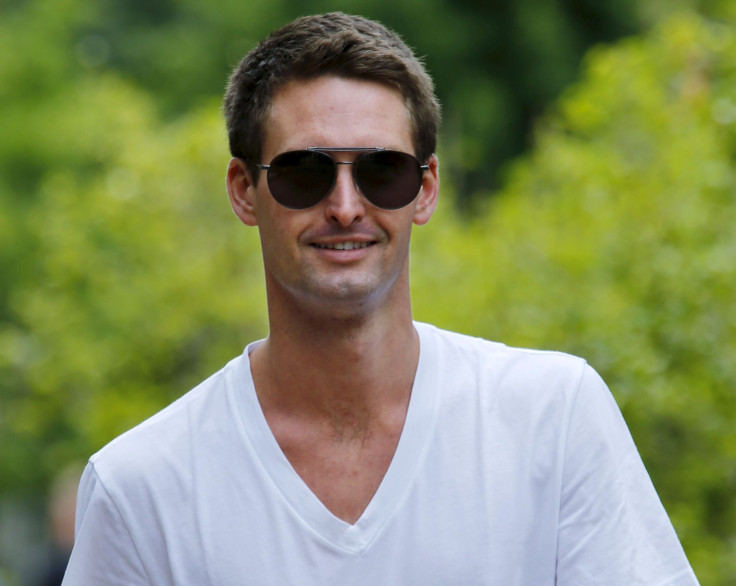 Snapchat has positioned itself as a necessary component in the presidential contenders' digital strategies for the 2016 election. Indeed, nearly every candidate has an account on the disappearing-image app. But while the mainstream media and political strategists have termed this year's cycle "the Snapchat election" -- similar to the "YouTube election" of 2008 and the "Facebook election" of 2012 -- the app's chief executive does not think that's the case.
"It's definitely not the Snapchat election. It's probably, definitely, the people's election," said Evan Spiegel, Snapchat's CEO and co-founder, in an appearance on "The Late Show with Stephen Colbert" Wednesday evening. That answer followed with Stephen Colbert showing on-air images of presidential candidates with Snapchat's new lenses feature. Snapchat users had created graphics of Florida Sen. Marco Rubio vomiting a rainbow, Kentucky Sen. Rand Paul with giant hearts for eyes and former Hewlett-Packard CEO Carly Fiorina with a monacle.
"The reason I wanted to show those is that 18-24 year olds...more of them followed the Republican debate on Snapchat than CNN or Fox News," Colbert said. Fox's GOP debate on Aug. 6 had 24 million viewers, according to Nielsen. Snapchat created a "Live Story," a curated feed of videos and photos taken by attendees at the debate in Cleveland. The company declined to disclose how many views the feed received over the 24 hours it was live, but stories typically generate 10 to 20 million unique views. Snapchat's customer base is made up of 100 million daily active users with 63 percent of monthly U.S. users between the ages of 13 and 24.
Despite Spiegel's lack of endorsement for the claim that his app is defining the 2016 presidential election, the 25-year-old CEO has overseen the company's entrance into the arena. For example, Snapchat hired CNN's national political reporter Peter Hamby as its first head of news earlier this year. Hamby has supported the creation of politically themed "Live Stories" and influencing more politicians to join the app.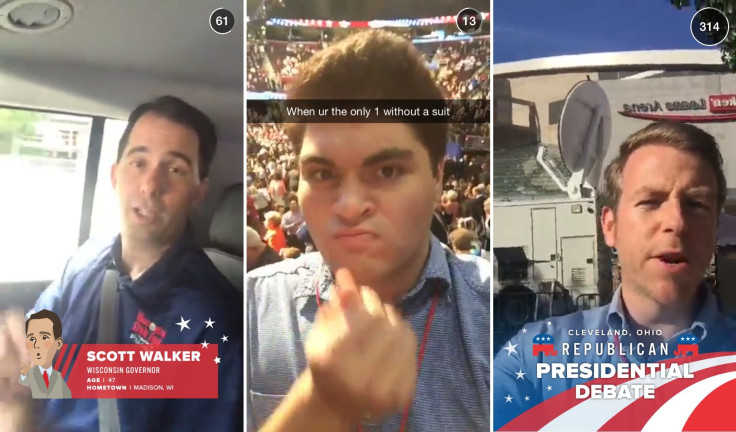 "We really saw an opportunity to not only help politicians reach constituents but really to help people learn about politics in a way that goes beyond just knowledge," Spiegel told Colbert. "We have this Live Story product where everyone at an event can upload as they experience them. You have to be there to contribute, so no hashtags required."
Not only has Snapchat become a competitive player as a medium for news, the app also has been pulling campaign funds through as a paid advertising vehicle. Snapchat introduced video ads and sponsored filter products in March. The app featured its first political ad in June. Snapchat tapped Google's political and ad sales exec Rob Saliterman. He "is the best salesman in the political market, honestly," Vincent Harris, head of digital firm Harris Media, whose clients includes Sen. Paul, told International Business Times.
That's one way Spiegel has helped value his company achieve a valuation of $16 billion, and Spiegel is ranked as the world's youngest billionaire, according to Forbes 400 list for 2015. Snapchat has continued to integrate more ads and now paid features into the app. The lenses feature showed during the Colbert episode was introduced in September among an update that charges users $0.99 for three replays of an image or video. Colbert teased other future paid options when asking about whether the photos on Snapchat truly disappear.
"So it's not, like, going to be a button that shows up on Snaphat...a year from now that's like, for $10 we'll really erase it this time?" Colbert asked.
"It would definitely be more than $10," Spiegel chimed back with a grin.
© Copyright IBTimes 2022. All rights reserved.
FOLLOW MORE IBT NEWS ON THE BELOW CHANNELS