Snapchat Just Killed Its Snap Channel On Discover Network, Teases 'New And Fresh' Replacement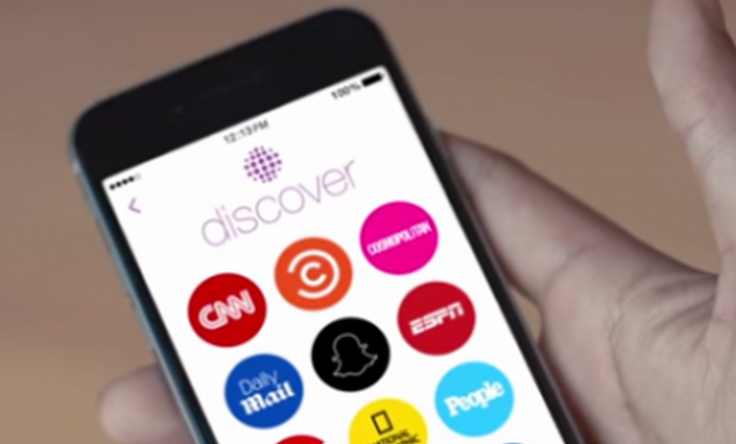 Something else has vanished on Snapchat. The disappearing-photo-and-video app took down its original content feed known as the "Snap Channel" in an update made this week. The company said the channel had served its purpose: helping Snapchat execs understand how its media customers are using the platform.
The "Snap Channel" was accessible on Snapchat Discover, the company's network of 15 media partners, including CNN, ESPN and Comedy Central. That channel was the hub for Snapchat's original series, including "Literally Can't Even," which premiered in January, and other exclusive content, such as music videos by electronic musician Goldroom. The feed's cover image was of a black ghost, outlined in white, following Snapchat's ghost logo.
While big media companies are battling for real estate on Discover, Snapchat evidently has paused its own daily projects on the exclusive network. In a statement to International Business Times, Snapchat confirmed the move. "Yes, Snap Channel is currently off the air," a representative wrote in an email. "The team is working hard on something new and fresh."
Snapchat has been working to innovate Discover. In July, it redesigned the Stories page to promote the Discover channels and its own curated Live Stories. Rather than being three swipes away from the home screen, all of them are now visible to users on the Stories tab. Snapchat has continued to sign on more partners to Discover. Mashable, Tastemade and IGN joined in August, and Vox is expected to participate soon.
While it keeps expanding media partnerships, original content has been a big focus for Snapchat. Staffing hasn't been short at the company, last valued at $16 billion. Snapchat hired Sean Mills, formerly president of the Onion, as its head of original content in January. The company also tapped Hollywood veteran Marcus Wiley, the former Fox Broadcasting senior vice president of comedy who oversaw "The Mindy Project" and "New Girl," to be the head of program planning and development.
But for now, Snapchat is portraying its previous projects on "Snap Channel" as "experiments" in which the creative team benefited from the other media partners.
"We made the Snap Channel to walk in the shoes of our Discover partners so we could learn firsthand how to build a better platform," a Snapchat representative wrote. "We had a ton of fun experimenting with creating our own content and learning from the incredible work our partners are doing."
© Copyright IBTimes 2023. All rights reserved.
FOLLOW MORE IBT NEWS ON THE BELOW CHANNELS