Social Media Marketing For Sports: How To Use Instagram, Twitter And Facebook To Keep Fans Engaged
This article uses affiliate links, which means if you purchase products through these links, we may earn a commission. Click here to see our
T&C
. For licensing please click
here
.
In the modern sport era, social media is just as integral to a team's marketing campaign as any other digital or physical form. Sports fan culture has boomed online, with relevant accounts sporting up to millions of followers across multiple platforms.
The official NHL account @NHL clocked 124,000 views on a Tweet announcing the first selection of the 2020 Draft. ESPN MMA (@espnmma) has 106,000 on a throwback clip of Demetrious Johnson. The LA Lakers posted a close-up of the Mamba jersey as an announcement to Instagram, with over 320,000 likes in seven hours -- and counting.
Media plays several roles in sports and its fan culture, notes Sprout Social. These include:
Official team updates, like new signings, pre- or post-game announcements and breaking news
Live updates for ongoing events, particularly matches or press conferences
Opportunities for fan engagement, including polls, giveaways, or caption contests
Exclusive content, such as Q&As, behind-the-scenes photos, or video montages
Features regarding team-related community events
With more and more people using social media as a way to stay updated with their favorite teams and athletes, it is crucial to use these platforms to keep fans engaged and gain new ones. There are several strategies to promote fan engagement and boost a team's presence on social media.
Hashtags
A hashtag is a unique way of connecting posts from individual users on a platform by linking them all into one stream or feed. It makes each post visible to those accessing the tag, which in turn boosts the visibility of the subject of the tag itself. This lets fans "follow" a tag for more content, or post to the tag to share their own.
The LA Lakers' popular hashtags #LakeShow and #LakerNation have over 918,000 and 690,000 Instagram posts respectively, taken from both official accounts and fan posts. Manchester United's iconic #GGMU (for "Glory, Glory Man United") hashtag has a collective two million posts on Instagram. These tags are used to share content about the team for people to view.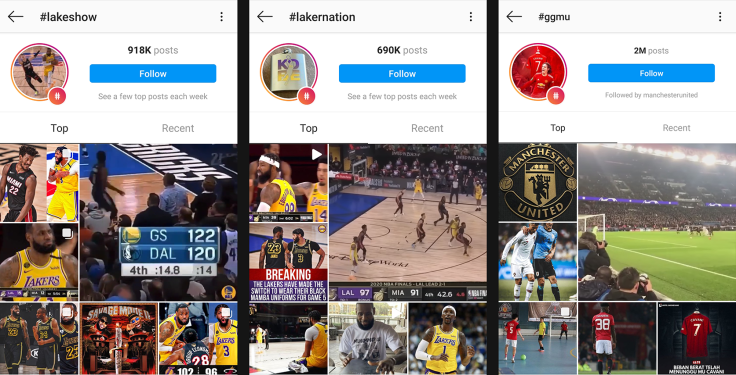 FC Barcelona's Head of the Digital Area Didac Lee believes engagement is "a testimony of ... fans connecting with the content we share." He told Hashtag Sports hashtags provide quantifiable tracking for teams to see how much they're being talked about and more importantly, how they're being talked about. It's an easy way to amplify fan passion, invite fans into discussions and circulate content.
Content curation
Karim Fathi oversees the audience development and content creation for Borussia Dortmund's English accounts. The German soccer club has been getting impressive engagement off the back of simple but effective content strategies for Dortmund's digital platforms.
Fathi pointed out Dortmund's varied types and formats of content across its platforms that involve "nostalgia, trendy, educational, interactive and UGC formats." They've created a "fan-first" approach in which they opt for "two-way" interactions instead of simple one-way broadcasts. Sometimes it's as simple as their "Question of the Day" series -- just asking "Where in the world do you follow us" received thousands of engagements from followers.
Curate content that appeal to the audience by posting things that are thought-provoking, and start conversations that create personal connections. As Fathi says, "the more interconnected and immersed the fans are with the team through social media, the more they are [...] invested in the team."
This idea also gives the team a wider reach -- Dortmund grew its audience 10-15% on its platforms and achieved one of the highest engagement rates (5-10%) in European soccer since the beginning of the pandemic -- and encourages fans to connect and interact more with team accounts.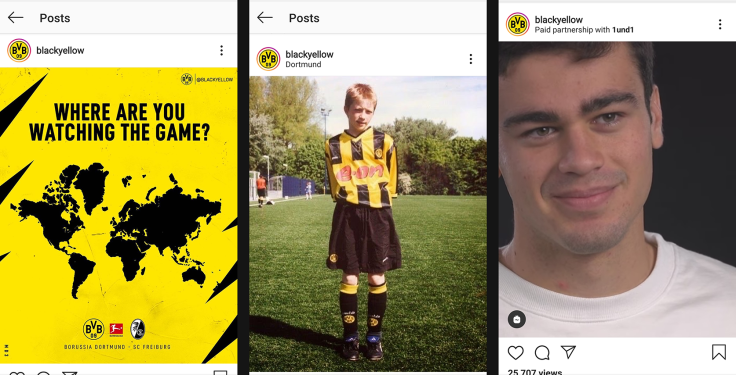 It's also important for teams to listen to fan feedback, and look at the metrics (likes, shares, comments, etc.) to see which forms of content are most appealing to their audience. This way, teams can tailor their social media content to better suit fans and encourage regular interaction. Interview videos, photomontages, throwback clips -- targeted content curation helps reel in fan attention and keep it.
Updates and exclusives
"Live Tweeting" is an ever-popular way to participate in fan culture, since part of what makes sports popular is that it happens live, with no knowing what comes next. Encouraging real-time participation boosts a team's engagement rate, as well as its visibility. Sprout Social lists several strategies to this, including:
Creating dedicated hashtags for fans to include in their posts
Posting real-time updates for ongoing events such as games, conferences and drafts -- often including a real-time photo or video clip to visually capture attention
Encouraging feedback from fans by posting polls, questions, or rating requests
These can be both league-specific (such as the #NBAFinals hashtag) or team-specific (such as the LA Dodgers' Player of the Game polls, which garner thousands of votes).
These tools can also be used in combination with giveaways to further boost engagement. Teams can host caption competitions with prizes, or have fans "unlock" bonus content.
These forms of content can also be tailored to each platform. Facebook is excellent for live streaming conferences and interviews. Instagram Stories are perfect for showcasing day-in-the-life type of clips. Twitter can be used for polls, caption competitions and hashtag campaigns.
Exclusive content is also an excellent way to capture fan attention. These give fans "closer" looks at teams and players, making them feel more accessible.
Humanizing the team
A big way to invite further fan engagement is to lessen the disconnect between players and fans. There is an appeal in seeing the more human side of the athletes and staff whom fans idolize. Social media is an excellent tool for bridging that gap, whether that's by hopping onto meme trends or showing support for relevant issues.
Teams can adapt content to what's trendy, or bring in their mascots to join the fun. Sometimes it's as simple as replicating a meme in order to get fans' attention. Playful and humorous content makes things fun for the audience.
Meanwhile, in this day and age, teams and brands have been vocal about social and political topics. Using highly visible platforms to further discussions on important current events shows the team and its members are listening, that they're not out of touch. Fans will even rally around posts and teams that show they have genuine compassion and they're willing to take stances.
Teams can also promote their efforts, and those of their players, in local communities. Other charity efforts can also be highlighted as a way of showing fans the team is involved in more than just sport.
Branding
With all these different content strategies, it's important to present a unified image when communicating and engaging with fans. Proper and consistent branding goes a long way to holding fan attention. Some considerations would include:
Consistent, clean and compelling graphic design
A distinct "brand voice" or personality that shows across platforms
A clear presentation of the values held by the team and its members
It's particularly important for both the official accounts and those of team members to be aligned in terms of outward presentation. It helps teams avoid backlash or missteps that could alienate fans or damage the team image.
Connection
At its heart, social media marketing for sports is about creating a connection with fans. Sports are there to bring people together despite different personalities and backgrounds -- social media should be no different. These platforms are there for fans to interact with the team and each other, forging those connections and strengthening the passion and loyalty for the team. And it is that passion and loyalty that will drive the engagement further, as fans continue keeping up with the teams they love.