Solyndra Executives to Plead 5th at House Hearing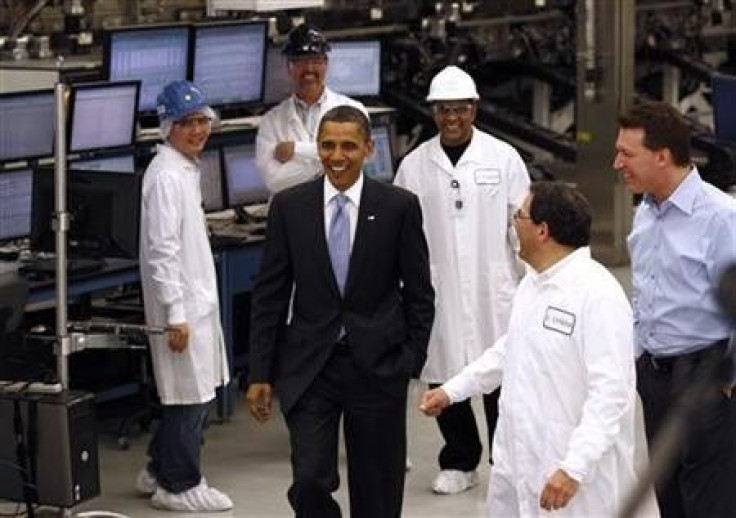 Two top executives of a bankrupt solar energy company will invoke their 5th Amendment rights and not answer questions during a Friday hearing before a U.S. House of Representatives investigative committee.
Lawyers for Solyndra Inc. Chief Executive Brain Harrison and W.G. Bill Stover, the company's chief financial officer, sent letters to the House Energy and Commerce Committee's investigative subcommittee Tuesday stating that they would not answer any questions during Friday's hearing.
The panel is investigating the bankruptcy of the solar panel maker, which received more than $500 million in federally backed loans.
Criminal Investigation Continues
According to The Washington Post, which obtained a copy of the letters, the executives' attorneys advised their clients not answer questions from House lawmakers due to an ongoing criminal investigation of the company by the U.S. Justice Department and an FBI raid of Solyndra offices in California that occurred on Sept. 8.
The FBI and Energy Department have declined to say what prompted the investigation or who it is targeting.
This is not a decision arrived at lightly, Harrison's attorney, Walter F. Brown, said in one of the letters. But it is a decision dictated by current circumstances.
Stover's lawyer, Jan Nielsen Little, wrote in another letter that, nothing of substance should be read into Mr. Stover's decision to heed his counsel's advice and assert his Fifth Amendment rights.
A Surprise Bankruptcy Filing
Solyndra unexpectedly filed for bankruptcy earlier this month, a surprise to both its employees and the Obama administration, which had secured $535 million in low-interest loans for the company. The company received the government loans as part of an effort to spur economic growth and create jobs through investments in green technology.
Republicans have blamed the Obama administration for Solyndra's collapse, alleging it exerted pressure to rush the loans' approval. Some have also said the White House improperly chose to invest funds in the company in return for campaign donations.
Solyndra's downfall puts a spot light on the kind of taxpayer-funded cronyism this White House said it would eliminate, Republican National Committee Chairman Reince Priebus in a statement last week. After bundling tens of thousands of dollars for President Obama and his campaign, company officials were granted at least 20 visits to the White House and had Energy Department officials sitting in on company board meetings. Before taxpayers are forced to spend another dime of stimulus money, the White House must explain why they were so reckless the first time around.
Several legal experts told Politico the Solyndra officials would likely do themselves more harm than good by testifying at Friday's hearing. Offering a statement would give government prosecutors information that could potentially used in a criminal case. Moreover, the executives could also risk lying to Congress while under oath, a charge that could result in approximately five years in prison.
© Copyright IBTimes 2023. All rights reserved.