South African Helicopter Donations Stalled, But Zimbabwe Can Violate Human Rights Without Them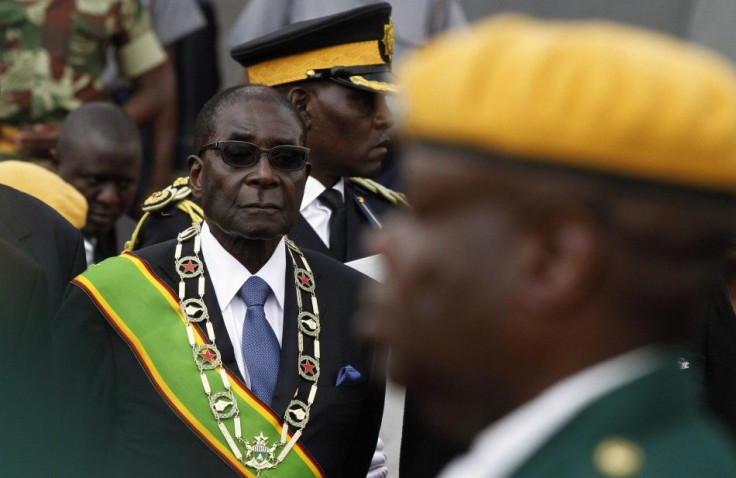 A human rights group in South Africa has stopped a delivery of retired military helicopters and spare parts to Zimbabwe defense forces, decrying the donation as an untimely boon for Zimbabwe's repressive administration.
It is a sure indication that national elections in Zimbabwe – which are expected to take place sometime this year – are raising serious concerns that the ruling party may resort to violence as a way to quash dissent, just as it has done in the past.
AfriForum, a nonprofit civil rights organization based on the outskirts of the South African capital city of Pretoria, succeeded in its bid to prevent the delivery of retired Alouette III helicopters and spare parts to Zimbabwe. The craft has been used by both South African and Zimbabwean forces for decades.
The planned delivery was first reported on Friday by the Mail & Guardian, a South African publication. AfriForum responded the very same day, seeking and winning an interim court order to stall the delivery, which was granted by the North Gauteng High Court pending a review of AfriForum's main application.
In a press release explaining its objection to the helicopter shipment, AfriForum argues that the craft could strengthen the same Zimbabwean forces that perpetrated violence against civilians during a national election five years ago.
"All indications are that the Zimbabwean army is enhancing its visibility, mobility and presence across Zimbabwe in anticipation of the national elections that are scheduled to take place later this year," it said.
Blessing-Miles Tendi, lecturer in African politics at Oxford University's Department of International Development, thinks that AfriForum's concerns are a bit overblown.
"There is a very strong relationship growing between the Zimbabwean and the South African forces. They've been doing military exercises together for a very long time," he said, adding that security forces in Zimbabwe know better than to use such high-profile equipment against civilians.
"When Zimbabwean forces do carry out the violence, it's usually small militias," says Tendi. "The kinds of weapons that are used include stones and sticks – soft violence, the kind of stuff that won't risk external intervention. It's ugly, it's horrible, but it's below the threshold where foreign forces or the United Nations would intervene."
Zimbabwe has been run by President Robert Mugabe for nearly 33 years. He represents the Zimbabwe African National Union – Patriotic Front, or ZANU-PF.
Zimbabwe's 2008 election was widely condemned as a sham, since Morgan Tsvangirai of the Movement for Democratic Change, or MDC, won more votes than Mugabe in the first round but withdrew before the second was completed, citing a pattern of violence against MDC supporters. Mugabe cruised to a victory, but Zimbabwe is now under an EU arms embargo.
That year was a bloody one for Zimbabwe, and ZANU-PF security forces bear most of the blame. MDC officials estimate that 253 people were killed and hundreds more were injured in politically motivated attacks against Tsvangirai supporters. Amid continuing violence after the election, a deal was brokered whereby Tsvangirai would serve as prime minister during Mugabe's presidency, a situation that persists today.
Millions of Zimbabweans have fled their home country since 2008, seeking stability in South Africa. But communities there have been less than welcoming, in part because South Africa suffers widespread poverty and high unemployment despite having the continent's largest economy.
This migration is not the only issue giving South Africa a stake in Zimbabwe's stability – the two nations are old partners, and South Africa has played a large role as a mediator in the political struggles of its northern neighbor. It was South Africa's former President Thabo Mbeki who presided over the 2008 negotiations that saw Tsvangirai become prime minister (though that arrangement skewed in favor of Mugabe).
More recently, ANC leaders encouraged Zimbabwe officials to work out a new draft constitution, a pre-condition to upcoming national elections. The document was agreed upon by MDC and ZANU-PF last week and will now be subject to a referendum. If passed, it would make it more difficult for ZANU-PF to monopolize power, though Mugabe will be allowed to remain in office for another 10 years.
Mugabe and current South African President Jacob Zuma are personally linked by a history of fighting oppression; both spent about a decade in prison for their participation in political organizations supporting black rights during a time of white rule. Still today, both rely on racially charged rhetoric in order to rally their mostly black constituency.
But Zuma's relationship with Mugabe is strained; the South African president is seen as less sympathetic to ZANU-PF leadership than was his predecessor, Mbeki. In other words, Mugabe cannot rely on Zuma's support during Zimbabwe's upcoming election.
That casts doubt on the significance of the planned helicopter shipment, especially considering the two countries' long tradition of military cooperation.
But the international community still has plenty of reason to pay close attention to Zimbabwe's national elections, expected to take place by autumn. The aging Mugabe will once again go head-to-head with Tsvangirai, and the security forces that proved their corruptibility in 2008, instigating deadly violence and stripping citizens of their right to a fair democracy, will be under more serious scrutiny this time around.
© Copyright IBTimes 2023. All rights reserved.