South America's Leftist Presidents Take A Popularity Dive Amid Scandals, Economic Troubles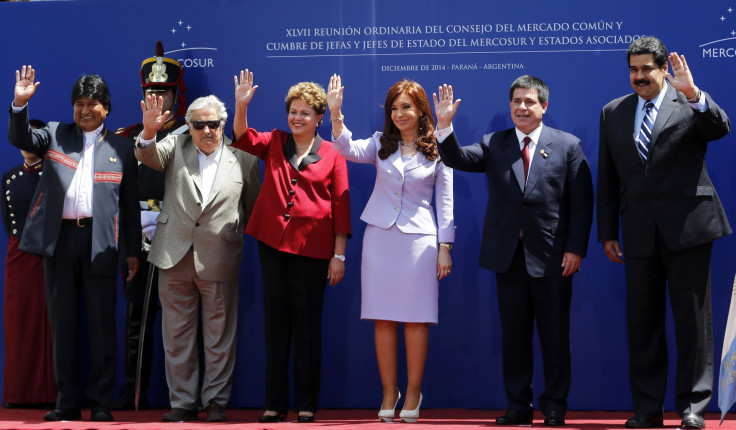 This year has not been kind to South America's leftist leaders. Polls released this week showed approval ratings at historic lows for the presidents of Chile and Brazil – and they're not the only ones suffering setbacks these days.
Brazil's President Dilma Rousseff faced a precipitous drop in popularity in the few months since she secured a narrow victory in last year's election. A survey by Brazil's Ibope research firm released Wednesday showed that just 12 percent of respondents thought the president was doing a "good" or "excellent" job, while 64 percent disapproved. The remaining respondents deemed her performance as "OK."
The figures, which are consistent with another survey conducted by polling firm Datafolha this month, mark a popularity decline of nearly 30 points since December, when Rousseff held a 40 percent approval rating, and the lowest rating a Brazilian president has had in nearly 20 years. Concerns over Brazil's stagnant economy and the widening bribery and kickback scandal with state oil company Petrobras have largely driven the dramatic fall.
Chile's President Michelle Bachelet faced grim news of her own this week. Her popularity fell to its lowest level in her presidency, at 31 percent in March, according to a poll by GfK Adimark. Bachelet's re-election in 2013 was a much-celebrated victory as she pushed through landmark education reforms, but her administration has been plagued by criticism over its handling of a recent string of natural disasters, including devastating floods in the north last week that left 23 dead and displaced thousands.
Bachelet also has been embroiled in a scandal involving her daughter-in-law, who was accused of getting privileged access to a $10 million bank loan for her company.
Elsewhere in South America, leftist leaders who surged to power in what was dubbed a "pink tide" in the region are falling out of favor quickly. Venezuela's Nicolás Maduro, whose approval stands at around 25 percent, still is grappling with high inflation and shortages as anti-government protests have mounted in recent months. And Argentina's President Cristina Fernández de Kirchner found herself in the middle of an international murder mystery this year with the death of prosecutor Alberto Nisman, who had accused her of covering up Iran's alleged involvement in a 1994 terrorist attack in Buenos Aires. Her popularity sank to around 29 percent in February and has ticked back up to 36 percent in March, according to research company Management & Fit.
But some have remained strong: Uruguay's Tabaré Vázquez, who assumed the presidency in March, has a 52 percent approval rating, according to an Equipos Mori survey released Wednesday. Meanwhile, Ecuador's Rafael Correa and Bolivia's Evo Morales remain the region's most popular presidents – Correa's approval rating stood at around 60 percent as of December, and Morales' remains around 70 percent, despite his party suffering its most significant setback in years in regional elections this week.
The question of whether the "pink tide" is ebbing is a perennial one, but two major elections later this year in Venezuela and Argentina could indicate how strong these recent setbacks are. Venezuela's legislative elections, expected to take place in the fall, will give the political opposition there a crucial opportunity to secure a majority in the National Assembly and, as they have pledged, push through a recall referendum on Maduro. Meanwhile, Argentina's Kirchner reaches her presidential term limit in December.
Those elections are months away, leaving much uncertainty about whether the votes will spur significant political shifts. In Argentina, the playing field is still very much open, although Buenos Aires Mayor Mauricio Macri, a critic of the Kirchner administration, is emerging as a serious candidate. And Venezuela's opposition, which is fraught with divisions, needs a two-thirds majority in the legislature to guarantee that their recall referendum will be a success, and so far there's considerable skepticism that they will be able to achieve that.
© Copyright IBTimes 2023. All rights reserved.
FOLLOW MORE IBT NEWS ON THE BELOW CHANNELS