South China Sea Controversy Update: US Plans Freedom-Of-Navigation Patrol Despite Warning From China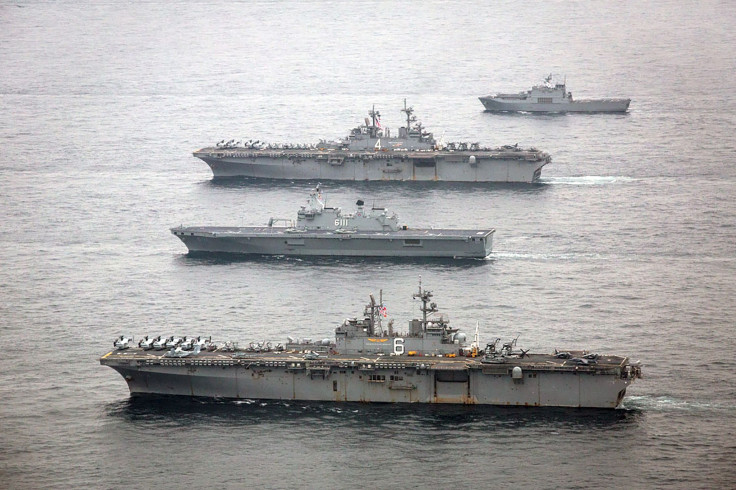 Despite a warning from Chinese President Xi Jinping during a meeting with U.S. President Barack Obama on Thursday to respect China's sovereignty in the South China Sea, the U.S. Navy plans to conduct a freedom-of-navigation patrol near disputed islands sometime in early April.
An unnamed source told Reuters an exercise would take place in early April inside the 12-mile nautical range around a disputed island. Details on the type of ship and the exact timing of the mission were not provided. Experts predicted the patrol could occur near Mischief Reef, an area that has been claimed by the Philippines. Beijing has built an airfield on Mischief Reef.
The U.S. and the Philippines signed an agreement in March giving the U.S. access to five military bases, including ones in disputed waters, Agence France-Presse reported. Beijing reacted negatively to the increase in military relations between the U.S. and the Philippines.
"To strengthen military alliances is a reflection of a Cold War mentality," China's Defense Ministry spokesman, Yang Yujun, said Thursday. "It is in the opposite direction of the trends of the era for peace, development and cooperation."
Islands Disputed in the South China Sea | Graphiq
The U.S. has conducted freedom-of-navigation patrols in the South China Sea in recent months. The patrols fall under international law, allowing ships with their country's flag to sail without interference from other nations.
During their meeting, Xi told Obama he would not accept any actions in the region undertaken with the "disguise of freedom of navigation." China has accused the U.S. of heightening tensions in the South China Sea with its patrols while the U.S. has accused Beijing of militarizing the region.
Brunei, China, Malaysia, the Philippines, Taiwan and Vietnam have all laid claims to different regions of the contested waters. With over $5 billion worth of trade passing through the South China Sea every year, the area is a key economic artery for the region.
© Copyright IBTimes 2023. All rights reserved.
FOLLOW MORE IBT NEWS ON THE BELOW CHANNELS