South China Sea Dispute: Japan Spots Armed Chinese Ships Patrolling Senkaku Islands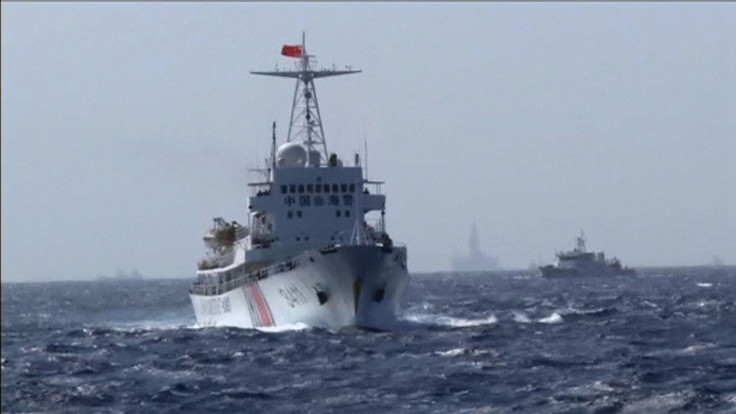 Japanese ships patrolling the disputed South China Sea reported Tuesday seeing Chinese coast guard ships armed with what officials described as cannonlike weapons. The sighting is likely to add tension to the already strained Tokyo-Beijing diplomatic relationship, which has suffered as a result of China's claims over island chains and territorial waters in the region.
"The ship is seen carrying four pieces of equipment, two at the front and another set of two at the rear, which each seem to have something similar to a cannon," the spokeswoman told Agence France-Presse, according to a Daily Mail report.
Japan reported seeing four Chinese coast guard ships entering its contiguous waters near to the disputed Senkaku Island chain, officials in the report said. While the islands are uninhabited, both countries have claimed them, with China naming them the Diaoyu Islands.
The dispute over the islands is just one of many between China and other countries that have a South China Sea coastline. Disputes over the Spratly Islands and the Paracel Islands have received the most press in recent years, as Beijing has been building islands on top of submerged reefs in order to make territorial claims. Under the United Nations Convention of the Law of Sea, China's claims are deemed illegal and the region it occupies remains international waters.
But the dispute has had a ripple effect on the region, with the U.S. and allies claiming that China's building of the artificial islands and its military buildup in the region were preventing legal access to international waters and shipping lanes. In an apparent test of China's resolve over the region, the U.S. sailed a warship directly into the region in late October. China objected through diplomatic channels only.
While China and Japan have historically had a difficult relationship, both countries have made efforts in recent years to improve ties. Ahead of a summit in November last year in Beijing between Chinese President Xi Jinping and Japanese Prime Minister Shinzo Abe, both countries issued carefully worded statements on the South China Sea situation.
Both acknowledged they had different views on tensions emanating from the region but agreed on the need for keeping them under control.
© Copyright IBTimes 2023. All rights reserved.