Spacewalk Preps International Space Station For New Ships To Dock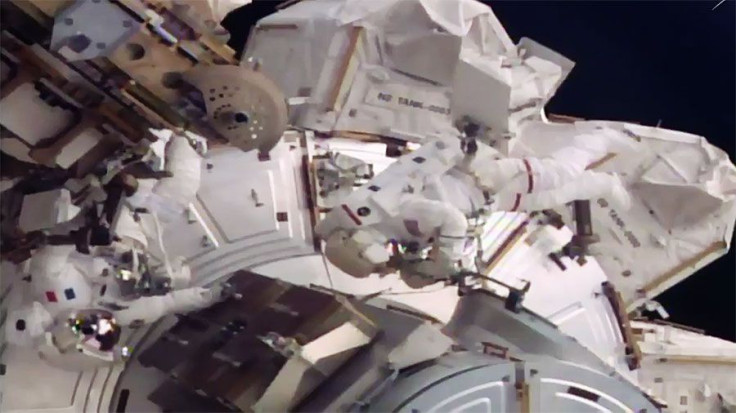 We are closer than ever to being able to hail a "space taxi" and jet up to the International Space Station.
Astronauts aboard the ISS went on a spacewalk Friday and prepped the space station so they can later install "the second of two parking spots for space taxis," France-based international news service AFP has reported. Those spaceships will be used by companies like SpaceX and Boeing, which are looking to bring astronauts into orbit, perhaps as early as next year.
Read: Space Debris Is Choking Earth's Orbit
Until then, Russia's Soyuz vehicles have been taking all of the spacemen and spacewomen up there, including those from other nations. NASA had previously transported astronauts with its space shuttles — a fleet that once included Atlantis, Endeavour, Discovery and Enterprise, as well as the ill-fated Challenger and Columbia — before that program was discontinued.
The astronauts who journeyed out in the vacuum of space to work on the parking spots, officially called International Docking Adapters, were Frenchman Thomas Pesquet and American Shane Kimbrough, who are currently living aboard the ISS. Pesquet is a flight engineer from the European Space Agency and Kimbrough is a commander on NASA's Expedition 50. They did their job for 6.5 hours as the space station, which is as long as a football field, hurtled in orbit around the Earth.
According to NASA, further spacewalks are planned for Thursday, March 30, and Thursday, April 6. In the first of those, Kimbrough will once again venture outside with NASA flight engineer Peggy Whitson. Whitson and Pesquet will take the third shift. Those spacewalks can be viewed live on NASA TV.
"Spacewalkers have now spent a total of 1,236 hours and 38 minutes working outside the station during 198 spacewalks in support of assembly and maintenance of the orbiting laboratory," NASA said.
See also:
NASA Makes Little Friend for Mars Rover
© Copyright IBTimes 2022. All rights reserved.
FOLLOW MORE IBT NEWS ON THE BELOW CHANNELS