SpaceX Launch Of Falcon Heavy Rocket Postponed Until December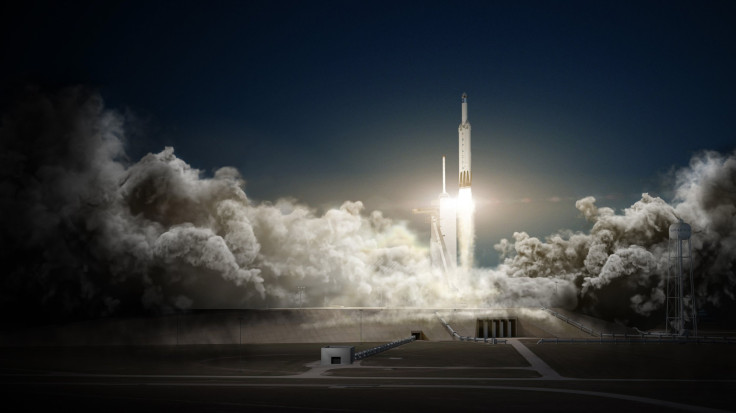 SpaceX's Falcon Heavy has had quite a build up to its first-ever launch expected in the coming months. Just a few weeks ago, the launch was scheduled for sometime in November, and although no date was chosen, it was in the launch schedule for NASA's Kennedy Space Center in Florida. Then the schedule changed and the launch of the Falcon Heavy was moved to sometime in December, date still to be determined.
The rocket is large, and when it successfully launches it will become the most powerful rocket currently in operation on Earth. So far it's gone through the necessary test phases. All three of these phases were completed in early September, with a video from SpaceX showing the three first stage cores firing at the rocket testing facility in Texas.
Back in July, Elon Musk, SpaceX founder and CEO, posted on Instagram that he was also expecting a November launch for the maiden voyage of the Falcon Heavy. There's been no announcement yet about why the launch was pushed to December on KSC's schedule.
Each Falcon Heavy rocket contains three cores, each with 27 engines inside and it can create more than five million pounds of thrust for whatever the payload is. In addition to the sheer power of the rocket it can also be restarted making for a rocket capable of multiple orbits. A rocket of this power is intended to bring humans to deep space in the future and possibly bring humans to the moon and maybe in the future eventually Mars.
The Falcon Heavy is essentially the same as three Falcon 9 rockets stuck together for a launch. SpaceX will attempt to land all three of the first stages from the Falcon Heavy launch. Two will land at Cape Canaveral Air Force Station and the other will land on the droneship "Of Course I Still Love You" which will be in the Atlantic Ocean during the launch.
The description for the launch on KSC's website says, "The most powerful rocket this generation has ever seen, SpaceX's new Falcon Heavy rocket, launches no earlier than this December." Whether or not the launch will be open to the public is undecided as well. For most launches at the space center offers viewings for all visitors that day, with an added ticket price for those who wish to view the launch from closer. But for this launch in particular, it's not yet decided whether or not guests will be allowed to view the launch from the center. "Availability of viewing opportunities and locations is dependent upon the scheduled launch time and is subject to NASA and U.S. Air Force approval," says the space center's website.
A flight animation of the launch shows what it might look like when it happens in December:
© Copyright IBTimes 2023. All rights reserved.
FOLLOW MORE IBT NEWS ON THE BELOW CHANNELS