Spain's Stock Market Drops To Lowest Level In Nearly 10 Yrs
Global tremors from Spanish Market Quake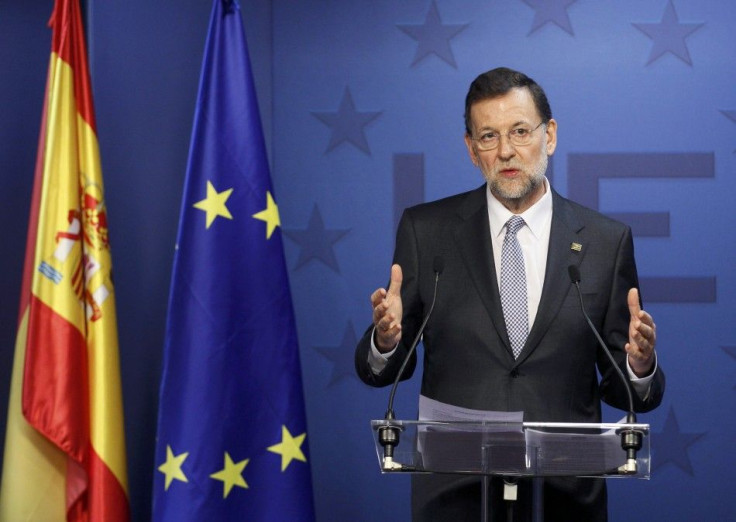 Spain's stock market plunged Monday to its lowest level in nearly 10 years on growing doubts that nation can avoid defaulting on its massive debts without an external rescue. The government also instituted a three-month ban on short-selling all securities.
The country's IBEX stock market index dropped to 5,905 -- its lowest level since April 2003 -- after Spanish newspaper El Pais reported that at least six of the country's regions will ask Madrid for bailout money. In the last two trading days the IBEX has fallen 12 percent.
A widening consensus that Spain has lost the ability to keep its fiscal house in order was reinforced Monday as bond traders sold off government debt, lifting the yield on the nation's benchmark 10-year debt to 7.56 percent, its third consecutive daily record and a euro zone-wide record high.
Spain would need a bailout if yields stay where they are for another couple of months, Georg Grodzki, head of credit research at Legal & General Investment Management Ltd. inLondon, which manages $596 billion of assets, told Bloomberg Television's On the Move with Francine Lacqua.
Spain's government also instituted a three-month ban on short-selling, that is, financial betting that a security will decline.
The ban will cause a little bit more uncertainty in the market: the ban extends on shares and indices, including cash operating and derivatives, and is due to volatility. It is sheer lack of confidence out there, Mark Foulds, head of spreadbetting sales at ETX Capital, told the Financial Times.
Another derivatives broker said the ban would cause speculation that regulators had information that Europe's banks and other industries were in a worse state than generally known.
It implies that regulators want to protect their shares, and particularly banking shares, and the speculation will therefore be they see things or have information that is not currently in the market, said the broker.
Fallout from Spain's troubles rocked global markets. The euro fell to a nearly 12-year low against the Japanese yen, Germany's DAX stock market index fell 3.13 percent, Hong Kong's Hang Seng stock market index tumbled 2.99 percent and the value of the U.S. dollar climbed 0.61 on the ICE US Dollar Index. Crude oil fell 3.8 percent.
© Copyright IBTimes 2023. All rights reserved.