Stan Musial: Baseball's Perfect Prince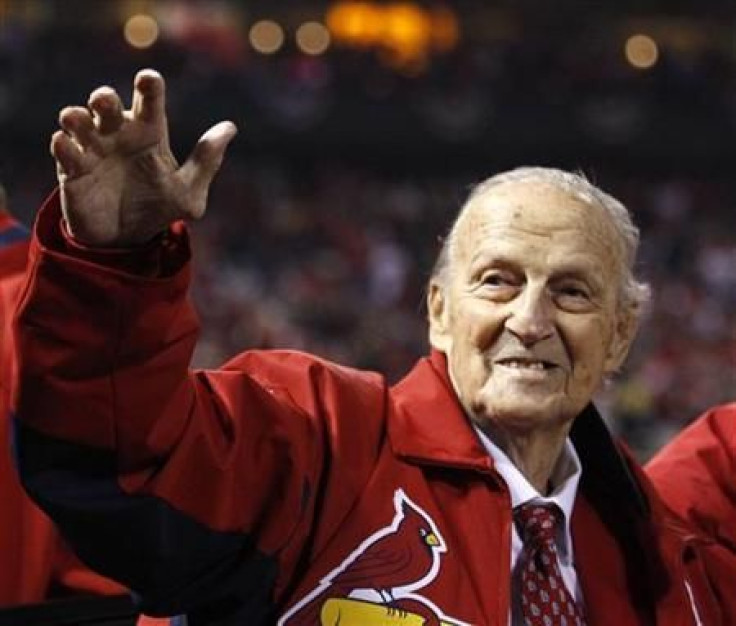 Stan "The Man" Musial, arguably the greatest hitter in National League history and clearly one of the finest baseball players ever, died on Saturday at the age of 92.
The St. Louis Cardinals' legend was acclaimed not only for his stupendous skills on the diamond, but also honored for his modesty, humility and unfailing kindness and for leading a very long life utterly and refreshingly free of any hint of scandal, bad behavior or controversy.
Every account of Musial, from teammates, opponents, sportswriters, baseball executives and fans, paints a portrait of a near-perfect human being -- a man who reached the very top of his profession and never had to step on anyone's toes to get there.
In a sport, and, by extension, in American culture, where fame and success are linked directly to selfishness, ego, narcissism, greed, amorality, venality and various other human sins and frailties, Musial stood far apart.
Born to poor Polish immigrants in coal-mining Pennsylvania, Musial dedicated himself to his craft, stayed married to the same women for 72 years, which is longer than many people even live, raised his family, apparently refrained from cheating, smoking and drinking, and treated everyone from the bat-boy to the team owner the same.
Even more remarkable, Musial was one of the few white stars of his time who warmly welcomed black players like Jackie Robinson and Willie Mays -- and later Bob Gibson and Lou Brock -- into the big leagues. In stark contrast, many of Musial's teammates on the Cardinals, including Enos Slaughter, openly opposed the entry of blacks into the Major Leagues.
Baseball fans like to think that ballplayers during Musial's era were mostly like him, but that is a gross inaccuracy. Athletes back in those days drank excessively, fooled around with groupies, smoked (even in the dugout) and constantly complained about money.
Musial did none of that, plus he did nothing to bring undue attention to himself. Indeed, he was neither self-righteous nor preachy whatsoever. He simply played superb baseball, treated his fellow man wonderfully (even pesky autograph-seekers) and didn't think he was anything special.
However, as wonderful and lovely a person (and player) Musial was, he was simply not a compelling figure as a pop culture icon.
Consider the two players who reigned in American League while Musial dominated the National League: Ted Williams and Joe DiMaggio.
The latter two were not only great baseball players (in fact, truly immortal), but they were far more complex and fascinating than Stan the Man.
Williams, the Boston Red Sox superstar whose career paralleled Musial's, was not only the greatest hitter in history, but was also a war hero (twice), divorced multiple times, had a prickly relationship with fans and the media, disliked playing defense, refused to swing at a ball that wasn't right down the plate and was generally extremely egotistical, arrogant, vain and hyper-sensitive.
The movie star-handsome Williams was like a real-life John Wayne (but with deep insecurities).
Born into poverty and wracked by a broken home, Teddy Ballgame never really got over his childhood traumas -- transferring his youthful woes into endless tantrums and other dramatic episodes as an adult.
But Williams could also be very warm, generous and kind if he wished -- one was never sure which of his many personalities one would find on any given day.
And Joe DiMaggio?
Not only did the Yankee Clipper carve out a career for the ages (a superstar Italian-American centerfielder who played flawlessly and stylishly), but he ascended into the realms of myth by marrying the most glamorous movie star on Earth (the very blonde and unearthly beautiful Marilyn Monroe). That marriage lasted about as long as a seventh-inning stretch, but Joe loved her for the rest of his life and never remarried.
The Yankee Clipper was like a tragic Greek god -- elegant, singular, solitary, isolated and doomed to loneliness. He was also vain, selfish, bitter, money-obsessed, a womanizer, imperial and frequently unkind to mere mortals. He also dated showgirls and movie starlets, hung out in bars and nightclubs and likely rubbed shoulders with mobsters.
In essence, DiMaggio and Williams were fascinating figures that generated endless reams of speculation, media coverage and interest from the public.
Musial? Not so much.
Perhaps that's a bad thing since Musial would probably make a far more pleasant dinner companion than his two more-celebrated peers.
But for those of us who love character, charisma, drama, tragedy, charm, conflict and adventure, Williams and DiMaggio provided us with more than we could ever handle.
In fact, the fascination with these two gentlemen continues unabated to the present day and will likely last as long as baseball does.
"[Musial's] modest, jovial nature seemed to undermine his importance. ... He never demanded the reverence of surly legends like Williams and DiMaggio or tragic figures like Mantle and Clemente or icons of struggle and defiance like Aaron and Mays," Cliff Corcoran wrote in a Sports Illustrated article.
Indeed, as Corcoran suggests, Musial's story also lacks another element that would have made him a more compelling figure -- tragedy.
Musial essentially lived a long and happy life, with a successful career and endless public adoration.
That's great for him and his family, but it doesn't much inspire novelists, artists or other mythmakers.
Consider the cases of two ballplayers from an earlier era who shared Musial's general conduct and personality.
Christy Mathewson was the premier pitcher in the National League during the dead-ball era just prior to World War I.
Unlike the majority of his peers in the big leagues, Mathewson was college-educated, middle-class, articulate, friendly, modest and seemingly without any vices (sound familiar?).
Mathewson was also an immortal pitcher, racking up an amazing 373 wins in just sixteen seasons.
But after enlisting in the army for what was then called the Great War, Mathewson was accidentally gassed during a training exercise in France. He eventually developed tuberculosis -- a condition that would kill him in 1925 at the age of 45.
Mathewson fits the ancient Greek idea of a hero.
An equally grave fate would befall Yankee slugger Lou Gehrig about 15 years later. The lumbering first baseman was, like Mathewson and Musial, modest, quiet, sober and unassuming (the complete opposite of his teammate Babe Ruth).
Gehrig's career and life would be tragically cut short by amyotrophic lateral sclerosis, or ALS, a disease that would soon adopt his name.
Gehrig, who probably would have challenged Ruth in all the power numbers had he played a few more years, died a few weeks before his 38th birthday in 1941.
Gehrig is another tragic hero whose legend keeps growing every year.
Let's face it, we love tough guys (Williams), rogues (Ty Cobb), fun-loving slobs (Ruth), distant, remote mystical gods (DiMaggio) and those men who are doomed to die young (Mathewson and Gehrig). It's a shame we can't find a place in our collective hearts to celebrate gentle, kind, honest people like Musial.
© Copyright IBTimes 2023. All rights reserved.