'Star Wars: The Last Jedi' Themed Looks For 'Battlefront 2' Heroes Revealed
Electronic Arts has already confirmed that "Battlefront 2" will feature heroes from the next installment of the new "Star Wars" trilogy, "The Last Jedi." Now, an advertisement might have revealed what Kylo Ren and Rey will look like in the game.
As previously announced by EA, "Star Wars: Battlefront 2" will let players take control of heroes from across three eras. What's most interesting is that those who pre-order the game will get exclusive "The Last Jedi" themed looks for Kylo Ren and Rey. What the characters would look like in Episode VIII has mostly been kept under wraps, until now.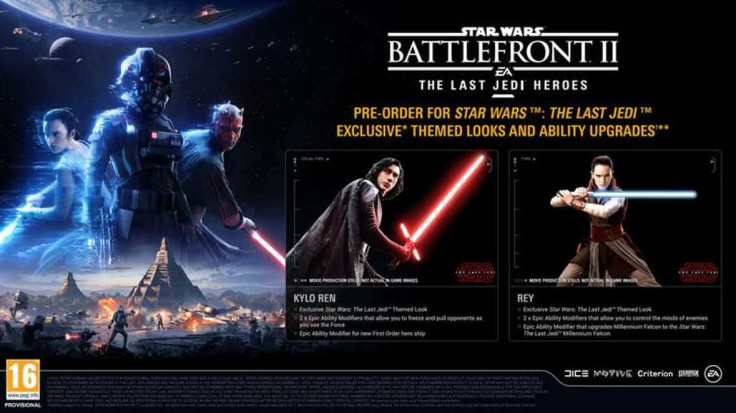 The sales page for "Battlefront 2" on GameStop Ireland's website include production stills of Kylo Ren and Rey from "The Last Jedi." Ireland's website appears to be the only GameStop page that features this advertisement, while GameStop pages from other regions only detailed the contents of the pre-order bonus, according to Gizmodo.
It's important to note that Kylo Ren and Rey's photos appear to be production stills from "The Last Jedi" movie rather than in-game renders. However, if EA is promising an exclusive "The Last Jedi" themed look for the characters on "Battlefront 2," then it's very likely that this is what they'll look like in-game.
The announcement trailer for "Battlefront 2" already showed glimpses of Rey and Kylo Ren, but they were only sporting their looks from 2015's "The Force Awakens." Kylo Ren appears no longer sporting his robe and helmet while showing off his scar which Rey gave him at the end of "The Force Awakens." He also seems to be wearing shoulder pads of some kind and a new cape that's like Darth Vader's, as pointed out by Games Radar.
Rey's look seems like a combination of traditional Jedi attire that's seen in the prequels and her scavenger look from Episode VII. Her pose also appears to be similar to the one she's doing in previously released packaging for upcoming "The Last Jedi" toys. Rey also appears to have a hairstyle that's reminiscent of Qui-Gon Jinn's from "The Phantom Menace."
"Star Wars: Battlefront 2" release date has been set for Nov. 17, 2017, and it will be available for the PlayStation 4, Xbox One and the PC. "Star Wars: The Last Jedi" hits theaters on Dec. 15, 2017.
© Copyright IBTimes 2023. All rights reserved.