Starbucks Corporation (SBUX) Q4 Earnings Preview 2013: Profits Should Rise Thanks to High Same-Store Growth and Expansion in Asia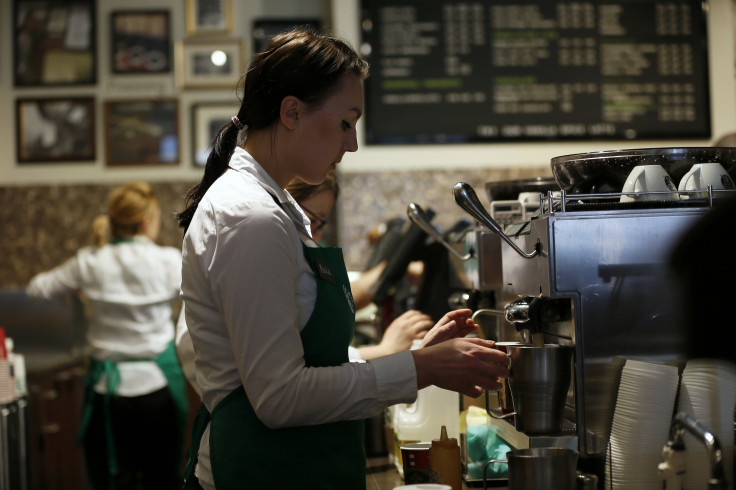 Starbucks Corporation (NASDAQ:SBUX), the world's biggest coffee retailer, will report a 26 percent earnings increase for the July-through-September quarter on expanding margins and improving same-stores sales.
For the company's fiscal 2013 fourth quarter, analysts polled by Thomson Reuters expect, on average, net income of $452.6 million, or 60 cents per share, compared with $359 million, or 46 cents per share, in the year-earlier quarter. Revenue is expected to rise to $3.81 billion from $3.36 billion in the fourth quarter of fiscal 2012.
Wall Street analysts expect record-low coffee prices worldwide and new, more-expensive items on the menu to expand the Seattle comapny's profit margins. This year the coffee giant began rolling out La Boulange pastry products and the Evolution Fresh line of juices at cafe locations, which should bring up the price of the average customer ticket.
"You're likely to see all-time-high margins in the Americas this year," said William Blair & Co. analyst Sharon Zackfia. "Part of this is because coffee costs are down and part of it is because sales have been so strong. Plus an all-time high in labor productivity."
Same-stores sales are anticipated to have risen 9 percent to $2.8 billion in the last quarter.
While Starbucks is pushing higher-margin items in its own retail stores, it is cutting prices of grocery-store products like at-home premium single-cup items, which analysts expect will boost sales.
Net revenues will most likely be about $107.9 million for last quarter, a 51.6 percent increase from the same quarter of fiscal 2012.
"What's going to be a bigger, positive surprise is channel business like bag coffee and single-serve," said Nick Setyan, restaurant analyst at Wedbush Securities.
Regionally, Starbucks has done well in the Asia-Pacific region. Net revenues for the area were $233.7 million last quarter, thanks to new store growth and a 9 percent increase in same-store growth.
"We look forward to continued store openings and establishing China as our largest market outside of the U.S.," Starbucks said earlier this year when it released its fiscal third-quarter earnings report.
For the full fiscal year, S&P expects a 9 percent increase in the Asia-Pacific region, along with just 2 percent growth in Europe, the Middle East and Africa, and 13 percent growth overall.
While general economic activity in China is slowing slightly, Starbucks has bucked the trend of other American companies such as Yum!, which owns KFC, Taco Bell and Pizza Hut and whose sales have slowed down recently.
"Starbucks continues to grow in terms of the middle class," said Setyan. "They gravitate toward brands that ­­represent affluence."
The Starbucks brand also has a lot to do with the positive outlook. According to a note from Baird Equity Research, new beverages, food attachments and the My Starbucks Rewards card will show an increased momentum in the fiscal fourth quarter.
"They have a lot of balls in the air, but they have shown over the years that they have the manpower to handle it," said restaurant research analyst Will Slabaugh from Stephens Inc. Research, which raised its stock price estimate to $82. "Starbucks is still firing on all cylinders."
The stock has risen 67 percent in the last 52 weeks, and analyst estimates' average target share price is $83.69.
© Copyright IBTimes 2023. All rights reserved.
FOLLOW MORE IBT NEWS ON THE BELOW CHANNELS