Starbucks Earnings Preview: Higher Earnings From More Market Share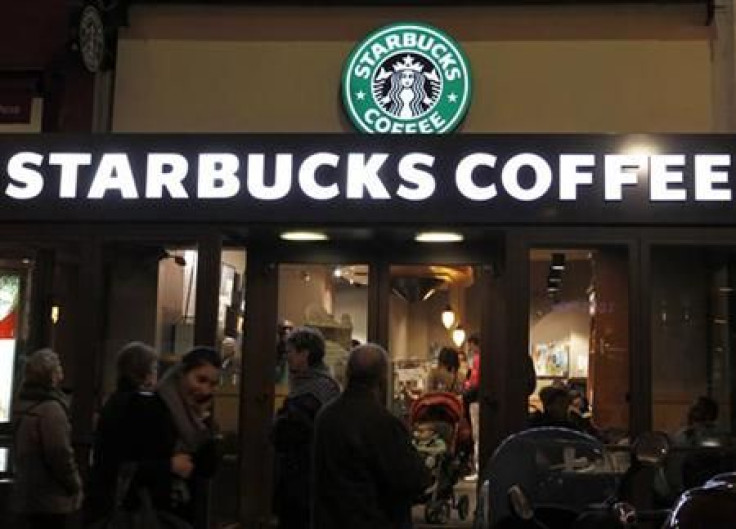 Starbucks Corporation (Nasdaq: SBUX), the world's largest coffee chain, is expected to report higher second-quarter profit as growth in its ground coffee division offsets the cost of buying a bakery company.
The Seattle-based company is also experimenting with outlets that sell tea selections and juices to diversify; it announced recently it would open three more juice outlets after a successful test run of one store in Bellevue, Wash., not far from the company's headquarters.
The Thomson Reuters analysts' consensus for the coffee chain is earnings of 45 cents per share, up 25.7 percent from last year, on revenue of $3.3 billion, which is up 13.5 percent from last year's second quarter. The company will release its earnings Thursday after the markets close.
Starbucks, which buys and roasts its own coffee and sells brewed coffee and other beverages, has been expanding its share of the ground coffee market, in part by finding partners. In the second quarter it began selling seven types of Starbucks-branded K-Cup packs for the Keurig Single-Cup Brewing System in its more than 9,000 stores and in food outlets. The move is the result of a joint venture agreement with Green Mountain Coffee Roasters Inc. (Nasdaq: GMCR).
In the second quarter the company opened a Tazo tea store in Bellevue, indicating the coffee king is seeking to become a retail-beverage giant by expanding into juices and teas, something more and more Americans are buying. The Tazo store sells 80 varieties of tea, as well as chocolates. Starbucks bought Portland-based Tazo in 1999 for $8.1 million and has a strong nationwide presence in grocery stores.
The Tazo initiative reflects Starbucks' diversification strategy: The company announced Friday it would open three more Juice Revolution stores after a successful test-run in the second quarter with a store it opened in March in Bellevue. The company acquired the San Bernardino, Calif.-based Evolution Fresh Inc. last year for $30 million. It will open two more stores in Seattle and one in San Francisco by the fall.
Tazo has been classified as one of our emerging brands at Starbucks, said a Starbucks company spokesperson by email. With the new Tazo retail store, we see an immense opportunity to elevate the premium tea experience.
Starbucks' own estimate for second-quarter results is less optimistic than Wall Street's. In June the company lowered its guidance estimates, saying it expects earnings for the year to be $1.80 to $1.82 per share, down from the $1.81 to $1.84 range it said in April that it was expecting.
Starbucks' lowered earnings second-quarter earnings outlook stemmed from its acquisition of San Francisco-based La Boulange bakery, which will begin supplying pastries and bread for the coffee chain before expanding as a national bakery chain in its own right.
Starbucks did not provide detailed economics, but the deal is expected to be dilutive to FY12 earnings by $0.02 per share (spread between the third and fourth quarters). It's also expected to be modestly dilutive to FY13 earnings, said Dan Geiman, economist for McAdams Wright Ragen in Seattle, in a note.
The company's stock price for the year peaked April 13 when it was up 34 percent following the company's announcements of the closer strategic relationship with Green Mountain, an expansion into India through a 50/50 joint venture with Tata Global Beverages Ltd. (Bombay: 500800) and an agreement to buy coffee from China under a joint venture agreement with Ai Ni Group.
The company's stock value rose in this period from mid-March to mid-May with the premium over the S&P500 up as much as 27 percent. Now, that premium is less than 4 percent above the index. Since this peak in April the share price has lost 18 percent of its value, to $50.60 per share at market close on Monday. The price is still up 10 percent for the year.
Capping off a downward trend in the company's stock price, a report last week by Cleveland Research Co. reduced its comparable sales forecast for the third quarter, down from as high as 8 percent to as low as 6 percent. The news sent the price of the stock down 2.7 percent, and closer in line with retail and restaurant indices that have experienced downturns linked to recent global economic slowdowns. In other words: the best growth for the year may be over.
Shares rose 18 cents to $50.78 in Tuesday afternoon trading.
© Copyright IBTimes 2023. All rights reserved.