Stephen King And Others Who've Been Blocked By Donald Trump On Twitter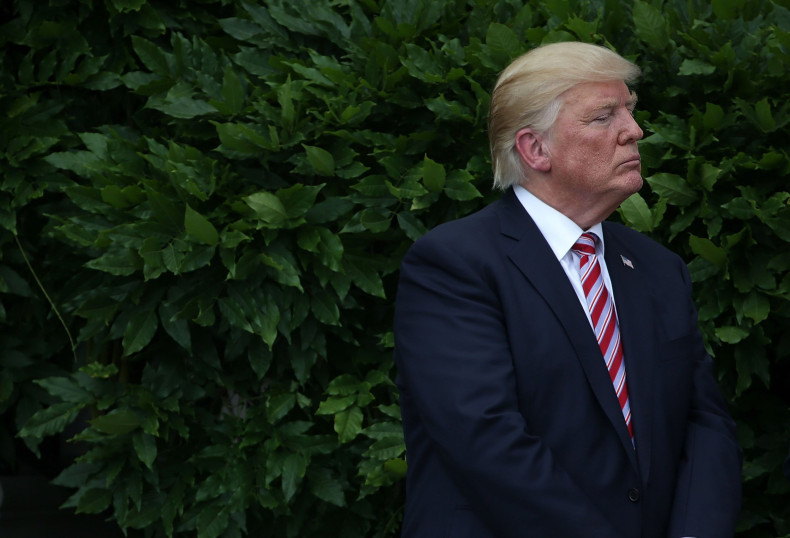 Author Stephen King received a very prestigious honor Wednesday as President Donald Trump made the bold decision to block him on Twitter. In discovering this hilarious blocking, King immediately took to Twitter to share the news with his followers.
Read: Twitter Reacts To Donald Trump's Move To Block Stephen King On Microblogging Site
"Trump has blocked me from reading his tweets," King posted in a Tweet. "I may have to kill myself."
The famed author delivered a playful rant on Twitter spread out amongst a few tweets.
"Have others received a notification of being blocked from Trump's tweets or is it a hoax? It's not as if his tweets are hard to find," King adds. "Blocked! Condemned to an existential wasteland of Trumplessness!"
The author was reportedly blocked within 24 hours of tweeting about the president's daughter, Ivanka Trump. While King may not have mentioned Trump's name directly or tagged him in the tweet, the vocal leader was naturally offended by what the novelist had to say.
"If Ivanka Trump had grown up in farm country, like some of us, she'd know her father is reaping exactly what he sowed," King wrote in a tweet Monday.
Fellow author J.K. Rowling — creator of the "Harry Potter" books — saw King's tweet and responded accordingly, saying: "I still have access. I'll DM them to you."
There is an extensive list of public figures that Trump has blocked on Twitter since he stepped into the Oval Office. (This list is subject to updates.)
Read: Trump's Tweets And How The President Could Be Sued For Twitter
AJ Joshi
Joshi, co-founder of Sivvr, was blocked by Trump after responding to the president's "Make America Great Again" tweet on June 1.
Joshi responded, saying: "I guess 'Making America Great Again' means destroying the world." The tweet also included a sad face emoji alongside a gif of a kid being knocked over by a giant globe bouncy ball.
Shortly following the tweeting event, Trump brought out the ax.
Angelo Carusone
Carusone, the president of digital research center Media Matters America, hadn't tweeted at Trump since February.
The February tweet read: "I think I missed the satanic ritual. A lil help here @realdonaldtrump or @RealAlexJones?"
Yet, since Carusone is often vocal about his dislike ofTrump and his company's main priority is to correct conservative misinformation in the media, this may have ultimately rubbed POTUS the wrong way.
Andy Signore
Signore, the man behind the "Honest Trailers" channel on YouTube, spoke up on Twitter because Trump had wrongly quoted London mayor Sadiq Khan.
In his response, Signore said: "I am so damn sick of bully @realDonaldTrump taking words out of context to act out his agenda of fear, corruption & bigotry. #NotMyPresident."
Trump proceeded to block Signore on Twitter.
Bess Kalb
Kalb, a writer for "Jimmy Kimmel Live" and the New Yorker, should've seen the blockage come from a mile away.
Prior to the block, she has been known to respond to most of the president's tweets. Therefore, there was a library worth of tweets that he could've chosen to block her.
Yet, the president chose to block her for this.
"Oh boy, honey. I've tried to lay off and let you President like you said you would, but this is a new kind of simplistic nonsense rhetoric. I know you're trying to pivot away from how embarrassing the big trip was for all of us to watch (Pushing! Pope! Saudi bowing!) but...this?" Kalb wrote. "Honestly, hun this is all so far over your head. If you need to have another 'bone spur' and let Mike take over, no one will blame you."
Holly O'Reilley
O'Reilly, who helped to organize #MarchForTruth, was blocked for continuously attacking Trump on Twitter.
In responding to Trump's tweet on May 28 about the British prime minister, she said the following: "This is pretty much how the whole world sees you." O'Reilly's tweet included a viral gif of the Pope giving the president an awkward look.
Joe Papp
Papp, a professional bicyclist, attacked Trump on Twitter after he initially provided the simple introductory tweet: "Greetings from Pittsburgh, Sir."
Papp didn't hesitate to the bring the fire as he addressed the president's absence from a rally in the capital. However, this ultimately drove the president to block him on the social media app.
"Why didn't you attend your #PittsburghNotParis rally in DC, Sir? #fakeleader," he wrote.
After discovering the blocking incident, Papp took to Twitter to share his thoughts.
"A @POTUS so mentally weak & intolerant of dissent he blocks US citizens critical of his policies from even reading his latest pronouncements," he wrote.
Jordan Uhl
Uhl, another #MarchForTruth organizer that landed into Trump's blockage trap, had surprisingly not tweeted Trump directly in weeks prior to being blocked. If you the time to take a look at Uhl's Twitter timeline, he hadn't directly tweeted Trump again until June 9.
Uhl simply asked Trump about Pride weekend, saying: "@realDonaldTrump you going to Pride this weekend?"
Uhl tends to be prepared to attack Trump on Twitter with screenshots he's gathered to back up his argument. However, he can no longer do that since the president had decided to block him.
Lauren Wolfe
Wolfe, a journalist, is the second to land on Trump's blocked list for correcting him on misquoting London's mayor.
"What Khan, in fact, said: There was "no reason to be alarmed" by an increased, armed police presence. You know no bounds. Liar," she wrote.
Shortly after, she completed her argument by adding a few more tweets into the mix.
Naturally, Trump blocked her thereafter.
Marina Sirits
Sirtis, an actress, was blocked by Trump after she tweeted him directly about potentially going to war.
"@realDonaldTrump threatening to go to WAR to deflect from Russiagate!! Willing to let our boys die to save his sorry ass," she wrote.
Shortly, she issued a tweet saying: "I've been blocked by our Prez!!"
Rob Szczerba
Szczerba, a rocket scientist, is the second person on the list of blocked Twitter users to respond to Trump's plea: "MAKE AMERICA GREAT AGAIN."
In his response, Szczerba said: "Sorry - no matter how many times you say MAGA, James Comey is still going to tell the world all about you next Thursday."
Nonetheless, the rocket scientist was rejoiced to discover Trump had blocked him on Twitter.
"Tonight I am honored to join an elite club … #BlockedByTrump," Szczerba wrote. "Apparently, I hurt the feelings of the "leader of the free world". SAD!"
The list will be updated as Trump block's more users on Twitter.
© Copyright IBTimes 2022. All rights reserved.