Steve Jobs and Bill Gates History: the Dueling Wizards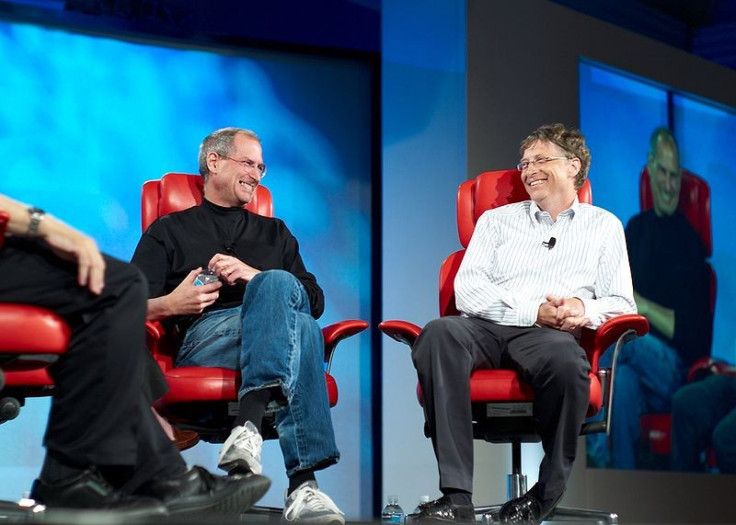 Steve Jobs' death has saddened millions around the world, especially long-time rival, Bill Gates.
Gates released a statement saying: I'm truly saddened to learn of Steve Jobs' death. Melinda and I extend our sincere condolences to his family and friends, and to everyone Steve has touched through his work. Steve and I first met nearly 30 years ago, and have been colleagues, competitors and friends over the course of more than half our lives. The world rarely sees someone who has had the profound impact Steve has had, the effects of which will be felt for many generations to come. For those of us lucky enough to get to work with him, it's been an insanely great honor. I will miss Steve immensely.
It has long been thought that Jobs was Gates' arch-nemesis.
After all, the two technology wizards dueled for the top spot for years. Sometimes they were partners, sometimes they were opponents; but, through it all, they constantly challenged each other.
And they were friends.
In the 1980s the men were known to go on double dates with their women of the moment, according to an article from The Guardian.
As both companies grew, the men became professional rivals.
Tongue-in-cheek Steve said, The Mac would have never had multiple typefaces or proportionally spaced fonts. And since Windows just copied the Mac, it's likely that no personal computer would have them at the Stanford University Commencement Speech to the Class of 2005.
However, in the early days, Apple depended on Microsoft for software to help develop the Mac.
In 1988 Apple sued Microsoft for infringing on the patents regarding the look and feel of its operating system, according to a CNET News article.
In 1997, with Apple's value temporarily depleted, Gates agreed to invest $150 million in the company and provide other helpful incentives as well.
Jobs accused Microsoft of lacking creativity. Gates defended the PC character against Jobs' jabs by saying His mother loves him.
In recent years, Jobs overtook Gates as the technology titan with his line of outstanding Apple products including the iPod, iPhone, and iPad. Today Apple (AAPL) is trading at around 378.52 compared to Microsoft's (MSFT) 26.31.
Although some of the words may have come out bitter, Jobs and Gates admired and respected each other's work and ingenuity.
In 2007 the two met for the All Things Digital Conference in Silicon Valley. To some, it was a thing of legend.
There they were as myth and gods and the audience was there to witness that, quoted Nina Lytton, a computer consultant, in a BBC News article, They have such a respect for one another and it was visible.
FOLLOW MORE IBT NEWS ON THE BELOW CHANNELS