Stocks Plunge As Fear Ensnares Investors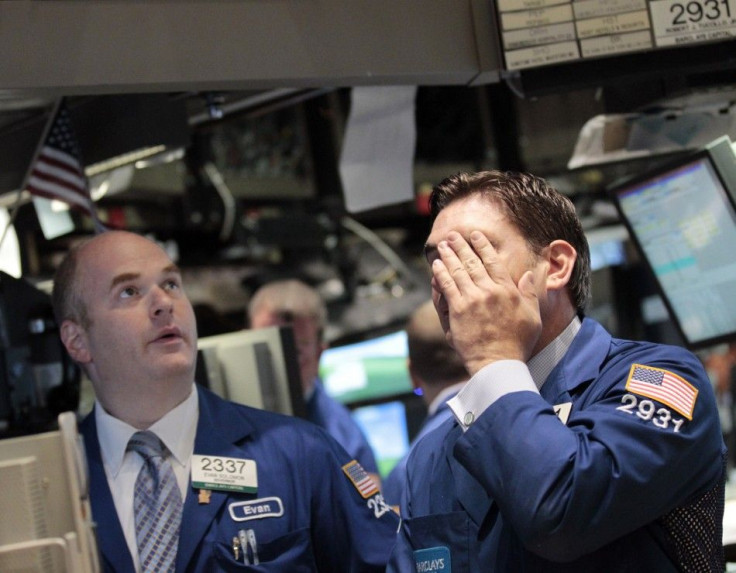 Fears about the global economy slipping into another recession have sent stock markets in Europe and the U.S. plunging.
The Dow Jones, which at one point plummeted by as much as 350 points in late-morning trading, is down about 295 points as of 1:07 p.m. (EDT), or about 2.5 percent. The S&P 500 and Nasdaq indices have declined by a similar percentage.
All three indices have now erased all gains made during the year.
The VIX, or the market's "fear gauge," has spiked by 13.6 percent to 26.44, just a few points shy of the 30 level which marks a high magnitude of investor fear. Year-to-date the VIX has climbed more than 50 percent.
The U.S. sell-off follows even greater declines in Europe – The FTSE-100 of the UK, Germany's DAX and France's CAC-40 dropped well in excess of 3 percent.
European Central Bank President Jean-Claude Trichet said in a press conference on Thursday: "It's true that we are in a period of a high level of uncertainty, not only in euro area but at the global level."
Dow Jones stalwarts Alcoa (NYSE: AA) is down 4.8 percent; Caterpillar (NYSE: CAT) has shed 4.6 percent; while Bank of America (NYSE: BAC) has lost 4.1 percent. The Dow's only gainer is Kraft Foods Inc. (KFT), which is up 2.4 percent after it announced the company plans to split in two.
Not surprisingly, Treasury yields are falling as investors seek out safe-haven assets. Gold prices hit a record high of $1684.70 earlier in the session.
"Investors had lofty expectations for a second half of the year stock market and economic recovery," said Lawrence M. Glazer, Managing Partner of Mayflower Advisors in Boston.
"The recent economic data suggests that these expectations were too high. Clients are nervous ahead of the US jobs report and we are seeing some forced selling and liquidations. We are seeing bargain-hunters emerge and looking for opportunities seeing some positives in fear."
Glazer added that the recent economic data has been "terrible" and now everyone acknowledges that reality and it is being increasing priced into the market.
"Small business owners are telling us that growth is stalling in the US," he added. "European credit concerns are adding to the anxiety."
U.S. investors may indeed be pulling out of equities in anticipation of an extraordinarily poor jobs report due out Friday. Consensus estimates suggest that 75,000 new jobs were created in July.
However, if the number is worse than that, stock could plunge even further.
The Labor Department reported Thursday that initial jobless claims totaled 400,000 last week, reflecting the pervasive weakness in the labor markets and continued high unemployment.
© Copyright IBTimes 2023. All rights reserved.