Study: Birth Control Flushed Down Drains Creating 'Transgender' Fish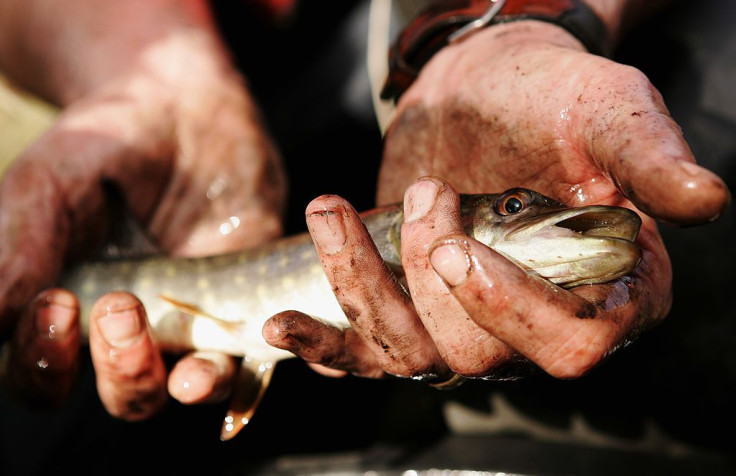 Male freshwater fish are taking on transgender form and developing female characteristics -- including the ability to produce eggs -- in what researchers are linking to exposure to birth control pills and other contraceptives being flushed down toilets and entering local waterways.
A new study from the University of Exeter in Britain finds that the impact of chemicals going down household drains has caused male fish in rivers and streams to display female traits, including the ability to produce their own eggs. Exeter Professor of Environmental Biology, Charles Tyler, outlined his team's research ahead of the 50th anniversary Symposium of the Fisheries Society in the British Isles.
Read: Transgender Parent Fights Government For Child's 'Non-Gendered' Birth Certificate
Among the findings, the research team observed one-fifth (20 percent) of male freshwater fish having reduced sperm quality, less aggressive behavior and other factors leading to a failure to successfully breed. The chemicals being discharged through sewage treatment facilities – contraceptive pills, cleaning agents, cosmetics and antidepressant drugs – are creating "transgender" or "intersex" offspring.
Professor Tyler explains that the contraceptive and cosmetic waste being dumped into the wildlife environment is causing a behavior effect on the fish similar to that of humans.
"We are showing that some of these chemicals can have much wider health effects on fish that we expected," Professor Tyler tells the Telegraph. "Using specially created transgenic fish that allow us to see responses to these chemicals in the bodies of fish in real time, for example, we have shown that estrogens found in some plastics affect the valves in the heart."
Fish Findings: Exposure To Estrogen Harming Male Fish
Healthy and non-healthy specimens of fish were monitored, dissected and subjected to these chemicals from water samples collected at 50 different sites across Britain. Over 200 chemicals were found in the water that were identified as having a negative impact on fish and other marine life. Some male fish were found with fully developed female sex organs.
Professor Tyler explained to IBTimes UK that more than 2,000 compounds were identified as environmental estrogen-related, meaning that they have a similar effect on the body as the female sex hormone estrogen.
"They don't just affect reproduction and they don't just induce things like transgender," he told IBTimes UK's Martha Henriques.
In addition to major physical changes, such as male fish offspring's ability to produce eggs, research has shown behavioral differences that cause reproduction to become more difficult. This includes a decrease in typical levels of aggressiveness that can lead to the male fish becoming easier prey.
"Other research has shown that many other chemicals that are discharged through sewage treatment works can affect fish, including antidepressant drugs that reduce the natural shyness of some fish species, including the way they react to predators," Professor Tyler added.
The chemicals being flushed down the toilets, including those in human urine, are making their way into waterways where wastewater is being dumped. Dr. Steve Simpson, who organized the July 3-7 symposium, hopes this week's talks will prompt a wider discussion on the decrease in fish populations.
"Fish biologists from around the world [will have] a chance to exchange ideas and discuss how to protect dwindling fish populations in rapidly changing seas and rivers, before it is too late," he said.
© Copyright IBTimes 2023. All rights reserved.
FOLLOW MORE IBT NEWS ON THE BELOW CHANNELS